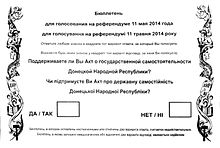 Ballot for Donetsk Referendum

As expected, the voters in Donetsk and Luhansk choose to separate from Ukraine, and Russia is pleased with this:
May 12, 2014

Russia indicated it "respects" the results of two disputed referendums in eastern Ukraine, which separatists said backed independence, while the European Union added companies to its list of sanctions for the first time.

Russia praised the high turnout in yesterday's ballots, according to a statement e-mailed today by President Vladimir Putin's press service. The U.S. and the EU deem the votes illegal and the government in Kiev called them a "farce." Donetsk showed 90 percent backing for the breakaway plan, while in Luhansk, 94 percent to 98 percent supported autonomy with turnout at 75 percent, Russia's state-run RIA Novosti reported.

Russia "assumes that the practical implementation of the referendums will be realized in a civilized manner, without any relapses of violence," according to the Kremlin's statement.

The votes went ahead amid violent clashes between pro-Russian rebels and government troops, who are trying to wrest back control of the nation's eastern provinces before May 25 presidential elections. Ukraine and its allies accuse Putin of stoking the unrest, which is threatening to rip the former Soviet republic apart.  http://www.bloomberg.com/news/2014-05-12/russia-signals-respect-for-ukraine-s-separatist-ballots.html

May 12, 2014
Ukraine's acting president Oleksandr Turchynov accused Russia of working to overthrow legitimate state power in Ukraine on Monday after pro-Russian rebels declared a resounding victory in rebel referendums on self-rule in eastern regions.

Turchynov said the Kremlin was trying to disrupt a presidential election scheduled for May 25 which is taking center stage in a confrontation pitting Moscow along with pro-Russia separatists in eastern Ukraine against the government in Kyiv and its Western backers.

RIA news agency quoted a rebel leader as saying the eastern Luhansk region would boycott the May 25 election. What he called the "Republic of Luhansk" may hold a further referendum on union with Russia, as Ukraine's Crimea region did in a separatist-organized poll before its annexation by Moscow in March.

Ukraine's election is intended to secure democratic continuity and legitimacy after pro-Moscow president Viktor Yanukovych fled the country in February, and Western governments have threatened more sanctions in the vital areas of energy, financial services and engineering if Moscow disrupts the vote…The U.S. has denounced the polls as a "illegal under Ukrainian law" saying it will not recognize their results. A State Department statement said they "violate international law and the territorial integrity of Ukraine."…
Separatists to form own army

Following Sunday's referendums, separatist leaders in Donetsk say they will form their own army and expect all forces affiliated with Kyiv to leave the region.

Ukraine's government is already struggling with its anti-separatist military campaign and is reported to be short on men.  Analysts say they fear the authorities are likely to rely on irregulars more and that the fighting could spread beyond the regions of Donetsk and Luhansk, which voted Sunday.

Luhansk separatist leader Valery Bolotov said now that the plebiscites are over, his pro-Russian militiamen as well as separatists from Donetsk will start turning their attention elsewhere to help other regions agitate for a break from Ukraine.

He said separatists will not enter into any talks with Kyiv and that the only negotiations currently are about prisoner and hostage exchanges.  http://www.voanews.com/content/ukraines-turchynov-referendums-a-farce/1912526.html
As I wrote previously, Russia will likely rely on this vote as justification for some of its future actions.
As I mentioned yesterday, because of a vote like this, the separatists in the east probably would not allow the Ukraine-wide election that the West has counted on for May 25, 2014.  At least one news report has since confirmed my speculation on that point.
As 'independent states' Donetsk and Luhansk may enter into some type of joint confederation with each other or Russia.  If the forces from Kiev decide to attack, they will likely fight and ask for help from Russia.
Donetsk and Luhansk may vote to be annexed by Russia, like Crimea did.  Or at minimum decide to ask to be part of Vladimir Putin's Eurasian Union.
The Bible has several end time prophecies concerning the Medes (Isaiah 13:17-19) and the kings of the Medes (Jeremiah 51:11, 28-29) that involve military action.  Various ones in Crimea, Donetsk, Luhansk, Russia, and elsewhere are part of the descendants of the Medes, as likely are some in Moldova.
Alliances consistent with end time Bible prophecy are in the process of forming.  Despite what the USA complains about.
Some items of possibly related interest may include:
Russia and Ukraine: Their Origins and Prophesied Future Russia in prophecy. Where do the Russians come from? What about those in the Ukraine? What is prophesied for Russia and its allies? What will they do to the Europeans that supported the Beast in the end? There is also a video sermon available: Russia in the Bible and in Prophecy.
Ukraine in Prophecy? What is happening in Ukraine? What is known and what is unsure about its future? What is the origin of those who live in Ukraine? What does the Bible teach about the role of the Medes in the end times? Will Ukraine split? Why might part of Ukraine end up in the European Union? Why might part of Ukraine end up in the Eurasian Union? Is war in the prophesied future for Ukraine? What is the ultimate destiny for nearly all Ukrainians?
The Eurasian Union, the Kings of the East, and Bible Prophecy Is there a Eurasian union that will be formed? Is one being formed right now? Are any leaders working on that in the 21st century? Does the Bible teach that there will be a Eurasian union? If some type of Eurasian union is formed, who might it benefit and who will it destroy? A related video would be Is The Eurasian Union Rising?
Is Russia the King of the North? Some claim it is. But what does the Bible teach? Here is a link to a video, also titled Is Russia the King of the North?
Europa, the Beast, and Revelation Where did Europe get its name? What might Europe have to do with the Book of Revelation? What about "the Beast"? Is an emerging European power "the daughter of Babylon"? What is ahead for Europe? Here is a link to a video titled: Can You Prove that the Beast to Come is European?
Who is the King of the North? Is there one? Do biblical and Roman Catholic prophecies for the Great Monarch point to the same leader? Should he be followed? Who will be the King of the North discussed in Daniel 11? Is a nuclear attack prophesied to happen to the English-speaking peoples of the United States, Great Britain, Canada, Australia, and New Zealand? When do the 1335 days, 1290 days, and 1260 days (the time, times, and half a time) of Daniel 12 begin? When does the Bible show that economic collapse will affect the United States? In the Spanish language check out ¿Quién es el Rey del Norte? Here is a link to a video titled: The Future King of the North.
Barack Obama, Prophecy, and the Destruction of the United States-Second Edition for Second Obama Term This is a 160 page book for people truly interested in prophecies related to Barack Obama and the United States, including learning about many that have already been fulfilled (which the book documents in detail) and those that will be fulfilled in the future. It also has a chapter about a Republican choice. This book is available to order at www.barackobamaprophecy.com. The physical book can also be purchased at Amazon from the following link: Barack Obama, Prophecy, and the Destruction of the United States: Is Barack Obama Fulfilling Biblical, Islamic Catholic, Kenyan, and other America-Related Prophecies? What About Republican Leaders? Second Edition for Second Obama Term.
Barack Obama, Prophecy, and the Destruction of the United States-Second Term-Amazon Kindle edition. This electronic version is available for only US$2.99. And you do not need an actual Kindle device to read it. Why? Amazon will allow you to download it to almost any device: Please click HERE to download one of Amazon s Free Reader Apps. After you go to for your free Kindle reader and then go to Barack Obama, Prophecy, and the Destruction of the United States-Second Term-Amazon Kindle edition.