Wednesday, November 20th, 2019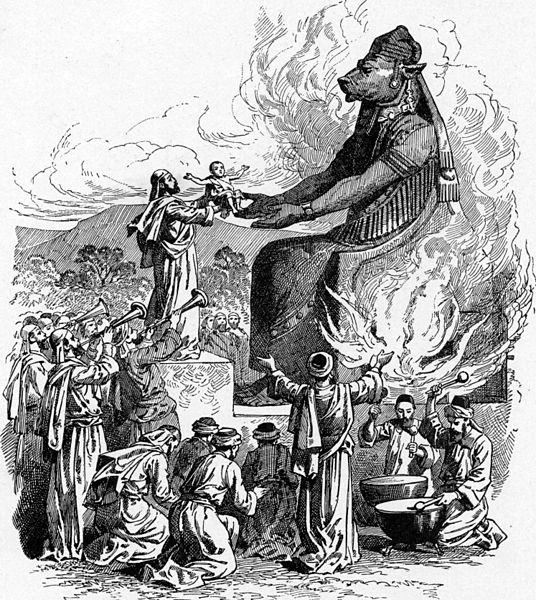 Offering to Molech
(1897 Bible Pictures and What They Teach Us by Charles Foster)
While pro-abortionists like to pretend the issue is about freedom of reproductive choice, the reality is that financial and other pressures are being applied. Notice two reports about the USA:
Democratic Campaign Group Won't Support Anti-Abortion Candidates

November 20, 2019

Louisiana … the Democratic Attorneys General Association, which works to elect Democratic state attorneys general, vowed not to support anti-abortion candidates. That means it will intervene in Democratic primaries in state attorney general contests only in favor of pro-choice candidates, even in states whose voters are overwhelmingly opposed to abortion.

Other major Democratic election organizations, including the Democratic National Committee, the Democratic Congressional Campaign Committee, and the National Conference of Democratic Mayors, have supported anti-abortion Democrats in the past. https://www.motherjones.com/politics/2019/11/democratic-campaign-group-wont-support-anti-abortion-candidates/

The Democratic Attorneys General Association announced that it would only endorse candidates who support abortion access and publicly vow to defend reproductive rights, a requirement the group called "first-of-its-kind for any Democratic campaign committee." …

"As the battle for reproductive rights unfolds at the ballot box, in statehouses, and courtrooms across this country, there is no group of elected officials better positioned to lead the fight for our rights than state Attorneys General," said Ellen Rosenblum, the group's co-chair and Oregon attorney general, in a statement. "That is why electing Democratic AGs who are committed to protecting reproductive freedom, especially for the most vulnerable communities, has never been more important."

The requirement would apply to potential funding, digital resources and strategic partners from the group starting in the 2020 elections. …Planned Parenthood acting President Alexis McGill Johnson praised the group's new policy. "Attorneys general are some of the most important people protecting our ability to access sexual and reproductive health care — including abortion," she said in a statement.

https://www.cnn.com/2019/11/18/politics/democratic-attorneys-general-association-abortion/index.html
So, many actual and potential politicians in the Democratic party are being told to be willing to sacrifice unborn babies if you want political and/or financial support for elective office. It is no surprise that Planned Parenthood, a leader in providing baby-killing services, supports this.
A reader from New Brunswick, Canada, tipped me off to the following today:
NDP Leader Jagmeet Singh is calling on Prime Minister Justin Trudeau to act immediately to withhold cash transfers to New Brunswick until the province provides funding for out-of-hospital abortion services.

New Brunswick is clearly violating the Canada Health Act, and it is the responsibility of the Prime Minister to step in, Mr. Singh said in a letter to Mr. Trudeau Monday.

The federal legislation for publicly funded health-care contains criteria and conditions that provinces and territories must fulfill to receive the full federal contribution under the Canada Health Transfer.

"Canadians expect the federal government to not just talk about being pro-choice but to stand up for abortion access when it is under threat," Mr. Singh wrote.

"It is your responsibility and Canadians are counting on you."

Mr. Singh's letter comes as a facility in Fredericton, known as Clinic 554, risks being shuttered. 11/18/19 https://www.theglobeandmail.com/politics/article-singh-urges-trudeau-to-act-on-abortion-access-in-new-brunswick/
So, financial pressures are being recommended to increase abortion access, meaning increasing the number of babies to be killed via abortion.
When my wife and I were in Canada last month for the Feast of Tabernacles, I heard various statements from NDP Leader Jagmeet Singh as he campaigned to be Prime Minister (he lost). But he has influence, and his party won 24 seats in Parliament in Canada's election last month.
Abortion is wrong and, yes, there is financial (as well as Satanic) motivation in promoting it.
There have been moral and financial costs to the nations that have allowed it.
The Continuing Church of God recently put out the following sermon from its ContinuingCOG channel related to abortion:
What is an abortion? How have they been done throughout history? How are abortions done now? What are some of women's biblical rights? Do women have a right to have an abortion? When does human life begin? Is birth control acceptable? Are some birth control techniques abortive? Did any Roman Catholic pontiffs allow abortion? What about the Church of God? Has the USA benefited economically from abortion as Chelsea Clinton stated or are there other economic costs? Does the Bible teach that the unborn are human children? What are things that God hates? What are some non-economic costs to abortion? What did Planned Parenthood co-founder want to do with 'Negros'? Do blacks have a higher percentage of abortions than whites in the USA? Are there abortion lies and suppression of truth? Does the Bible warn of that? Dr. Thiel addresses these issues and more.
Here is a link to the sermon: Abortion and Birth Control: History and Scriptures.
Earlier, the Continuing Church of God (CCOG) put out the following video on our Bible News Prophecy YouTube channel related to infanticide:
February 23, 2019 was declared a 'day of mourning' by some concerned about infanticide and other ramifications of the State of New York's "Reproductive Health Act." The American College of Pediatricians reported they were grieved by efforts by several states to allow infanticide. Statements from disgraced Virginia Governor Ralph Northam, as well as proposed laws in Illinois, Rhode Island, and Vermont have gotten more to be concerned about infanticide in the United States of America. Nebraska Senator Ben Sasse proposed S. 311 the 'Born-Alive Abortion Survivors Protection Act failed in a voice vote–and 17 "public health organizations' denounced S. 311 as "a dangerous government intrustion." Is the destruction of humans wrong. Does human life begin at conception? Is there a light flash at conception? Has there been infanticide throughout human history? What does God say about the shedding of "innocent blood'? What about Judaism and Molech?
Here is a link to the sermonette video: American Infanticide.
Infanticide is not new.
Abortion is a form of it.
One of the reasons for infanticide offerings to Molech was to supposedly insure better living/crops/military victories. So, yes, economic pressure was involved in the process.
Nearly everyone knows the commandments, "Thou shalt not kill" (Exodus 20:13).
The Jews knew them as well as the Hebrew scriptures, which we now call the Old Testament. So, they knew it was wrong.
During Old Testament times, there were people who sacrificed their infants to Molech (sometimes spelled Moloch).
God did not approve:
1 Then the Lord spoke to Moses, saying, 2 "Again, you shall say to the children of Israel: 'Whoever of the children of Israel, or of the strangers who dwell in Israel, who gives any of his descendants to Molech, he shall surely be put to death. The people of the land shall stone him with stones. 3 I will set My face against that man, and will cut him off from his people, because he has given some of his descendants to Molech, to defile My sanctuary and profane My holy name. 4 And if the people of the land should in any way hide their eyes from the man, when he gives some of his descendants to Molech, and they do not kill him, 5 then I will set My face against that man and against his family; and I will cut him off from his people, and all who prostitute themselves with him to commit harlotry with Molech. (Leviticus 20:1-5)

7 … Molech the abomination of the people of Ammon. (1 Kings 11:7)
Notice what King Josiah did:
10 And he defiled Topheth, which is in the Valley of the Son of Hinnom, that no man might make his son or his daughter pass through the fire to Molech. (2 Kings 23:10)
Here is more on Molech:
Drawing of French Rabbi RAbbi SHlomo Itzhaki
The 12th-century Rashi, commenting on Jeremiah 7:31 stated:

Tophet is Moloch, which was made of brass; and they heated him from his lower parts; and his hands being stretched out, and made hot, they put the child between his hands, and it was burnt; when it vehemently cried out; but the priests beat a drum, that the father might not hear the voice of his son, and his heart might not be moved. (Moloch, Wikipedia, accessed 02/22/19)
Infanticide is wrong. Infanticide is murder. Murder is a sin.
Speaking of Moloch, a statue of him is currently in Rome:
From now through March 2020, as part of an exhibit celebrating the city of Carthage, a giant statue of Molech, the god of the ancient Canaanites and Carthaginians, will greet visitors at the entrance to the Roman Colosseum.

Molech is the pagan god who required his devotees to toss their children into his fiery belly as an act of worship. The location of the display is particularly worth noting since the Roman Colosseum is where many early Christians were slaughtered at the hands of lunatic dictators fearful of a faith they could not stop.

Previously, the Catholic Church had made the Colosseum a sacred site to honor these first Christians martyred for their faith, even placing Stations of the Cross there for the faithful to contemplate their sacrifice. Now it's guarded by the pagan god Molech, whose demand for child sacrifice has been compared to the modern epidemic of abortion, and the faithful are greeted with a statue honoring a pagan deity whose murderous spirit still seeks to kill children.

A giant statue of Moloch greets visitors to the Coliseum Carthage exhibit. Of course a god of death reigns in the arena, but the exculpatory didactic claims he didn't exist. Sacrifice of infants, documented by both biblical and Greek sources,by any other name,is still infanticide pic.twitter.com/bTfY7JAQ6v

— Elizabeth Lev (@lizlevrome) September 29, 2019

LifeSite News reports it is not a welcome sight for some Christian pilgrims. "We were so excited the day we decided to go to the Colosseum," Alexandra Clark told the outlet via email. "But the moment we got there the sight that greeted us was horrifying! Standing guard over the entrance was the colossal pagan statue of Moloch. It was placed in that prime spot so that everyone that entered into the Colosseum had to pass it," she continued. For Clark, it was "a mockery" of the martyrdom of those early Christians. …

The takeaway from the Amazon Synod for traditional Catholics, according to Fox, is that "the Catholic Church has been thrown into a state of total confusion since Pope Francis ascended to the seat of St. Peter. His silence and the silence of Church leaders on crucial issues of the faith have created chaos and division between the left-wing and traditional Catholics."

And for the faithful, displaying a statue of Molech at the place where Nero tortured Christians and fed them to the lions is equally disturbing and another step toward exalting idols that should be cast down instead. 11/11/19 https://www1.cbn.com/cbnnews/cwn/2019/november/statue-of-molech-pagan-deity-of-child-sacrifice-displayed-at-colosseum
There are many pagan statues in Rome.
Moloch may be there, partially, in support of multiculturalism, which is something that Pope Francis supports (e.g. CNA: Theology in 'dialogue with cultures' renews humanity, Pope Francis says).
While Pope Francis is opposed to abortion, not all Bishops of Rome have been (e.g. "Pope" Callistus).
And, as it turns out, many 'multicultuarists' support abortion.
Some items of possibly related interest may include:
Abortion, the Bible, and a Woman's Right to Choose Do you know what the Bible teaches on this? Has the Roman Catholic Church allowed abortions? What about the real Church of God? Some may wish to view the YouTube videos: Abortion and Birth Control: History and Scriptures. Abortion, the Bible, and US Debt, American Infanticide, and Land of 'Free' Abortions and Debt.
Land of 'Free' Abortions and Debt The State of Oregon decided to make abortions free for those that want them. Does freedom of choice include the right to shed innocent blood? What has happened to the economy of the USA since abortions became legalized? What has happened to incomes since that time? How many babies have been killed since the Roe vs. Wade decision in 1973? Is there a cost to abortion beyond the financial and emotional? What does the Bible teach? What does the Bible prophesy? Dr. Thiel addresses these and other questions. This is a video.
"Pope" Callistus (217-222) He is the first bishop known to have been a criminal prior to his election. He was also accused of a variety of corrupt acts, including allowing indulgences and infanticide (abortion).
Christian Repentance Do you know what repentance is? Is it really necessary for salvation? A related sermon is also available titled: Real Christian Repentance.
Just What Do You Mean — Repentance? Do you know what repentance is? Have you truly repented? Repented of what? Herbert W. Armstrong wrote this as a booklet on this important subject.
When You Sin: Do You Really Repent? This is an article by Charles F. Hunting. A related sermon is Confess to God and truly repent.
Anglo – America in Prophecy & the Lost Tribes of Israel Are the Americans, Canadians, English, Scottish, Welsh, Australians, Anglo-Saxon (non-Dutch) Southern Africans, and New Zealanders descendants of Joseph? Where are the lost ten-tribes of Israel? Who are the lost tribes of Israel? What will happen to Jerusalem and the Jews in Israel? Will God punish the U.S.A., Canada, United Kingdom, and other Anglo-Saxon nations? Why might God allow them to be punished first? Here is a link to the Spanish version of this article: Anglo-América & las Tribus Perdidas de Israel. Information is also in the YouTube sermons titled Where are the Ten Lost Tribes? Why does it matter? and British are the Covenant People. A short YouTube of prophetic interest may be: Are Chinese threats against Australia for real?
Will the Anglo-Saxon-Celtic Nations be Divided and Have People Taken as Slaves? Will the lands of the United States, United Kingdom, Canada, Australia, and New Zealand be divided? What about Jerusalem? What does Bible prophecy teach? Are there non-biblical prophecies that support this idea? Who will divide those lands? Who will end up with the lands and the people? Here is a link to a video titled Will the USA and other Anglo-nations be Divided and Their People Made Slaves? Here is a related item in the Spanish language ¿Serán divididas las naciones anglosajonas?
British are the Covenant People What do 'British' and 'Britain' mean in Hebrew? Are the descendants of the Anglo-Saxons people of the covenant? Does the British royal family connect to the throne of David? What does the Bible teach? What does history show us? Is there any DNA evidence related to British-Israelism? When did Christianity make it to the British Isles? Could Jeremiah have made it to the British Isles? What type of Christians made it to the British Isles? Did the last King of England believe in British Israelism?
Canada in Prophecy: What Does Bible Prophecy, Catholic Prophecy, and other Predictions Suggest About the Future of Canada? There are prophecies that suggest involvement with Canada. And many are not positive about its future. A sermon of related interest is also available: Canada in Prophecy.
Australia and New Zealand in Prophecy Do biblical prophecies help explain the wealth blessings for Australia and New Zealand? Might cursings from disobedience come in the 21st century? Here is a link to a related sermon: Australia and New Zealand: Origins and Prophecy.
The 'Lost Tribe' of Reuben: France in Prophecy? What is the origin of this in France? What is prophesied to happen to them? A two-part sermon related to history and prophecy is available online: The 'Lost Tribe' of Reuben and France and Prophecy.
Is God Calling You? This booklet discusses topics including calling, election, and selection. If God is calling you, how will you respond? Here is a link to a related sermon: Could God be Calling You?
Christians: Ambassadors for the Kingdom of God, Biblical instructions on living as a Christian This is a scripture-filled booklet for those wishing to live as a real Christian. A related sermon is also available: Christians are Ambassadors for the Kingdom of God.
The Ten Commandments: The Decalogue, Christianity, and the Beast This is a free pdf book explaining the what the Ten Commandments are, where they came from, how early professors of Christ viewed them, and how various ones, including the Beast of Revelation, will oppose them. A related sermon is titled: The Ten Commandments and the Beast of Revelation.
The Gospel of the Kingdom of God This free online pdf booklet has answers many questions people have about the Gospel of the Kingdom of God and explains why it is the solution to the issues the world is facing. Here are links to three related sermons: The World's False Gospel, The Gospel of the Kingdom: From the New and Old Testaments, and The Kingdom of God is the Solution.