Saturday, June 30th, 2018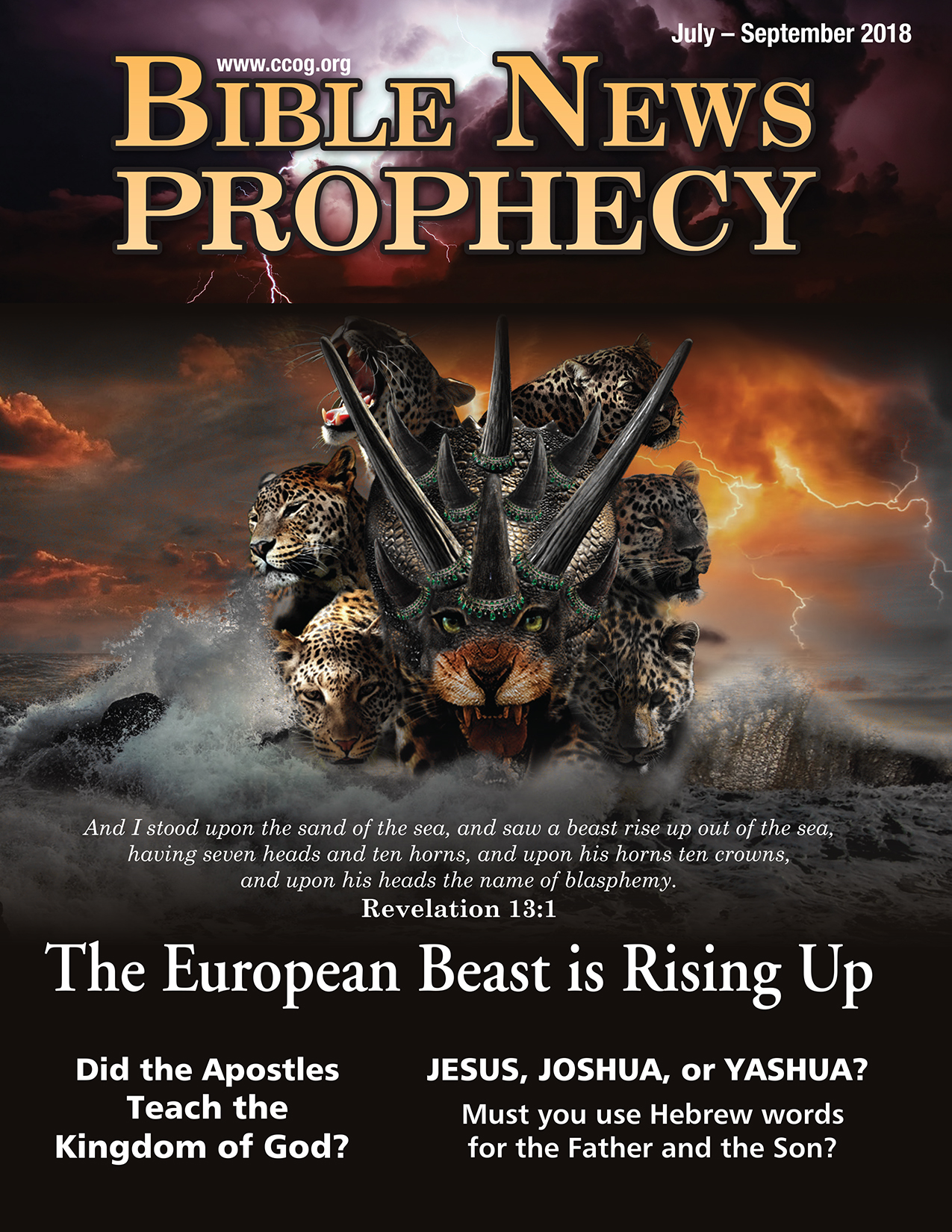 July-September 2018 edition of Bible News Prophecy magazine cover
The July-September 2018 edition of Bible News Prophecy magazine is now available online.
In This Issue:

2 From the Editor: Jesus, Joshua, or Yashua? Must you use Hebrew words for the Father and the Son?

5 Study the Bible Course Lesson 14: Are humans immortal? Did that idea originate from the Bible?

12 Did the Apostles teach the Gospel of the Kingdom? What does the Bible teach?

17 The European Beast is Rising Up The late evangelist Raymond McNair wrote about this. There is also additional information beyond what he wrote showing that what he expected is happening.

22 When Should You Be Anointed? The late David Jon Hill gives his perspective on that.
Bible News Prophecy magazine is the official magazine of the Continuing Church of God and it has articles on a wide variety of subjects of Christian interest. It is produced in multiple languages and comes out quarterly.
And it is given away free, for Jesus said, "Freely you have received, freely give" (Matthew 10:8).
You can easily view it online.  Here is a link to the July-September 2018 edition of Bible News Prophecy magazine.
        
Noticias de Profecía de la Biblia Julio-Septiembre 2018
Noticias de Profecía de la Biblia En este número:
Del editor: ¿Debería la Verdadera Iglesia de Dios tener su sede central en Jerusalén? Algunos han dicho eso. ¿Qué enseña la Biblia?
Curso de Estudio de la Biblia Lección 13: ¿Cuál es la herencia de los cristianos? ¿Heredan los cristianos la Tierra o el Cielo?
¿Enseñó el Antiguo Testamento el Reino de Dios? ¿Estaban conscientes los hijos de Israel del Reino de Dios en las escrituras hebreas?
USTED puede NO ESCAPAR a la Tribulacion! El finado evangelista Leroy Neff escribió acerca de esto hace cinco décadas – pero el mensaje es incluso más actual hoy puesto que nosotros estamos más cerca de la Gran Tribulación.
Cubierta posterior: Internet y Radio Esto muestra dónde puede encontrar el pueblo de Dios los mensajes de la Continuación de laIglesia de Dios.
For those who prefer to read Spanish, here is a link to the Spanish version: Aquí está el enlace a la revista: Noticias de Profecía de la Biblia Julio-Septiembre 2018