Sunday, May 31st, 2020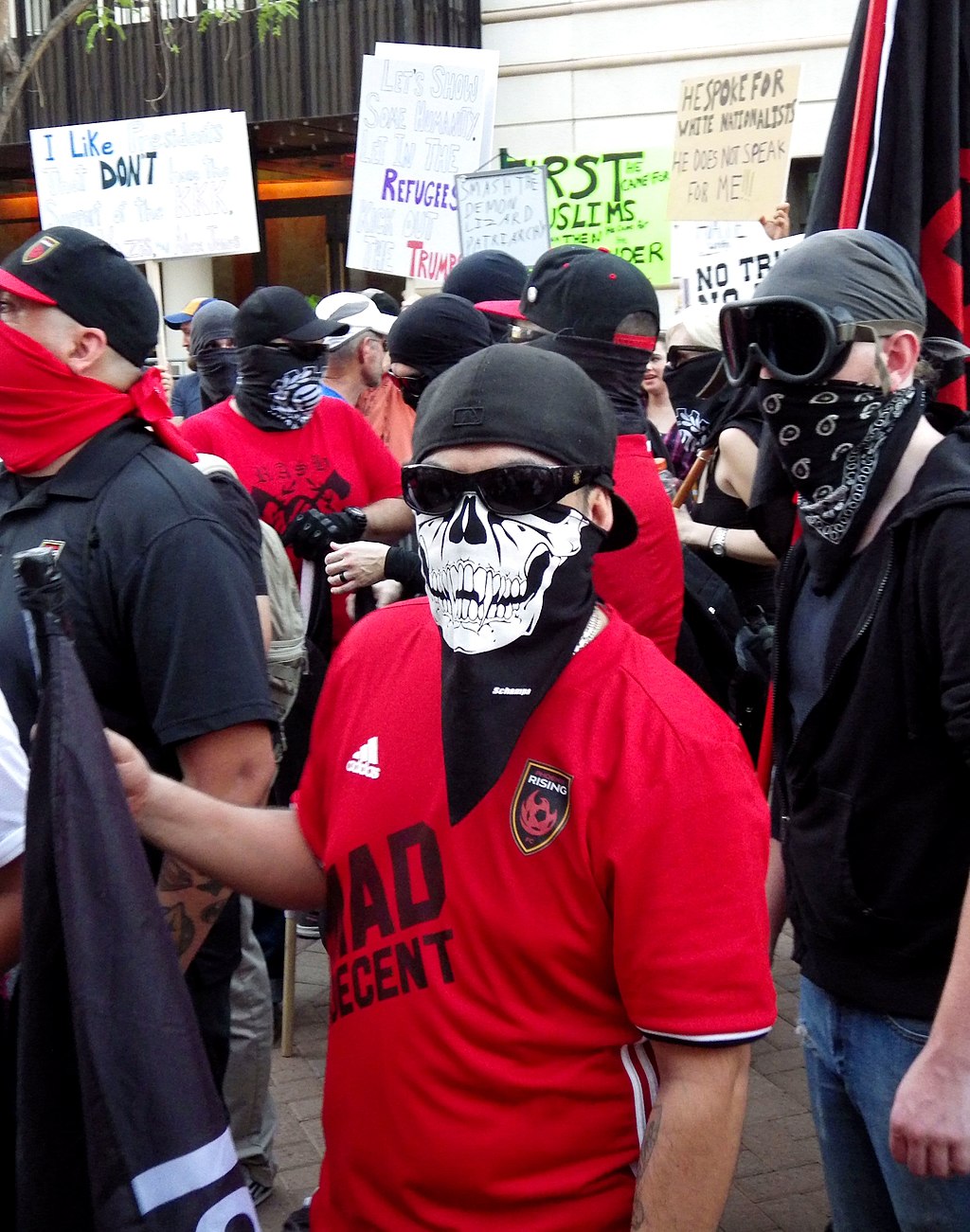 Antifa protesters at Trump rally (Einar Kvaran)

Donald Trump spoke out against Antifa:
Trump says he will designate Antifa a terrorist organization as GOP points fingers at extremists

May 31, 2020

Democratic and Republican officials on Sunday took aim at groups like Antifa and Boogaloo as well as demonstrators from out of town as responsible for violent episodes at protests in major cities across the country.

President Donald Trump tweeted that he was designating Antifa as a terrorist organization.

The United States of America will be designating ANTIFA as a Terrorist Organization.

— Donald J. Trump (@realDonaldTrump) May 31, 2020

That followed Trump and Attorney General William Barr earlier pointing to anti-fascist organizers and anarchists as culprits behind the mayhem following the death of a 46-year-old black man, George Floyd, at the hands of Minneapolis police. Others said right-wing extremists such as Boogaloo followers, who hope to bring about a second Civil War, were pushing for such uprising in the protests.

"This is being driven by Antifa," national security adviser Robert O'Brien told CNN's "State of the Union" on Sunday. "And they did it in Seattle. They have done it in Portland. They have done it in Berkeley. This is a destructive force of radical — I don't even know if we want to call them leftists. Whatever they are, they're — they're militants who are coming in and burning our cities, and we're going to get to the bottom of it."

Antifa, meaning "anti-fascist," is a coalition of protesters, left-wing activists and self-described anarchists who seek to physically confront and bring down what they deem as the far right. https://www.nbcnews.com/politics/politics-news/trump-says-he-will-designate-antifa-terrorist-organization-gop-points-n1220321
This is not the first time Donald Trump has considered doing this. Here is what Donald Trump tweeted last Summer:
Consideration is being given to declaring ANTIFA, the gutless Radical Left Wack Jobs who go around hitting (only non-fighters) people over the heads with baseball bats, a major Organization of Terror (along with MS-13 & others). Would make it easier for police to do their job!

— Donald J. Trump (@realDonaldTrump) July 27, 2019
Antifa has a history of violence as well as protests against Donald Trump.
Below is a banner Antifa has put forth: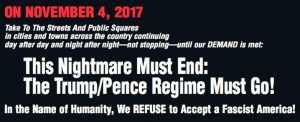 The group Antifa brings the following scriptures to mind:
3 For your hands are defiled with blood, And your fingers with iniquity; Your lips have spoken lies, Your tongue has muttered perversity.
4 No one calls for justice, Nor does any plead for truth. They trust in empty words and speak lies; They conceive evil and bring forth iniquity. 5 They hatch vipers' eggs and weave the spider's web; He who eats of their eggs dies, And from that which is crushed a viper breaks out. 6 Their webs will not become garments, Nor will they cover themselves with their works; Their works are works of iniquity, And the act of violence is in their hands. 7 Their feet run to evil, And they make haste to shed innocent blood; Their thoughts are thoughts of iniquity; Wasting and destruction are in their paths. 8 The way of peace they have not known, And there is no justice in their ways; They have made themselves crooked paths; Whoever takes that way shall not know peace. (Isaiah 59:3-8)
A major divide is occurring in the USA. This is not good.
Notice the following:
So who's donating the pallets of bricks to these riot ravaged areas? Surely there's surveillance footage, and surely they arent being brought in by hand. Start checking camera footage, run license plates. pic.twitter.com/QFHgwHVz0f

— Jerome Russell (@JeromeRussell5) May 31, 2020
No, I do not believe all the protests are spontaneous. Yes, some are involved in organizing them, and not all have proper intentions.
Violence by protesters is wrong and should be denounced.
Increasingly, the the USA is becoming more polarized.
Jesus taught:
25 Every kingdom divided against itself is brought to desolation, and every city or house divided against itself will not stand. (Matthew 12:25)

17 Every kingdom divided against itself is brought to desolation, and a house divided against a house falls. (Luke 11:17)
Jesus spoke of a time of troubles (Mark 13:8) and violence (Matthew 24:6-7). The Book of Revelation tells of the time of the ride of the red horseman of war.
Here is number 7 from my article 20 items to prophetically watch in 2020::
Notice how the Orthodox Jewish Bible translates the first half of Matthew 24:7:

For there will be an intifada of ethnic group against ethnic group, …

We expect to see more wars, rumors of war, and civil unrest.
Sadly, we are seeing that.
Consider also the following from the prophet Amos:
9 'Assemble on the mountains of Samaria; See great tumults in her midst, And the oppressed within her. 10 For they do not know to do right, 'Says the Lord, 'Who store up violence and robbery in their palaces.'" (Amos 3:9-10)
The reference to Samaria is pointing to the USA (see also Spiritual Samaritans: Old and New). The above is consistent with both civil unrest and terrorism. Expect more to hit the USA. Many of the right and left feel oppressed, they do not know how to do right, and they have stored up violence, and in 'protests' can display violence and robbery.
Violence, including police violence, often begets more violence. So, sadly, we seem to be seeing more and more protests and terror.
The Bible warns:
25 … There shall be terror within (Deuteronomy 32:25)
There is violence in the USA. We are seeing increased civil unrest in the USA, by groups like Antifa. We will see riots in the USA.
The Bible teaches:
9 'Thus says the Lord God: "Enough, O princes of Israel! Remove violence and plundering, execute justice and righteousness (Ezekiel 45:9)

9…You shall love your neighbor as yourself." 10 Love does no harm to a neighbor; therefore love is the fulfillment of the law. (Romans 13:9-10)
As far as violence goes, the Bible shows that God is against violence and that destruction will come because of it:
23 'Make a chain,
For the land is filled with crimes of blood,
And the city is full of violence.
24 Therefore I will bring the worst of the Gentiles,
And they will possess their houses;
I will cause the pomp of the strong to cease,
And their holy places shall be defiled. (Ezekiel 7:23-24)

28 And even as they did not like to retain God in their knowledge, God gave them over to a debased mind, to do those things which are not fitting; 29 being filled with all unrighteousness, sexual immorality…30…violent, proud, boasters,…31…unmerciful; 32 who, knowing the righteous judgment of God, that those who practice such things are deserving of death, not only do the same but also approve of those who practice them. (Romans 1:28-32)

8…And the violence of the land and the city, And of all who dwell in it. ( Habakkuk 2:8)
Notice the violence is prophesied to get worse. And we have seen this in cities all across the USA in the past several days. Notice the following:
George Floyd protest updates: Police arrest almost 1,700 people across 22 cities in 3 days

May 31, 2020

The death of George Floyd, a black man who died on Memorial Day after he was pinned down by a white Minnesota police officer, has sparked outrage and protests in Minneapolis and across the United States. …

Police have made at least 1,669 arrests across 22 U.S. cities since Thursday, according to numbers released by The Associated Press.

In the wake of Floyd's death, murder and manslaughter charges have been filed against Derek Chauvin, the officer who prosecutors say held his knee on Floyd's neck for nearly nine minutes. Chauvin and the other three officers at the scene have been fired. The Department of Justice is investigating. …

Texas Gov. Greg Abbott declared a statewide "State of Disaster" amid the protests.

"Violence against others and the destruction of property is unacceptable and counterproductive," Abbott stressed. "As protests have turned violent in various areas across the state, it is crucial that we maintain order, uphold public safety, and protect against property damage or loss." https://abcnews.go.com/US/george-floyd-protest-updates-joe-biden-nationwide-protests/story?id=70979091
The actual count is over 1700 arrested as I type this and is probably over 2,000.
Violence is prophesied to increase. So much so that Gentiles will one day come and take possession of houses–this will happen to the USA during the Great Tribulation (see also When Will the Great Tribulation Begin?).
The time of Jacob's trouble (Jeremiah 30:7), also known as the Great Tribulation (Matthew 24:21), is coming and the USA and its Anglo-Saxon allies (including Canada) will be affected.
National repentance is the only way to prevent it, and that does not look likely. Personal repentance, however, is still possible. If you are an American, your personal future can still be much brighter than that of your country.
Though for the nation, the Kingdom of God is the solution, but the USA will first have to go through a horrific 3 1/2 years. The end of the USA/UK world order is coming and the final Time of the Gentiles is getting nearer.
UPDATE: We just uploaded the following video:
We are seeing riots and protests across the USA, protests and skirmishes in Hong Kong, and another potential intifada with the Palestinians over Israel's annexation plans. Could any of this be related to the beginning of sorrows Jesus mentioned in Matthew 24? What about rider of the red horse of war of the apocalypse? Is ethic group prophesied to be against ethnic group according to the Orthodox Jewish Bible? Did the red horse begin the ride in the 20th century? What is the relationship of the seals of Revelation 6 and the start of the Great Tribulation? Will a warring 'Beast' leader arise in Europe? Might he quell civil unrest? Might he militarily destroy the United States, United Kingdom, and Canada? What about the Islamic nations of the Middle East and North Africa? Will Jesus have the King of the North Beast defeated? After Jesus returns will this be the time when people will not learn war? What about the other seals in the Book of Revelation? Dr. Thiel address these and more in this video.
Here is a link to our video: Riots and the Red Horse of the Apocalypse.
Some items of possibly related interest may include:
God's Grace is For All Is being Jewish a hindrance to salvation? What about not being a descendant of Israel? What does the Bible really teach? Here is a link to a related sermon titled Race and Grace; Do you view race as God does?
20 items to prophetically watch in 2020 Much is happening. Dr. Thiel points to 20 items to watch (cf. Mark 13:37) in this article. Here is a link to a related sermon: 20 Prophetic Items to Watch in 2020.
Four Horsemen of the Apocalypse What do each of the four horseman of the Apocalypse represent? Have they began their ride? Did Jesus discuss the any of this? Might their rides coincide with the "beginning of sorrows? Do they start their ride prior to the Great Tribulation? Did Nostradamus or any other 'private prophets' write predictions that may mislead people so that they may not understand the truth of one or more of the four horseman? There is also a related YouTube video titled The Four Horsemen of the Apocalypse.
World War III: Steps in Progress Are there surprising actions going on now that are leading to WWIII? Might a nuclear attack be expected? Does the Bible promise protection to all or only some Christians? How can you be part of those that will be protected? A related video would be Is World War III About to Begin? Can You Escape?
Fourth Horseman of the Apocalypse What is the pale horse of death and pestilences? What will it bring and when? Here is a link to a related sermon: Fourth Horseman, COVID, and the Rise of the Beast of Revelation. Some shorter related videos may include Amphibian Apocalypse: Threat to Humans? and Zombie Deer Disease is Here! Are the 10 Plagues on Egypt Coming? Here is a version of the article in Spanish: El cuarto jinete de Apocalipsis, el caballo pálido de muerte y pestilencia.
USA in Prophecy: The Strongest Fortresses Can you point to scriptures, like Daniel 11:39, that point to the USA in the 21st century? This article does. A related sermon is titled: Do these 7 prophesies point to the end of the USA?
Who is the King of the West? Why is there no Final End-Time King of the West in Bible Prophecy? Is the United States the King of the West? Here is a version in the Spanish language: ¿Quién es el Rey del Occidente? ¿Por qué no hay un Rey del Occidente en la profecía del tiempo del fin? A related sermon is also available: The Bible, the USA, and the King of the West.
COVID 19 is NOT the End, but could it be TEOTWAWKI? The novel coronavirus called COVID-19 is wreaking havoc around the world. Many states of the USA as well as countries in Europe are on lockdown with shelter in place /shelter in residence requirements. In France, a form is required when you are not at your house. In Spain, drones are being used to warn people who are outside to got back to their homes–does that bring up feelings of 'Big Brother'? Italy, France, and other areas are using police and/or military force to encourage people to stay inside. According to the Bible could this be the end? If not, what has to happen first? Have the second and third of the four horsemen of the Apocalypse started their ride? Could COVID-19 be the fourth horseman? Why or why not? Could we be seeing The End of the World as We Know It (TEOTWAWKI) like the R.E.M.'s 1987 single song discussed? Do Christians need to fear? What did Jesus teach? What did the Psalmist teach? This is a video. Here is a link to a version in the Spanish language: Corona 19 no es el final PERO es el TEOTWAWKI.
COVID-19 Leading to 666? The novel coronavirus of Wuhan, China fame, is now called COVID-19. It has also been called the 'Coronapocalypse.' Does COVID-19 have any prophetic ramifications? What did Jesus teach about pestilences and sorrows in the Olivet prophecy in Matthew 24? Could COVID-19 be the ride of the fourth horseman of the Apocalypse? Why was this type of disease expected according to the O. Here is a link to a version in the Spanish language: ld Testament prophecies in Deuteronomy and Leviticus? What has the US Centers for Disease Control warned about? What has the CDC reported about the flu? Were there lessons about fear and infections in the 2011 movie 'Contagion'? Because of COVID-19, the World Health Organization (WHO), nation of Iran, and certain French locations are telling people not to use cash, but instead electronic forms of payment. The US Federal Reserve is now quarantining money repatriated from Asia to reduce the potential spread of the coronavirus on US currency bills. Is COVID-19 worse than we have been told or could this all be a 'false flag' event to encourage people to move towards a cashless society? If the thousands of deaths associated with COVID-19 are pushing parts of the world towards cashlessness, how much more likely will the ride of the fourth horseman and over a billion human deaths motivate people to move to making electronic payments that can be monitored? The Bible tells of a soon coming society that controls buying and selling to force allegiance to a coming European Beast power, known as 666 (Revelation 13:16-18). Does the 'great tribulation' begin before ride of the fourth horseman or with the opening of the fifth seal of Revelation 6? Do the words of Jesus helps us better understand the sequence of the four horsemen of the Apocalypse and the start of the Great Tribulation? Will the ride of the fourth horseman help lead to the rise of 666? Is that ride very close? Dr. Thiel addresses these issues and more in this video. Here is a link to a version in the Spanish language: El COVID-19 ¿Conduce al 666?
God's Grace is For All Is being Jewish a hindrance to salvation? What about not being a descendant of Israel? What does the Bible really teach? Here is a link to a related sermon titled Race and Grace; Do you view race as God does?
Is God Calling You? This booklet discusses topics including calling, election, and selection. If God is calling you, how will you respond? Here is a link to a related sermon: Could God be Calling You? A short animation is also available: Is God Calling You?
Christian Repentance Do you know what repentance is? Is it really necessary for salvation? A related sermon is also available titled: Real Christian Repentance.
Just What Do You Mean — Repentance? Do you know what repentance is? Have you truly repented? Repented of what? Herbert W. Armstrong wrote this as a booklet on this important subject.
The Gospel of the Kingdom of God This free online pdf booklet has answers many questions people have about the Gospel of the Kingdom of God and explains why it is the solution to the issues the world is facing. Here are links to three related sermons: The World's False Gospel, The Gospel of the Kingdom: From the New and Old Testaments, and The Kingdom of God is the Solution.
When Will the Great Tribulation Begin? 2019, 2020, or 2021? Can the Great Tribulation begin today? What happens before the Great Tribulation in the "beginning of sorrows"? What happens in the Great Tribulation and the Day of the Lord? Is this the time of the Gentiles? When is the earliest that the Great Tribulation can begin? What is the Day of the Lord? Who are the 144,000? Here is a version of the article in the Spanish language: ¿Puede comenzar la Gran Tribulación en 2018 o 2019? ¿Es el Tiempo de los Gentiles? You can also see the English language sermon videos: The Great Tribulation from the Mount of Olives and Can the Great Tribulation begin before 2020? A shorter and newer video is: Might the Great Tribulation start in 2019?
The Times of the Gentiles Has there been more than one time of the Gentiles? Are we in it now or in the time of Anglo-America? What will the final time of the Gentiles be like? A related sermon is available and is titled: The Times of the Gentiles.
Armageddon Who is involved and when will this gathering happen? Here is also a video from Dr. Thiel, from Tel Megiddo in Israel: Armageddon. Other videos include: Armageddon Will it come on Trump's watch?, Iraq, Armageddon, & Prophecy, Freemasonry, Armageddon, and Rome, Is China paving roads to Armageddon?, and Jordan, Petra, and Armageddon.
Anglo – America in Prophecy & the Lost Tribes of Israel Are the Americans, Canadians, English, Scottish, Welsh, Australians, Anglo-Saxon (non-Dutch) Southern Africans, and New Zealanders descendants of Joseph? Where are the lost ten-tribes of Israel? Who are the lost tribes of Israel? What will happen to Jerusalem and the Jews in Israel? Will God punish the U.S.A., Canada, United Kingdom, and other Anglo-Saxon nations? Why might God allow them to be punished first? Here is a link to the Spanish version of this article: Anglo-América & las Tribus Perdidas de Israel. Information is also in the YouTube sermons titled Where are the Ten Lost Tribes? Why does it matter? and British are the Covenant People. A short YouTube of prophetic interest may be: Are Chinese threats against Australia for real?
Will the Anglo-Saxon-Celtic Nations be Divided and Have People Taken as Slaves? Will the lands of the United States, United Kingdom, Canada, Australia, and New Zealand be divided? What about Jerusalem? What does Bible prophecy teach? Are there non-biblical prophecies that support this idea? Who will divide those lands? Who will end up with the lands and the people? Here is a link to a video titled Will the USA and other Anglo-nations be Divided and Their People Made Slaves? Here is a related item in the Spanish language ¿Serán divididas las naciones anglosajonas?
British are the Covenant People What do 'British' and 'Britain' mean in Hebrew? Are the descendants of the Anglo-Saxons people of the covenant? Does the British royal family connect to the throne of David? What does the Bible teach? What does history show us? Is there any DNA evidence related to British-Israelism? When did Christianity make it to the British Isles? Could Jeremiah have made it to the British Isles? What type of Christians made it to the British Isles? Did the last King of England believe in British Israelism?
Canada in Prophecy: What Does Bible Prophecy, Catholic Prophecy, and other Predictions Suggest About the Future of Canada? There are prophecies that suggest involvement with Canada. And many are not positive about its future. A sermon of related interest is also available: Canada in Prophecy.
Australia and New Zealand in Prophecy Do biblical prophecies help explain the wealth blessings for Australia and New Zealand? Might cursings from disobedience come in the 21st century? Here is a link to a related sermon: Australia and New Zealand: Origins and Prophecy.
There is a Place of Safety for the Philadelphians. Why it May Be Petra This article discusses a biblical 'place of safety' and includes quotes from the Bible and Herbert W. Armstrong on this subject–thus, there is a biblically supported alternative to the rapture theory. There is also a video on the subject: Might Petra be the Place of Safety?
Donald Trump in Prophecy Prophecy, Donald Trump? Are there prophecies that Donald Trump may fulfill? Are there any prophecies that he has already helped fulfill? Is a Donald Trump presidency proving to be apocalyptic? Two related videos are available: Donald: 'Trump of God' or Apocalyptic? and Donald Trump's Prophetic Presidency.
Trump Presidency Magic 8 Ball or Bible Prophecy? BBC reported that one might as well use a 'Magic Eight-Ball' to try to predict what will happen in the remaining time of Donald Trump's presidency. What is a 'Magic Eight-Ball'? Dr. Thiel not only explains that, but also briefly goes over 10 biblically-based warnings he wrote would happen if Donald Trump were elected that have already began to come to pass. He also goes over something he wrote back in 2008 that the Trump presidency is also helping lead to fulfillment. Should you trust Bible prophecy or not? Dr. Thiel says that Bible prophecy can be trusted, despite the view of skeptics and others that either overlook or despise the Bible. This is a video.
Donald Trump and America's Apocalypse This 188 page book is for people truly interested in prophecies related to Donald Trump and the United States, including learning about several that have already been fulfilled and those that will be fulfilled in the future. The physical book can be purchased at Amazon for $12.99 from the following link: Donald Trump and America's Apocalypse.
Donald Trump and America's Apocalypse-Kindle Edition This electronic version of the 188 page print edition is available for only US$3.99. And you do not need an actual Kindle device to read it. Why? Amazon will allow you to download it to almost any device: Please click HERE to download one of Amazon s Free Reader Apps. After you go to for your free Kindle reader and then go to Donald Trump and America's Apocalypse-Kindle Edition.