Thursday, April 30th, 2015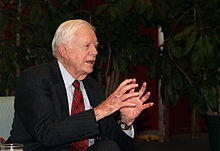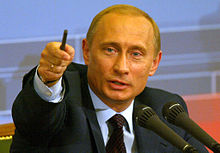 Former US President Jimmy Carter and Russian President Vladimir Putin

Former US President Jimmy Carter appears optimistic about talks involving Ukraine and Russia's Vladimir Putin:
April 30, 2015
MOSCOW—Former U.S. president Jimmy Carter says he is pleased with Russia's commitment to implement the Minsk agreement.

Carter and other former global leaders met with Russian President Vladimir Putin for 2.5 hours Wednesday in Moscow.  The group, called the Elders, visited at a time when Russia's relations with the West are severely strained over Moscow's seizure of Crimea and the deadly conflict in eastern Ukraine.

In an exclusive interview with VOA after meeting with President Putin, Carter said the Elders were pleased with Russia's allegiance to the Minsk agreement.  "There's not any doubt in our mind that the Russians genuinely want to see all the aspects of that concluded.  I think that's the only ballgame in town," said Carter, "really as far as resolving the problems with Ukraine, is to get the Minsk agreement implemented."

The Minsk II agreement was reached in February by France, Germany, Russia, Ukraine and pro-Russia separatists.  It envisions a cease-fire and withdrawal of foreign troops and heavy weapons leading to a lasting, legal and political solution to the conflict in Ukraine.  The deal is considered by many to be the last, best hope for peace in eastern Ukraine while more hawkish Western politicians are calling for arming Ukraine's military to better stand up to Russian forces backing the rebels.

The United States and its European allies have considerable doubts about Moscow's commitment to the Minsk accord.  On Thursday, General Philip Breedlove, the NATO commander, testified before the U.S. Senate Armed Services Committee that Russia appears to have used the lull in fighting since the Minsk II agreement was signed in February to "reset and reposition" forces near eastern Ukraine.

Breedlove said many of Russia's actions are "consistent with preparations for another offensive" into Ukrainian territory.

While declining to weigh in on Western accusations that Russia is supplying troops and weapons to rebels in eastern Ukraine, the former U.S. president reiterated his opposition to any arms flowing into the country.  "I would like very much to see a cessation of sending arms to Ukraine, either to Kyiv or to the eastern part," said Carter.  "And, my hope is that President Obama would not do so."

Carter acknowledged Ukraine still needs Western military support in the form of "non-lethal equipment."  The United States and NATO have not sent weapons to Ukraine, but sent medical supplies and other equipment, such as radios, vehicles and defensive radar systems.

The former U.S. president repeated his position that Russia's annexation of Crimea was "inevitable" because of its Soviet Russian roots, and was what the people of Crimea wanted and would not be undone any time soon.  "I don't know what initiative came from the people in Crimea and what initiative came from the people in Russia," said Carter.

Carter originally stated that position a year ago, shortly after the annexation happened, but he also has said Russia should not be allowed any other territorial gains in Ukraine.

Commenting on Carter's remarks, the U.S. State Department said Thursday it would not speculate on the reasoning behind his statements.  http://www.voanews.com/content/carter-pleased-with-russia-embrace-of-minsk-agreement/2743389.html
Some have considered that Jimmy Carter has tended to be naive in certain international matters–though on Crimea, it may be others who were more naive than he.  That being said, Jimmy Carter probably had more personal integrity than other USA presidents during my lifetime.
But this does not really change the situation between Russia and Ukraine.
Basically, Vladimir Putin wants Europe to concede more of Ukraine to him and hopes that he can do this without war.
It should be mentioned that not all of Europe opposes Vladimir Putin. Part of Moldova seems to support him, there is some limited sympathy in parts of Hungary, and there is support in Serbia. But then there are the Baltic states and other parts of Europe who are greatly concerned about Russia.
Russia, it should be mentioned however, is NOT biblically the power that is prophesied to takeover the USA and its Anglo-Saxon allies–Europe is (cf. Daniel 11:39). Later, however, Russia prophesied to destroy Europe (e.g. Jeremiah 51:11-32)–but this is AFTER the great tribulation.
Russia seems to believe that more delays will frustrate those in eastern Ukraine as the Kiev government has cut them off from certain support and trade.  If Russia's President Putin believes the time is right, he will try to gain more territory from Ukraine.  I do not believe that the Minsk deal changes his view on that.
Russia's President Putin does not care much for US presidential hopeful Hillary Clinton (see also Hillary Clinton in Prophecy), and if she becomes US President relations between the USA and Russia would likely sour more than they already have.
Some items of possibly related interest may include:
Russia and Ukraine: Their Origins and Prophesied Future Russia in prophecy. Where do the Russians come from? What about those in the Ukraine? What is prophesied for Russia and its allies? What will they do to the Europeans that supported the Beast in the end? There is also a video sermon available: Russia in the Bible and in Prophecy and a video sermonette available: Ukraine in Prophecy?
Is Russia the King of the North? Some claim it is. But what does the Bible teach? Here is a link to a video, also titled Is Russia the King of the North?
Ezekiel 38: For Russia & Iran in Our Day? Is Ezekiel 38 about to be fulfilled? A related video is available titled Ezekiel 38: For Russia, Ukraine, & Iran Now?
12 Apocalyptic Risks from Oxford University Oxford University's Future of Humanity Institute and the Global Challenges Foundation issued a 212 page report titled "12 Risks that threaten human civilisation." The Russian Times reported about it with an article titled The article was titled, "12 likely causes of the Apocalypse, as seen by scientists." Risks included asteroid impact, supervolacanic explosion, global pandemic, nuclear war,climate change, synthetic biology, nanotechnology, unknown consequences, ecological collapse, economic global system collapse, bad governance, and artificial intelligence flaws. Are the risks greater than what Oxford scientists believe? What does the Bible say about these risks?
Can those in the USA/UK see the Handwriting on the Wall? Is everything fine in the USA/UK or is it like the days of Noah? Can we learn from the handwriting that appeared on a wall thousands of years ago? Here is a link to a related YouTube video Can you see the 'Handwriting on the Wall'?
When Will the Great Tribulation Begin? 2015, 2016, or 2017? Can the Great Tribulation begin today? What happens before the Great Tribulation in the "beginning of sorrows"? What happens in the Great Tribulation and the Day of the Lord? Is this the time of the Gentiles? When is the earliest that the Great Tribulation can begin? What is the Day of the Lord? Who are the 144,000? Here is a version of the article in the Spanish language: ¿Puede comenzar la Gran Tribulación en 2014 o 2015? ¿Es el Tiempo de los Gentiles? You can also see the English language sermon video: The Great Tribulation from the Mount of Olives.
The 'Peace Deal' of Daniel 9:27 This prophecy could give up to 3 1/2 years advance notice of the coming Great Tribulation. Will most ignore or misunderstand its fulfillment? Here is a link to a related sermon video Daniel 9:27 and the Start of the Great Tribulation.
World War III: Steps in Progress Are there surprising actions going on now that are leading to WWIII? Might a nuclear attack be expected? Does the Bible promise protection to all or only some Christians? How can you be part of those that will be protected? A related video would be Is World War III About to Begin? Can You Escape?
Europa, the Beast, and Revelation Where did Europe get its name? What might Europe have to do with the Book of Revelation? What about "the Beast"? Is an emerging European power "the daughter of Babylon"? What is ahead for Europe? Here is a link to a video titled: Can You Prove that the Beast to Come is European?
European Technology and the Beast of Revelation Will the coming European Beast power would use and develop technology that will result in the taking over of the USA and its Anglo-Saxon allies? Is this possible? What does the Bible teach? Here is a related YouTube video: Military Technology and the Beast of Revelation.
Must the Ten Kings of Revelation 17:12 Rule over Ten Currently Existing Nations? Some claim that these passages refer to a gathering of 10 currently existing nations together, while one group teaches that this is referring to 11 nations getting together. Is that what Revelation 17:12-13 refers to? The ramifications of misunderstanding this are enormous. A related sermon is titled Ten Kings of Revelation and the Great Tribulation.
Hillary Clinton, Prophecy, and the Destruction of the United States This is a 188 page book for people truly interested in prophecies related to Hillary Clinton and the United States, including learning about many that have already been fulfilled and those that will be fulfilled in the future. It also discusses Republicans. The physical book can be purchased at Amazon from the following link: Hillary Clinton, Prophecy, and the Destruction of the United States: Is Hillary Clinton Fulfilling Biblical, Islamic Catholic, Hopi, and other America-Related Prophecies? $11.99.
Hillary Clinton, Prophecy, and the Destruction of the United States-Amazon Kindle edition. This electronic version of the 188 page print edition is available for only US$3.99. And you do not need an actual Kindle device to read it. Why? Amazon will allow you to download it to almost any device: Please click HERE to download one of Amazon s Free Reader Apps. After you go to for your free Kindle reader and then go to Hillary Clinton, Prophecy, and the Destruction of the United States-Amazon Kindle edition.