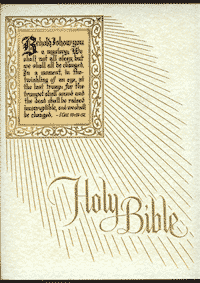 There have been some of what I consider to be rather bizarre emails on the internet lately about marriage.  Various ones have indicated that God did not create marriage and that fornication is fine.
Those that believe the Bible have a different view.  God created marriage and forbids fornication, and also forbids homosexuality.
The Bible is clear that right after Eve (the first modern woman) was made a marriage took place.  The Old Testament records:
21 And the Lord God caused a deep sleep to fall on Adam, and he slept; and He took one of his ribs, and closed up the flesh in its place. 22 Then the rib which the Lord God had taken from man He made into a woman, and He brought her to the man.

23 And Adam said:

"This is now bone of my bones
And flesh of my flesh;
She shall be called Woman,
Because she was taken out of Man."

24 Therefore a man shall leave his father and mother and be joined to his wife, and they shall become one flesh. (Genesis 2:21-24)
A woman does not become a wife until after she marries.  Marriage existed from the beginning of modern womanhood.
The New Testament is also clear that God created marriage from the beginning:
4 And He answered and said to them, "Have you not read that He who made them at the beginning 'made them male and female,' 5 and said, 'For this reason a man shall leave his father and mother and be joined to his wife, and the two shall become one flesh'? 6 So then, they are no longer two but one flesh. Therefore what God has joined together, let not man separate." (Matthew 19:4-6)
Notice that God made humans male and female for marriage.  The human body is "not for fornication" (1 Corinthians 6:13, KJV), nor for homosexual relations (1 Corinthians 6:9-10).
The Bible shows that God is love:
8 He who does not love does not know God, for God is love. (1 John 4:8)

16 And we have known and believed the love that God has for us. God is love, and he who abides in love abides in God, and God in him. (1 John 4:16)
And God created marriage, for many reasons, including to increase the amount of love in the universe.  Husbands and wives are to love each other:
25 Husbands, love your wives, just as Christ also loved the church and gave Himself for her, 26 that He might sanctify and cleanse her with the washing of water by the word, 27 that He might present her to Himself a glorious church, not having spot or wrinkle or any such thing, but that she should be holy and without blemish. 28 So husbands ought to love their own wives as their own bodies; he who loves his wife loves himself. 29 For no one ever hated his own flesh, but nourishes and cherishes it, just as the Lord does the church. 30 For we are members of His body, of His flesh and of His bones. 31 "For this reason a man shall leave his father and mother and be joined to his wife, and the two shall become one flesh."  32 This is a great mystery, but I speak concerning Christ and the church. 33 Nevertheless let each one of you in particular so love his own wife as himself, and let the wife see that she respects her husband.  (Ephesians 5:25-33)

1 But as for you, speak the things which are proper for sound doctrine: 2 that the older men be sober, reverent, temperate, sound in faith, in love, in patience; 3 the older women likewise, that they be reverent in behavior, not slanderers, not given to much wine, teachers of good things —  4 that they admonish the young women to love their husbands, to love their children, 5 to be discreet, chaste, homemakers, good, obedient to their own husbands, that the word of God may not be blasphemed. (Titus 2:1-5)

5 But whoever keeps His word, truly the love of God is perfected in him. By this we know that we are in Him.  (1 John 2:5)
Jesus' word was for married couples to stay together, and He had the Apostle Paul record (as the above shows) that husbands and wives are to love each other.
Fornication (sex outside of marriage) and homosexuality, along with other sins, are specifically prohibited in the Bible:
3 But fornication and all uncleanness or covetousness, let it not even be named among you, as is fitting for saints; 4 neither filthiness, nor foolish talking, nor coarse jesting, which are not fitting, but rather giving of thanks. 5 For this you know, that no fornicator, unclean person, nor covetous man, who is an idolater, has any inheritance in the kingdom of Christ and God. 6 Let no one deceive you with empty words, for because of these things the wrath of God comes upon the sons of disobedience. 7 Therefore do not be partakers with them.  (Ephesians 5:3-7)

9 Do you not know that the unrighteous will not inherit the kingdom of God? Do not be deceived. Neither fornicators, nor idolaters, nor adulterers, nor homosexuals, nor sodomites, 10 nor thieves, nor covetous, nor drunkards, nor revilers, nor extortioners will inherit the kingdom of God.  (1 Corinthians 6:9-10)
Having sex before marriage never should be allowed, and certainly was not God's plan from the beginning.  Sex produces children and should only be engaged in by two people committed enough to each other to raise the children. The fact that there is now birth control does not change that sex can produce children–there are also emotional, disease/health, and other carnal reasons not be involved with fornication.
God did not create humans to be sexually immoral:
18 Flee sexual immorality. Every sin that a man does is outside the body, but he who commits sexual immorality sins against his own body. (1 Corinthians 6:18)
God does not want wives tossed aside as they get older and also wants properly raised children:
14…Yet she is your companion
And your wife by covenant.
15 But did He not make them one,
Having a remnant of the Spirit?
And why one?
He seeks godly offspring.
Therefore take heed to your spirit,
And let none deal treacherously with the wife of his youth.  (Malachi 2:14-15)
The Bible calls a woman a wife by covenant.  And that covenant is a marriage covenant.
Fornication and other forms of sexual immorality deal treacherously and are not intended by their participants to produce godly offspring.
Some articles of possibly related interest may include:
God Created Marriage Some falsely claim that God did not create marriage and that fornication is fine.  What does the Bible really teach?
Why Marriage? Soon Obsolete? This is a booklet from Herbert Armstrong on this important topic.
Here's the Plain Truth About OLD TESTAMENT POLYGAMY by Herbert Armstrong.
Love, Marriage, and Sex It is important to get them in the right order.
Five Rules for Effective Parenting Do you know that there are five simple rules that can make you a more effective parent? There is also a 12 1/2 minute YouTube video on this, also titled Five Rules for Effective Parenting.
What Psychologists do not Know About Child Rearing This is an article by Herbert Armstrong that was used as the introduction to the pdf booklet The Plain Truth About Child Rearing.
The Plain Truth About Child Rearing This is a pdf booklet that the old WCG put out.
The Ten Commandments Reflect Love, Breaking them is Evil Some feel that the ten commandments are a burden. Is that what Jesus, Paul, Peter, James, and John taught?
Was the Commandment to Love the Only Command? Some have stated that John's writings teach this, but is that what the Bible really says?
The Ten Commandments and the Early Church Did Jesus and the Early Church keep the ten commandments? What order were they in? Here are quotes from the Bible and early writings.