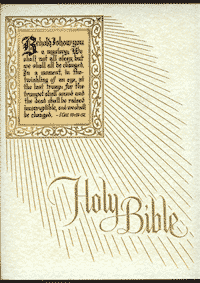 Late today, UCG sent out the following:
Being a Better Husband

1. Love your wife with the kind of unselfish, self-sacrificing love Christ shows us.

"Husbands, love your wives, just as Christ also loved the church and gave Himself for her" (Ephesians 5:25; verse 28 shows it has benefits—it pays off like loving yourself!)

2. Seek to understand her and give her honor.

"Husbands, likewise, dwell with them with understanding, giving honor to the wife, as to the weaker vessel, and as being heirs together of the grace of life, that your prayers may not be hindered" (1 Peter 3:7).

3. Praise her often.

"Her children rise up and call her blessed; her husband also, and he praises her" (Proverbs 31:28)…

Being a Better Wife

1. Seek to respect your husband and therefore honor God.

"Let the wife see that she respects her husband" (Ephesians 5:33b).

2. Be submissive. (Of course, everyone has to learn this, not just wives, as Paul shows in Ephesians 5:21. And it doesn't mean we should submit to anything against God's law, as Acts 5:29 shows.)

"Wives, likewise, be submissive to your own husbands, that even if some do not obey the word, they, without a word, may be won by the conduct of their wives, when they observe your chaste conduct accompanied by fear" (1 Peter 3:1-2).

3. Be a virtuous wife your husband can have full confidence in.

"A wife of noble character who can find? She is worth far more than rubies. Her husband has full confidence in her and lacks nothing of value. She brings him good, not harm, all the days of her life" (Proverbs 31:10-12, New International Version).
Two items of possibly related interest may include:
Successful Parenting: God's Way This is a booklet by Dr. J. Fall.
God's Plan for Happy Marriage This is a booklet by Dr. R. Meredith.