Saturday, March 31st, 2012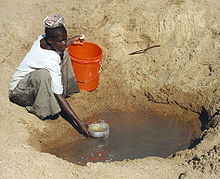 Only forty-six percent of people in Africa have safe drinking water. Wikipedia
The latest TW News & Prophecy of the Living Church of God has the following :
Can global control fix the water crisis?

The sixth annual World Water Forum meeting in Marseille, France, heard a proposal for establishing a global water fund under the control of the U.N.During the meeting, a Philippine activist explained that privatization of water has worsened conditions in her country: "Since 1997, prices went up by 450 to 800 percent, and a year ago some 600 people died as a result of bacteria in the water because the private company didn't do proper water checks." A representative of a major water company disagreed, "As far as I know, the water supply in Manila has improved very much. Millions now have access to water that they didn't have before…" (Deutsche Welle, March 18, 2012).Recent research predicts that by 2050, 1.4 billion people will live with insufficient water and sanitation. Also, 3.9 billion people, more than 40% of the world's population, are likely to live in river basins facing severe water stress (OCED.org March 7, 2012).

Bible prophecies have long warned of a coming water crisis (Jeremiah 14:3-4) and that, if nations despise God, He will make "…your heavens like iron and your earth like bronze" (Leviticus 26:19).

Trusting that our own efforts will deliver us from present and coming calamities will not work (Psalm 146:3). However, at Christ's return, He will restore the rivers and bring waters to dry lands (Isaiah 41:17-18; Ezekiel 47:1-10).

Click below to order FREE booklet or read it online
And of course, in 2012, various parts of the world are facing flood and/or drought conditions.  Notice how scripture shows that water/rain/drought will become a problem for various disobedient peoples:
13 'And it shall be that if you earnestly obey My commandments which I command you today, to love the Lord your God and serve Him with all your heart and with all your soul, 14 then I will give you the rain for your land in its season, the early rain and the latter rain, that you may gather in your grain, your new wine, and your oil. 15 And I will send grass in your fields for your livestock, that you may eat and be filled.' 16 Take heed to yourselves, lest your heart be deceived, and you turn aside and serve other gods and worship them, 17 lest the Lord's anger be aroused against you, and He shut up the heavens so that there be no rain, and the land yield no produce, and you perish quickly from the good land which the Lord is giving you.  (Deuteronomy 11:13-17)

6 "Also I gave you cleanness of teeth in all your cities. And lack of bread in all your places; Yet you have not returned to Me," Says the Lord. 7 "I also withheld rain from you, When there were still three months to the harvest. I made it rain on one city, I withheld rain from another city. One part was rained upon, And where it did not rain the part withered. 8 So two or three cities wandered to another city to drink water, But they were not satisfied; Yet you have not returned to Me," Says the Lord.  (Amos 4:6-8)

10 "Because, indeed, because they have seduced My people, saying, 'Peace!' when there is no peace — and one builds a wall, and they plaster it with untempered mortar — 11 say to those who plaster it with untempered mortar, that it will fall. There will be flooding rain, and you, O great hailstones, shall fall; and a stormy wind shall tear it down. 12 Surely, when the wall has fallen, will it not be said to you, 'Where is the mortar with which you plastered it?'" 13 Therefore thus says the Lord God: "I will cause a stormy wind to break forth in My fury; and there shall be a flooding rain in My anger, and great hailstones in fury to consume it. 14 So I will break down the wall you have plastered with untempered mortar, and bring it down to the ground, so that its foundation will be uncovered; it will fall, and you shall be consumed in the midst of it. Then you shall know that I am the Lord.  (Ezekiel 13:10-14)

15 "But it shall come to pass, if you do not obey the voice of the Lord your God, to observe carefully all His commandments and His statutes which I command you today, that all these curses will come upon you and overtake you: 16 "Cursed shall you be in the city, and cursed shall you be in the country. 17 "Cursed shall be your basket and your kneading bowl. 18 "Cursed shall be the fruit of your body and the produce of your land, the increase of your cattle and the offspring of your flocks. 19 "Cursed shall you be when you come in, and cursed shall you be when you go out. 20 "The Lord will send on you cursing, confusion, and rebuke in all that you set your hand to do, until you are destroyed and until you perish quickly, because of the wickedness of your doings in which you have forsaken Me. 21 The Lord will make the plague cling to you until He has consumed you from the land which you are going to possess. 22 The Lord will strike you with consumption, with fever, with inflammation, with severe burning fever, with the sword, with scorching, and with mildew; they shall pursue you until you perish. 23 And your heavens which are over your head shall be bronze, and the earth which is under you shall be iron. 24 The Lord will change the rain of your land to powder and dust; from the heaven it shall come down on you until you are destroyed.  (Deuteronomy 28:15-24)

6 I will lay it waste; It shall not be pruned or dug, But there shall come up briers and thorns. I will also command the clouds That they rain no rain on it. (Isaiah 5:6)

1 The word of the Lord that came to Jeremiah concerning the droughts. 2 "Judah mourns, And her gates languish; They mourn for the land, And the cry of Jerusalem has gone up. 3 Their nobles have sent their lads for water; They went to the cisterns and found no water. They returned with their vessels empty; They were ashamed and confounded And covered their heads. 4 Because the ground is parched, For there was no rain in the land, The plowmen were ashamed; They covered their heads. 5 Yes, the deer also gave birth in the field, But left because there was no grass. 6 And the wild donkeys stood in the desolate heights; They sniffed at the wind like jackals; Their eyes failed because there was no grass." 7 O Lord, though our iniquities testify against us, Do it for Your name's sake; For our backslidings are many, We have sinned against You. (Jeremiah 14:1-7)

5 "A sword is against the Chaldeans," says the Lord, "Against the inhabitants of Babylon, And against her princes and her wise men. 36 A sword is against the soothsayers, and they will be fools. A sword is against her mighty men, and they will be dismayed. 37 A sword is against their horses, Against their chariots, And against all the mixed peoples who are in her midst; And they will become like women. A sword is against her treasures, and they will be robbed. 38 A drought is against her waters, and they will be dried up. For it is the land of carved images, And they are insane with their idols.  (Jeremiah 50:35-38)

4 We pay for the water we drink, And our wood comes at a price. 5 They pursue at our heels; We labor and have no rest. (Lamentations 5:4-5)

16 Moreover He said to me, "Son of man, surely I will cut off the supply of bread in Jerusalem; they shall eat bread by weight and with anxiety, and shall drink water by measure and with dread, 17 that they may lack bread and water, and be dismayed with one another, and waste away because of their iniquity. (Ezekiel 4:16-17)

7 Thus says the Lord of hosts: "Consider your ways! 8 Go up to the mountains and bring wood and build the temple, that I may take pleasure in it and be glorified," says the Lord. 9 "You looked for much, but indeed it came to little; and when you brought it home, I blew it away. Why?" says the Lord of hosts. "Because of My house that is in ruins, while every one of you runs to his own house. 10 Therefore the heavens above you withhold the dew, and the earth withholds its fruit. 11 For I called for a drought on the land and the mountains, on the grain and the new wine and the oil, on whatever the ground brings forth, on men and livestock, and on all the labor of your hands."  (Haggai 1:7-11)

10 Then the third angel sounded: And a great star fell from heaven, burning like a torch, and it fell on a third of the rivers and on the springs of water. 11 The name of the star is Wormwood. A third of the waters became wormwood, and many men died from the water, because it was made bitter.  (Revelation 8:10-11)
Droughts and weather problems,  including floods, contribute to food shortages, higher food prices, and sometimes famines.
Jesus taught:
7…And there will be famines, pestilences, and earthquakes in various places. 8 All these are the beginning of sorrows. (Matthew 24:7-8).

8 For nation will rise against nation, and kingdom against kingdom. And there will be earthquakes in various places, and there will be famines and troubles. These are the beginnings of sorrows. (Mark 13:8)
The Bible also shows we should expect to see a time of much higher food prices (cf. Revelation 6:5-6) as well as certain water related shortages that will happen later (cf. Jeremiah 14:3-4; Jeremiah 50:35-38;Revelation 8:10-11).
Some articles of possibly related interest may include:
Can the Great Tribulation Begin in 2012, 2013, or 2014? Can the Great Tribulation begin today? What happens before in the "beginning of sorrows"? What happens in the Great Tribulation and the Day of the Lord? When is the earliest that the Great Tribulation can begin? What is the Day of the Lord?
Physical Preparation Scriptures for Christians. We all know the Bible prophecies famines. Should we do something?
Anglo – America in Prophecy & the Lost Tribes of Israel Are the Americans, Canadians, English, Scottish, Welsh, Australians, Anglo (non-Dutch) Southern Africans, and New Zealanders descendants of Joseph? Where are the lost ten-tribes of Israel? Who are the lost tribes of Israel? What will happen to Jerusalem and the Jews in Israel? Will God punish the U.S.A., Canada, United Kingdom, and other Anglo nations? Why might God allow them to be punished first?
Europa, the Beast, and Revelation Where did Europe get its name? What might Europe have to do with the Book of Revelation? What about "the Beast"? Is an emerging European power "the daughter of Babylon"? What is ahead for Europe?
Africa: Its Biblical Past and Prophesied Future What does the Bible teach about Africa and its future? Did the early Church reach Africa? Will God call all the Africans?