China, Its Biblical Past and Future, Part 3: India, Russia, and Asia in Prophecy
By COGwriter
What is ahead for China, India, Russia, Korea, Japan, and the rest of Asia in the 21st century?
Currently, we see that nearly all of Asia is expanding its influence as this region has become one of the world's leading manufacturers. Plus with its One Belt, One Road infrastructure project, China is also is increasing its influence.
Overall, this is leading to a wealthier Asia that can better finance any military intentions that it has or develops. In addition to China, India and Russia are making various strides as well.
But not all is positive, China itself, to cite one example, is also becoming a nation that is increasingly suffering from the effects of industrial pollution (see Record air pollution in Beijing, water pollution too).
But despite internal issues, Russia, China, Korea, Japan, and India are all expanding their military power.
As far as Japan goes, notice the following:
July 3, 2014

Shinzo Abe, Japan's prime minister, has started a process to reinterpret a critical part of the country's constitution. The result of this reinterpretation is that it will allow the Japanese military to help friendly countries under attack, a development that has caused anxiety in East Asian countries that were once at the receiving end of Japan's armed aggression. Not all reactions have been negative. The reinterpretation has been welcomed by Japan's most important ally, US…


"Japan enjoyed an isolationist status until now," says Narushige Michishita, a past adviser to Tokyo on defense and now director of the security and international program at Tokyo's National Graduate Institute for Policy Studies. "It was very convenient; we didn't have to get involved in conflicts. But now the U.S. wants Japan to be more proactive," he says. Japan's ruling party, the LDP, acknowledge this.

"They know we have to be commensurate with our stature as an economic superpower," he adds. "The U.S. is asking us to be more proactive in, not rearming, but making use of those arms." http://fortune.com/2013/08/05/inside-japans-invisible-army/
(Note: We in the Continuing Church of God also have the url www.ccog.asia which has a focus on Asia and has various articles in Mandarin Chinese as well as some in English, with some in items in many other Asian languages; some items, like the Statement of Beliefs of the Continuing Church of God, are in Tagalog: Paglalahad ng Mga Paniniwala ng Patuloy na Iglesya ng Diyos. Tagalog is the primary language of the Philippines. We also have the website www.ccog.in, which has articles in English and information in several Indian languages.)
Here is a link to a related sermon: Asia in Prophecy.
Economic Future for Asia
Nearly all of Asia is becoming wealthier in the 21st century than it was in at least parts of the 20th. And when it comes to wealth, many understand that the more wealth a nation has, the more effort it will take to insure that it keeps it.
While China has been busy securing the food resources, minerals, oil, and other basic materials it feels it needs, it has also been securing various sea rights (including having heavy involvement in the Panama Canal, for example) as well as taking other steps that apparently will increase its influence-- interestingly in 2018, Panama became the first Latin American country to sign a BRI compact.
Other Asian nations are building their infrastructures and their military.
Much of what China itself appears to have been doing is consistent with what the late Deng Xiaoping once expressed:
China must hide brightness and nourish obscurity . . . to bide our time and build up our capabilities (Source: Times Online).
But as the first or second largest economy in the world (depending upon how that is counted), China is no longer obscure. Notice also the following:
In the early years of China's rise to economic and military prowess, the guiding principle for its government was Deng Xiaoping's maxim: "Hide Your Strength, Bide Your Time."

Now, more than three decades after paramount leader Deng launched his reforms, that policy has seemingly lapsed or simply become unworkable as China's military muscle becomes too expansive to conceal and its ambitions too pressing to postpone. Firepower bristles in South China Sea as rivalries harden. MSNBC, June 14, 2012. http://www.msnbc.msn.com/id/47809326/ns/us_news-security/)
Like most nations, China realizes that it is in a better economic situation if it has diversified markets, and is not highly dependent upon a single one, like the United States.
Trade conflicts with the Trump and Biden Administrations have further highlighted that. These conflicts have pushed China more towards Europe and other regions.
The Bible shows that after the re-emerging European Empire finally forms, that it will increase the prosperity to many nations. And China is expected to be one of the nations that will benefit from this prosperity.
Currently, many in Asia (and not just China) are looking to the consumers of the European Union to possibly replace those in the United States as purchasers of its many manufactured goods.
Many Asian nations have been attempting to group together for economic cooperation:
BEIJING— China and 21 other countries have agreed to start an international development bank to fund infrastructure projects throughout all of Asia. However, the proposal has drawn criticism from the United States, and three invited countries skipped Friday's bank launch.

China and the other countries have launched what is called the Asian Infrastructure Investment Bank. The member nations include Myanmar, Vietnam, Laos, Cambodia, Vietnam and the Philippines. Among South Asian nations, India, Pakistan, Bangladesh and Nepal are signed up....

President Xi Jinping met with members of the 21 other countries and said they all expressed a desire to pursue common development. Xi said the AIIB would promote regional development and be inclusive and open. (Van Sant S. China Launches New Asia Development Bank. VOA, October 24, 2014. http://www.voanews.com/content/china-launches-new-asia-development-bank/2494903.html)

January 8, 2021

Proposed by China in 2013 and commencing operations less than three years later, the Asian Infrastructure Investment Bank (AIIB) has quickly become a major intergovernmental institution. It has quickly attracted broad-based support, with 103 approved members worldwide, including three in Latin America.

The AIIB is the first international financial institution conceived of and led by China. It is the world's fourth largest multilateral development bank (MDB) in terms of capital subscriptions, with US$100 billion committed by members. It is dedicated solely to financing infrastructure and infrastructure-related projects in member states.

The motivation behind the establishment of the AIIB is China's discontent with the traditional, Washington-based MDBs and the way they function. https://dialogochino.net/en/trade-investment/39049-explainer-latin-america-aiib-the-asian-infrastructure-investment-bank/

March 10, 2021

Believing that Western powers are intent on weakening Russia through regime change initiatives at its borders, President Vladimir Putin first envisaged a "Eurasian Union" in 2011. This was institutionalized in the Eurasian Economic Union in 2015. Besides Russia, its members are Armenia, Belarus, Kazakhstan and Kyrgyzstan.


In September 2013, meanwhile, Chinese President Xi Jinping set out his Belt and Road Initiative (BRI), which envisages land and sea connectivity from the Pacific to the Atlantic through transport linkages.

In May 2015 Putin and Xi agreed to make their two Eurasian visions complementary. A year later, the former declared his intention to establish a Greater Eurasian Partnership across Asia and Europe.

Among the major Eurasian countries that have built substantial ties with Russia and China is Turkey. ...

Afghanistan and Pakistan are the other nations that are becoming a part of the Eurasian enterprise. ...

Both Russia and China have also significantly expanded their presence in the Gulf Cooperation Council countries. ...

Moscow's security concept for the Gulf proposal, which was announced in June 2019, provides a useful approach to regional stability as it upholds inclusiveness and views regional security issues as being interrelated.


Russia's Greater Eurasian Partnership, complemented by BRI projects, has already embraced several major Asian nations in alignments that provide mutual benefits. https://www.arabnews.com/node/1828376

November 1, 2015

The leaders of Japan, China and South Korea say they have "completely restored" trade and security ties, at their first meeting in three years. ...

They also agreed more economic co-operation. ...

China and South Korea say Japan has not done enough to atone for its troops' brutality in World War Two.

The BBC's Stephen Evans in Seoul says the real significance of the talks is that they happened.

They were held regularly until three-and-a-half years ago, when they were called off as bad feeling towards Japan intensified.

"We shared the view that trilateral cooperation has been completely restored on the occasion of this summit," South Korean President Park Geun-hye, Chinese Premier Li Keqiang and Japanese Prime Minister Shinzo Abe said in a joint statement, quoted by AFP.

Ms Park said the three leaders had agreed to work together to conclude the Regional Comprehensive Economic Partnership (RCEP), a 16-nation free trade area favoured by Beijing. http://www.bbc.com/news/world-asia-34691596
15 July 2017

China calls it the project of the century – a massive roll-out of Chinese-built infrastructure to remake the map of the global economy with China at its heart.

Some see this new Silk Road as an opportunity, others as a power grab. …

Wu Xiaodong remembers the day he joined the railway. It was 1983. China had a mere 1% of world trade and, aged 17, his own ambitions went no further than a free uniform and a free train ride.

"Our trains were like tractors. We were running a steam railway."

Now China is the world's number one trading nation and he's proud to be a foot soldier on President Xi Jinping's new Silk Road. …

Chinese emperors once claimed to rule all under heaven. With the US retreating from global leadership on free trade, President Xi has seized his chance. …

Beijing's vision is about much, much more than a railway. It's about roads, pipelines, ports, industrial zones and shipping routes. China is promising to spend almost $1trn on infrastructure to boost trade. …

India and Japan see a plan to embed Chinese money and muscle across three continents, to take control of strategic ports and amass geopolitical influence. So when China uses the phrase "Silk Road" it is a subtle reminder of traders who came not with gunboats at their back but with laden camel trains. …

China is counting on the Silk Road to become a magnet for the domestic travel industry. …

China's "project of the century" is just so vast and so vague, it may take a century to grasp its significance. http://www.bbc.co.uk/news/resources/idt-sh/new_silk_road
Many in Asia are getting together in various ways.
Russia, China, and India, along with Brazil and South Africa, have taken steps to have a system that competes with the International Monetary Fund (see BRICS take another step to reduce USA dollar dominance). Part of the reason is that they are attempting to break the world's dependence of the USA dollar. And while it will take European involvement for the dollar to truly lose its dominance, an end to the USA dominating the economy of the world is coming. And Asia has been taking steps to try to make that happen.
Perhaps it should also be mentioned that Russia, China, and India are have been increasing military ties as well. Consider something that began over a decade ago:
Three navies building aircraft carriers
Russia, India and China will be building aircraft carriers for their navies almost simultaneously over the next five years or so, using many of the same design concepts, technologies and equipment. This is unprecedented in the history of shipbuilding. The three countries are currently enjoying healthy political relations, smoothing the way for Russia's continued military cooperation with both China and India with regard to aircraft carrier technologies. http://www.upiasia.com/Security/2008/12/12/three_navies_building_aircraft_carriers/3135/
As Russia launches the biggest war games ever with China, the Pentagon will be watching 'very closely'

September 11, 2018

As many as 300,000 Russian troops are expected to take part in large-scale military drills as part of "Vostok 2018," Russia's annual military training exercises taking place between September 11-17.

Aside from personnel, up to 36,000 tanks, infantry fighting vehicles, armoured personnel carriers and other vehicles will be involved, Russia's Ministry of Defence said in a statement on their website on Tuesday. In addition, over 1,000 aircraft, helicopters and drones, and 80 ships and supply vessels will take part. Vostok 2018 will also see the Russian military practice massive airstrikes and measures against cruise missiles.

This year's military exercises, widely known as "war games," are set to be the biggest to take place since 1981 when the Cold War overshadowed international relations.

Russia is showing a diplomatic pivot to the east with China this year, with several thousands of its troops, participating in some of the military exercises taking place in the Siberian and the Far Eastern regions of Russia. Mongolia is also sending troops to be involved in the drills. https://www.cnbc.com/2018/09/11/russia-war-games-vostok-2018-will-be-the-biggest-war-games-since-1981.html

March 6, 2021

CHINA AND Russia consider themselves great powers, and there is agreement in both Beijing and Moscow on cooperating to limit or constrain America's ability to dominate international relations and challenge their sovereignty. Moscow and Beijing are committed to multipolarity and a spheres of interest approach, where each state can regulate its periphery without U.S. interference. https://nationalinterest.org/feature/russian-chinese-partnership-against-america-179280
See also The Eurasian Union, Kings of the East, and Bible Prophecy.
The Russians and Chinese are also continuing to cooperate to dethrone the US dollar as the world's primary reserve currency. See The End of US Dollar Dominance and/or watch: US Dollar being challenged by Gold-Petro-Yuan.
The Gospel and Near Term Prophecies for Asia and Particulary China
What about the Gospel?
Prior to the formation of Babylonian European Empire, all of Asia will receive a much greater witness of the gospel message (our booklet, The Gospel of the Kingdom of God, has been translated and placed online in 100 languages--a listing of languages with links can be found at www.ccog.org).
This is good news as those in Asia have not normally received the much of the true gospel message.
Notice what the Bible records:
14 And this gospel of the kingdom will be preached in all the world as a witness to all the nations, and then the end will come (Matthew 24:14).
The "end" being discussed above is the end of this church age, as the time of tribulation begins (see vs. 21) then. What this means for the Asians (and all other peoples) is that they will have had a witness just prior to the tribulation. This witness will ultimately help them understand what really will be happening in the world and will set the stage for the ultimate conversion of nearly all the Asians.
Yet until then, there will be issues for China and others in Asia.
Notice the following claim from 2010:
China will do anything to grow its economy, as the alternatives will lead to political unrest. A lot of peasants moved to the cities in search of higher-paying jobs during the go-go times. Because China lacks the social safety net of the developed world, unemployed people aren't just inconvenienced by the loss of their jobs, they starve (this explains the high savings rate in China) and hungry people don't complain, they riot. Once you look at what's taking place in the Chinese economy through that lens, the decisions of its leaders start making sense, or at least become understandable. (Vitaliy N. Katsenelson. China: No Shortcut to Greatness. The Daily Reckoning, March 1, 2010)

Yes, China has to be careful. It is likely to have unrest, even though it is getting wealthier. The 21st century will not be "China's century." China has a lot of real problems. Notice, for example, the following:
According to a series of newspaper reports, online versions of which appear to have vanished into the country's not-so-thin air, more than 30 environmental and other officials from the Nantong area were implicated in a scandal that involves bribery and turning a blind eye to pollution problems. (Kazer W. Zhang K. China's Environmental Protection Racket. Wall Street Journal, February 1, 2013 http://blogs.wsj.com/chinarealtime/2013/02/01/chinas-environmental-protection-racket/)
The health of the Chinese is being affected by pollution and official corruption (see also Record air pollution in Beijing, water pollution too).
While China has grow tremendously economically, one of the things that most Westerners do not realize is that China has a system that prevents its citizens from agrarian areas from having the same rights as those in urban areas. It is called the hukou. Here is more information about that:
The hukou
Through a rigorous and rigid household registration system designed to control the movement of China's 1.3 billion people, the central government classifies all its citizens as either city dwellers or rural peasants. The registration, also known in Chinese as hukou, determines not only a citizen's residence but also what kind of social services individuals are eligible for…In Beijing, which has an estimated 5 million migrant workers, none of these people are allowed to obtain state-sponsored health care or schooling if their hukou is registered in their hometowns—which most likely it is. As a result, their children—many of whom are born in the Chinese capital—can only attend privately-run and unapproved schools. (Mong A, Gu B. In Beijing, 40,000 students stranded. MSNBC, August 19, 2011. http://behindthewall.msnbc.msn.com/_news/2011/08/19/7413538-in-beijing-40000-students-stranded?lite)
Even people who move from agrarian regions to the cities, still are registered as agrarian/rural and do not get the same rights or even education for their children. This disparity, combined with severe pollution, corruption, and a host of other problems, will affect China more than most realize--despite its generally rising wealth.
Notice also the following:
China to roll out urban hukou welcome mat for rural residents in push for economic growth

7 March 2021

China is preparing to overhaul its decades-old household registration system to allow people from rural areas to become permanent residents in cities, as the country ramps up urbanisation to spur growth.

To speed up "full integration" of rural residents into cities, China plans to loosen residency restrictions in most urban areas and launch a points system to replace the household registration system, or hukou, according to a draft of the government's 14th five-year plan.

The draft, released on Friday at the opening session of the National People's Congress, aims for 65 per cent of the country's population to be living in cities by 2025.
Whether or not that will be enough fast enough remains to be seen.
For many years, I have believed that China would have problems, which is part of why Europe will be able to lead.
In 2018, someone sent me a prediction from a Roman Catholic mystic:
On April 19th 1994 Janie Garza received seven visions from Jesus. The first five Visions were of wars, the fourth of war in the Church, the fifth of war in the Family.




Janie said of the first three visions of war:




"In the first vision I saw a Red China in total chaos. There were loud noises that sounded like guns all over. People were lying in puddles of blood in the streets. Houses were destroyed. I could hear screams of people, and I could see men with weapons killing people. The vision was graphic in the sense of the numerous bodies that lay in the streets and that were burning in cars. Their body parts were dismembered from the fire and the weapons. The area was filled with smoke and fire.

(Graze J. Heaven's Message For The Family, Vol. 1, 1998. Messages to Janie Garza. St. Dominic Media. As cited in Flynn MH. Signs, Secrets, and Prophecies: The Road to Triumph. St. Dominic's Media, 2014, p. 176)
I agree that China will have problems--at least for a time.
Now the Bible does say that all trading nations will have become wealthy trading with Babylon (the restored European Empire--not Asia), and that theyreally prosper in the beginning of the great tribulation:
For all the nations have drunk of the wine of the wrath of her fornication, the kings of the earth have committed fornication with her, and the merchants of the earth have become rich through the abundance of her luxury (Revelation 18:3, NKJV throughout).

Javan, Tubal, and Meshech were your traders. They bartered human lives and vessels of bronze for your merchandise. Those from the house of Togarmah traded for your wares with horses, steeds, and mules (Ezekiel 27:13-14).
Thus, merchandising Asia (Javan, Tubal, Meshech, and others), as the world's most populous region, is prophesied to attain wealth from the coming restored European Empire, but it will not then be the economically most powerful block of nations in the world.
Here are two YouTube videos that may also be of interest titled: Is China THE Threat to the United States of America? and Are Chinese threats against Australia for real?
While there are issues related to the South China Sea (e.g. China increases presence in South China Sea, plus working with Angela Merkel and calling Australia 'arrogant'), the time will come when the "kings of the east" will get together.
What About Other Nations in Asia?
The www.cogwriter.com website has information on the biblical identification of those from China (which includes the peoples of Taiwan, Hong Kong, Macau, etc.), India (which would include the peoples of Bangladesh, Pakistan, & Sri Lanka), Korea, Japan, and Russia.
But of course, Asia also includes many other peoples. Many of which, in one way or the other, cooperate with the major nations in Asia. Other Asian peoples would include those in Bhutan, Cambodia, Indonesia, Laos, Myanmar, Nepal, Thailand, the Philippines, Vietnam, the Tibeto-Burman peoples, and Tai peoples.
The Bible mentions those that would tend to include their ancestors in Genesis 10 as follows:
2 The sons of Japheth were Gomer, Magog, Madai, Javan, Tubal, Meshech, and Tiras. 3 The sons of Gomer were Ashkenaz, Riphath, and Togarmah. 4 The sons of Javan were Elishah, Tarshish, Kittim, and Dodanim. 5 From these the coastland peoples of the Gentiles were separated into their lands, everyone according to his language, according to their families, into their nations (Genesis 10:2-5).

Ashkenaz seems to be the progenitor of some of the Malaysians (White, p. 165).
Notice what Herbert W. Armstrong taught about them:
You will find "Gomer," "Togarmah," "Magog," "Meshech," "Tubal'" identified in Genesis 10 as the sons of Japheth, father of the yellow races (Armstrong HW. Russian in Prophecy. Plain Truth, April 1981, p. 26).

"Gog" in the land of "Magog" is the vast regions of the U.S.S.R. in northern Eurasia extending from the Baltic to the Pacific. "Meshech" is Moscow, "Tubal" is Tobol 'sk (Armstrong HW. Why Russia Will Not Attack the United States, reprint 1980, p. 8).
Thus, it was the opinion of Herbert W. Armstrong that Gog basically represents the land of Russia (plus some peripheral lands) as part of Magog, while Magog is mainly the land and peoples of Asia, many of whom in Asia descended, at least partially, from Japheth.
And as Genesis 10 shows, they were Gentile peoples, many of whom were to inhabit coastlands. As many still do today.
In the 21st century, the Continuing Church of God has been reaching people throughout the Asian lands, through the internet (www.cogwriter.com and www.ccog.in and www.ccog.asia) and other means (see also India, Its Biblical Past and Future: Any Witness? and China, Its Biblical Past and Future, Part 2: The Sabbath and Some of God's Witness in China).
Many (though not necessarily all) of the peoples in Genesis 10:2-5 are likely kings of the east or will align with the "kings from the east" (Revelation 16:12). This seems consistent with what Fidel V. Ramos, a former president of the Philippines wanted, when he wrote:
... the urgent task for Asian statesmen over the next 5-10 years will be to replace the region's Pax Americana, which has guaranteed regional stability for decades, with a more comprehensive Pax Asia-Pacifica that is built on inclusiveness and burden-sharing. (Ramos FV. Building Pax Asia-Pacifica. July 14, 2011. http://www.project-syndicate.org/commentary/ramos9/English)
The fact that Fidel Ramos hoped for/expected it within the 5 -10 years after 2011 was somewhat premature. Something like that may happen within the 3-10 years from 2021. Any Pax Asia-Pacifica that replaces "Pax-Americana" suggests that many nations in Asia expect to have some type of confederation or other agreement with the major powers like China.
Eurasian leaders, like Russia's Putin, have pushed for a Eurasian union. Once, when he was Prime Minister Vladimir Putin shared his vision for a Eurasian Union. He noted he believed that this future union would include several former "Eastern Block" nations, and along with nations from Asia and the Pacific Rim. He wanted "a close integration based on new values and economic and political foundation [that] is a demand of the present time." Vladimir Putin commented that "Along with other key players and regional structures, such as the European Union, the United States, China and the Asia Pacific Economic Community, it should ensure stability of global development" (Izvestia and later Associated Press, October 4, 2011).
And steps for this to occur have been happening (please see the articles The Eurasian Union, the Kings of the East, and Bible Prophecy and Russia: Its Origins and Prophesied Future for more details) which is consistent with biblical prophecy.
Furthermore, the Bible teaches that a "far country" (like Russia and/or China) also seems to be tied to the powers of the east elsewhere in Isaiah:
11 Calling a bird of prey from the east, The man who executes My counsel, from a far country. Indeed I have spoken it; I will also bring it to pass. I have purposed it; I will also do it. (Isaiah 46:11)

4 The noise of a multitude in the mountains, Like that of many people! A tumultuous noise of the kingdoms of nations gathered together! The Lord of hosts musters The army for battle. 5 They come from a far country, From the end of heaven — The Lord and His weapons of indignation, To destroy the whole land. 6 Wail, for the day of the Lord is at hand! It will come as destruction from the Almighty. 7 Therefore all hands will be limp, Every man's heart will melt, 8 And they will be afraid. Pangs and sorrows will take hold of them; They will be in pain as a woman in childbirth; They will be amazed at one another; 9 Behold, the day of the Lord comes, Cruel, with both wrath and fierce anger, To lay the land desolate; And He will destroy its sinners from it. (Isaiah 13:4-9)
There is an interesting account (whose accuracy can be questioned) that attempted to explain where many of the oriental Asians came from. Notice what was penned in the 19th century:
According to the Tartars and Orientals, the Chinese are descended from Tchin, or Gin, the son of Japheth, and brother of Tarag, or Turk, from whom came the Turkmans. Tchin is the Ashchenaz of Scripture, the son of Gomer : and Turk is Toragmah, the brother of Ashchenaz. The Orientals call all grandsons, sons.

Another division of the descendants of Aschenaz or Atchinez—as his name was pronounced in the following parts—migrated across the Imaus mountains, now the great Altai and Changai. These people spread to a vast extent, till they reached the Pacific Ocean. They formed the following nations : —

First.—The Issedones, about the river Etchine, on the borders of China and the Desert of Thamo.

Second.—The "Kin Tartars, inhabiting the territory round the north of Corea, and along the shores of the Pacific Ocean.

Third.—

The Katchints Tartars.

Fourth.—The Tchini, or Chinese, of China.

Fifth.—The Tcianese, inhabiting Siam.

Sixth.—The inhabitants of Cochin-China.

Seventh.—-The inhabitants of Tciampa.

Eighth.—The Tonkinese.

Ninth.—The inhabitants of Cambodia.

Tenth.—The inhabitants of the Schan States.

Eleventh.—The Japanese.

Tonkin, Cochin-China, Tciampa, Laos or Schan States, and Cambodia, anciently formed part of the Chinese Empire, the name of which was Tchin, so called from Atchinez, from which the names of nearly all these countries are derived.

(Source: Painter, John Thomas. Ethnology: or The history & genealogy of the human race: Or, The History & Genealogy of the Human Race. Baillière, Tindall & Cox, 1880 Original from Oxford University Digitized Jul 3, 2006, p. 106)
Some within Church of God circles have also speculated that the Chinese and Koreans have descended from Magog, whereas the Japanese may have descended from Ashkenaz, a son of Gomer (e.g. Generations of Japheth. Church of God News. Chicago District, 1965).
Notice also something related to the descendants of Japheth's son Gomer:
Gomer originally settled northeast of Elam. From here they were driven to the Caucasus, between the Black and the Caspian Sea. Then they journeyed to Southeast Asia! Notice! The native name for Cambodia in Indo-China is Khmer — the land of Gomer! Read the BRITANNICA article on Cambodia.

Associated with Gomer are the Chams and Annamese. Could this be only a coincidence? The Cambodians are related to the Siamese, Burmese and other brown Mongoloids of the Indonesian Isles and the Philippines. In the ancient land of Gomer dwelled a small tribe called the Lullu (ENCY. BIBLICA, map opposite Syria).

In extreme South China today dwell the Lulu, a non-Chinese race related to the people of Southeast Asia!

One branch of the family of Gomer, however, did not journey to Southeast Asia. Ezekiel 38:6 explains it: "The house of Togarmah in the uttermost parts of the north, and all his bands" (Jewish translation). The far, far north means Russian Siberia today! That is where the descendants of Togarmah (Gen.10:3) live. These Asiatics are still a wild nomadic people, much as they were 2500 years ago, trading "with horses and horsemen and mules" (Ezek.27:14). (Hoeh H. The truth about the race question. Plain Truth, July, 1957)
And while some of the specifics may need clarification (especially as some conflict other sources), it is true the most of the Asians are descended from Japheth.
Many Will Worship the Beast
While being distant from religions of the West is a hallmark of much of Asia, this is going to change and indeed has been (and is starting to now, see China's Change Towards Religion and Russia Celebrates Orthodox Holiday, Officially).
There are Chinese prophecies dating from the Tang Dynasty (June 18, 618 – June 4, 907) that seems to support the concept of pan-Asian cooperation (although it only mentions three nations) after someone (who is apparently not really trustworthy) rises up in the West:
Beautiful people come from the West. Korea, China and Japan are gradually at peace (Pui-Hua R. Ancient Chinese Prophecies Till the End of the World. AuthorHouse, Bloomington (IN), 2008, p. 85).

All negative forces are subservient ... China now has a saint. Even if he is not that great a hero (ibid, p. 89).
The beautiful people may be the Beast and his false prophet which apparently will impress peoples in places including Asia. The "saint" will likely be "the false prophet," the final Antichrist (see also Some Doctrines of Antichrist). Since there may have been an actual Christian witness to China during the time these prophecies was penned (see China, Its Biblical Past and Future, Part 2: The Sabbath and Some of God's Witness in China), it is possible that this witness was the basis of parts of the prophecies, even though distorted somewhat (true Christians would have warned about a false religious leader coming from the West accompanied by a military leader).
There are prophecies that suggest the Russians will be influenced by apparitions claiming to be Mary:
Mary apparition in Fatima (20th century): But in the end my Immaculate Heart shall triumph. The Holy Father will consecrate Russia to me, she will be converted, and a certain period of peace will be in the world (Connor, Edward. Prophecy for Today. Imprimatur + A.J. Willinger, Bishop of Monterey-Fresno; Reprint: Tan Books and Publishers, Rockford (IL), 1984, p. 14).

Mary apparition in Hrushiv, Ukraine (20th century): The conversion of Russia will save Christian culture in the West and will be a push for Christianity throughout the world. But the Kingdom of Christ the King shall establish itself through the reign of the Mother of God (Flynn T & L. The Thunder of Justice. Maxkol Communications, Sterling (VA), 1993, p. 34).
The Bible shows the universal acceptance (though it will be temporary) of a false leader (Revelation 13:1-4). Apparitions claiming to be Mary may be part of the lying wonders (2 Thessalonians 2:9) prophesied to come to try to encourage this (see also Mary, the Mother of Jesus and the Apparitions). Even predominantly Muslim Asian nations are expected to be influenced by this as Islam also reveres Mary. Though as far as Fatima goes, some Muslims consider that it was Muhammed's daughter Fatima who appeared at Fatima.
What about China?
Consider a few comments on "Mary" and certain Buddhist faiths from Ella Rozett, who wrote that she "attends Catholic church almost every day":
Mother Mary is largely unknown in the Buddhist world, the only exception perhaps being Maria Kannon. The latter is a hybrid of Mother Mary and the Bodhisattva of love and compassion whom the Japanese call Kannon, the Chinese Kuan Yin, the Tibetans Chenresig and the Indians Avalokiteshvara…

Much like the Virgin Mary, the Chinese Kuan Yin is said to have lived a human life of extreme self-sacrifice and holiness before she ascended into heaven and became a celestial Goddess of Mercy and Compassion. Since her ascension she has been appearing as "a woman in white" to those in need of help…

Some trace the striking similarities between Mary and especially the White Clad Kuan Yin back to the historical influence of Christians coming to China in the early 600's… At the time the Chinese were longing for the divine feminine, and Chinese Buddhism needed someone who could compete with the powerful Taoist goddesses.
Thus, the idea of female apparitions appearing exists in at least one Eastern faith. Some believe that Kuan Yin was a male now with the outward appearance of a female (perhaps Satan may appear like "her," in Revelation 13:4) and that her visits may be related to visitors in China in the 600s.
Kuan Yin is also known as the "Goddess of Mercy" and is sometimes called Guan Yin. A few of the pictures I have seen of her show her riding a serpentine beast in the water, which brings up a tie to the European Beast and Revelation 17:1-3. Various paintings and statues I have seen of Kuan Yin remind me of Marion ones, including the frequent use of a type of halo and a crown, the style of dress, as well as sometimes being shown as a Madonna with child. Hence, this may be a reason that the Chinese might be inclined to pay attention to a future "Marian" apparition. Centuries-old Chinese prophecies suggest that the Chinese may end up paying attention to Western religious leaders in the end time.
Furthermore in Asia reportedly, "Many see no contradiction in praying to Guan Yin…one day… and on another, praying to the Virgin Mary at the Novena Roman Catholic Church."
Thus it appears that despite not quite having the Roman Catholic devotion to Mary or Islamic veneration to Fatima, those in various Eastern faiths can be intrigued by the feminine, and may be highly impacted by public alleged Marian apparition(s) in the future. But, no Buddhist, Taoist, Muslim, Hindu, Protestant, Mormon, Roman Catholic, or anyone else should.
When people in Asia and elsewhere see the Beast power they will marvel:
8 The beast that you saw was, and is not, and will ascend out of the bottomless pit and go to perdition. And those who dwell on the earth will marvel, whose names are not written in the Book of Life from the foundation of the world, when they see the beast that was, and is not, and yet is (Revelation 17:8).
They will marvel because of the great wealth, because they did not think Europe would gain such prominence, and because its leadership will have performed various signs and wonders. Also, the timing may coincide with beliefs in Hinduism and other religions about a new "golden age", hence this may temporarily cause the more cautious to accept the Beast. They may also marvel because supporting the Beast may give them additional wealth and perhaps additional land.
There is a modern Russian prophecy that suggests that Russia will end up Alaska and parts of Asia will end up with some of the Western portions of the USA (for details, see Russia: Its Origins and Prophesied Future).
There is an ancient Chinese prophecy that might hint that it involves Australia and New Zealand and Europe. It states:
Population mouth takes territories south of the Yangtze river. The capital is moved again. The two divide up the territories, of which each maintains and defends (Pui-Hua R. Ancient Chinese Prophecies Till the End of the World. AuthorHouse, Bloomington (IN), 2008, p. 164).
This may be related to a deal that perhaps the Chinese will make in the future with Europe, as opposed to military conquest. It also may not be related to the taking of Australia or New Zealand, but perhaps might be.
Furthermore, notice the following Catholic prophecy:
American Catholic Prophecy (c. early 20th century): The yellow hordes of the Rising Sun and the middle kingdom will pour out their wrath on the people of the island kingdom which had gathered riches through trade (Dupont, Catholic Prophecies, p. 78).
Since the USA owes Japan (the "land of the rising sun") and China (the "middle kingdom") massive amounts of money, it may be since Australia and New Zealand will be allies of the USA and UK, that Europe will give Australia over to China and New Zealand over to Japan to help satisfy the USA/UK debt. Both China and Japan have longed for more land and the proximity of the island nations of Australia and New Zealand to the Asian powers seems to make this a likely scenario.
The Bible warns of a time when certain lands will be divided:
39 Thus he shall act against the strongest fortresses with a foreign god, which he shall acknowledge, and advance its glory; and he shall cause them to rule over many, and divide the land for gain (Daniel 11:39).
The "he" is the European King of the North. The strongest fortresses are possessed by the USA and its Anglo-descended allies. It is likely that Russia, China, and others in Asia will assist the King of the North and get some lands in payment.

There are also a few verses in Lamentations that strongly support the idea that vs. 39 of Daniel 11 is the time that the Anglo-nations are punished.

Lamentations 4:16, states:

16 The face of the LORD scattered them; He no longer regards them.

The term translated as "scattered them" is the same Hebrew word (Strong's 2505) used in vs. Daniel 11:39 translated as "divide". It is also the same word used in Ezekiel 5:1-4 where the hair (apparently representing the U.S.A., UK, Canada, Australia, New Zealand) is divided.

And this would seemingly include the USA, UK, Canada, Australia, and New Zealand. And it will happen whether or not some demonic entity influenced an ancient Chinese predictor or Marian apparitions. India and other Asian nations may also be involved (Isaiah 11:11-13). Russia too (Ezekiel 27:13-14).
For additional details about the dividing and Asia's possible role, see the article Will the Anglo-Nations be Divided?
Hindu and Roman Catholic Prophecies
Within Hinduism there is the prophetic belief that a leader called the Kalki who is to rise up with the promise of bring peace--and while most views suggest he is Indian, that could be a matter of interpretation--Hinduism mainly is looking for a leader to rise up.
Unknowingly, a Hindu writer in India is actually helping set the stage for people around the world to accept the authority of a warring dictator who is likely to arise within the next decade:
To cleanse the society of its ills ... many would come forward and sacrifice self on the altar of God. Unless that happens ... the upheaval in the society is not possible. The blood of the innocent would be spilled. There is no other remedy...

For the society to climb back to its pristine glory of the golden era... even the meek would handle metal (pick arms). Whatever the poor and the downtrodden lay their hands upon would become their weapon. In the last phase of the Kali Yuga we are passing through ... the complete society has been taken to ransom by about 6% corrupt population comprising of politicians, bureaucrats, judiciary and police force.

In every nook and corner of the world situation would be same...

2012 is the year of the Avatar of the era (god almighty manifest in human form)... people await with abated breath the coming of Bhagwan Kalki... one who delivers the mankind from the existing ills of today. Bhagwan Kalki would be a spiritual master of the highest order with the deadly combination of a wise dictator (Chanakya of the modern era)...

Prayers world-wide have delayed the coming of Bhagavan Kalki. The World War Three that was destined to start in 1998~1999 got delayed. It is the theory of mass karma that governs the destiny of every living being. WTC affair was just a preamble to the main show. Let us all prepare ourselves and wait for 2012. (Kumar, Vijay. End of the World 2012. http://www.godrealized.com/2012.html viewed 01/18/09).
(More on the Kalki leader, and when others in India suspect he will rise up, please see the article Might Hindus Unknowingly Be Looking for the Arrival of the Beast and False Prophet?)
As it turns out, certain interpretations of Hindu prophecies point to the basically same time as the Bible (though they use a 5,000 year period, which started about 1,000 years later) for certain end time events to unfold. Notice the following:

Lord Krishna says that Kali Yuga will end 5,000 years after its beginning, giving way to a Golden Age. …


Hindus believe that human civilization degenerates spiritually during the Kali Yuga, which is referred to as the Dark Age because in it people are as far removed as possible from God. …


The timeline also indicates that the ascending Kali Yuga, which is the current epoch in which we are living, will end in 2025 CE. (Cupper28. Kaliyuga Ends by 2025, Mystry. Daily English News, July 4, 2018)

Now, from a biblical perspective this is a bit too early for the new utopian age (Christians would refer to that age as the millennial kingdom of God). Yet, other Hindu writings point to this leader being a warring one (see also India and the Beast of Revelation 13).
Also note the following where the Bible warns against a powerful deceiving leader arising:
And then the lawless one will be revealed, whom the Lord will consume with the breath of His mouth and destroy with the brightness of His coming. The coming of the lawless one is according to the working of Satan, with all power, signs, and lying wonders, and with all unrighteous deception among those who perish, because they did not receive the love of the truth, that they might be saved (2 Thessalonians 2:8-10).
Because of these actions (signs and wonders, that many will consider to be miracles from God), people throughout the world, including in Asia will (temporarily to some degree) worship a false leader:
1 Then I stood on the sand of the sea. And I saw a beast rising up out of the sea, having seven heads and ten horns, and on his horns ten crowns, and on his heads a blasphemous name. 2 Now the beast which I saw was like a leopard, his feet were like the feet of a bear, and his mouth like the mouth of a lion. The dragon gave him his power, his throne, and great authority. 3 And I saw one of his heads as if it had been mortally wounded, and his deadly wound was healed. And all the world marveled and followed the beast. 4 So they worshiped the dragon who gave authority to the beast; and they worshiped the beast, saying, "Who is like the beast? Who is able to make war with him?" 5 And he was given a mouth speaking great things and blasphemies, and he was given authority to continue for forty-two months. 6 Then he opened his mouth in blasphemy against God, to blaspheme His name, His tabernacle, and those who dwell in heaven. 7 It was granted to him to make war with the saints and to overcome them. And authority was given him over every tribe, tongue, and nation. 8 All who dwell on the earth will worship him, whose names have not been written in the Book of Life of the Lamb slain from the foundation of the world. 9 If anyone has an ear, let him hear (Revelation 13:1-9).
However, if you are an Asian, you personally do not have to be deceived. Hopefully, by reading this article you will receive the proper information to help prevent you from accepting the false religion that will to a degree likely to be forced upon your nation.
Perhaps it should be mentioned that the Catholics of Rome have a prophecies that those all over the world, and specifically those in Russia and China, as well as elsewhere in Asia (probably including India and Japan, etc., who they consider to be mainly pagans) will become a revised form of "Catholic" as the coming European empire will be strong and prosperous:
Bl. Anna-Maria Taigi (19th century). Whole nations will come back to the Church and the face of the earth will be renewed. Russia ... and China will come into the Church. (Dupont Yves. Catholic Prophecy: The Coming Chastisement. TAN Books, Rockford (IL), 1973, p.45)

St. Bridget (14th century): Before Antichrist comes, the portals of Faith will be opened to great numbers of pagans (Birch, DA. Trial, Tribulation & Triumph: Before During and After Antichrist. Queenship Publishing Company, Goleta (CA), 1996, p. 449)

Venerable Magdalene Porzat (died 1850) (Great Monarch)...shall...restore to their dominions the legitimate kings. A just and pious man born in Galacia shall be the Supreme Pontiff: then the whole world will be united and prosperous. One faith only and one emperor shall reign over the whole earth (Connor, p. 38).

Cardinal La Roque (c. 18th century): A regeneration of Faith will appear in Asia (Culleton, R. Gerald. The Prophets and Our Times. Nihil Obstat: L. Arvin. Imprimatur: Philip G. Scher, Bishop of Monterey-Fresno, November 15, 1941. Reprint 1974, TAN Books, Rockford (IL), p. 193)

Elizabeth Canori-Mora (died 1825):...Such is the glorious triumph reserved for the Catholic Church; she shall be praised, honored and esteemed by all men. All men shall become Catholics, and shall acknowledge the Pope as Vicar of Jesus Christ." (Connor, Edward. Prophecy for Today. Imprimatur + A.J. Willinger, Bishop of Monterey-Fresno; Reprint: Tan Books and Publishers, Rockford (IL), 1984, p.24)

Bl. Anna-Maria Taigi (19th century). After the three days of darkness, St. Peter and St. Paul, having come down from Heaven, will preach in the whole world and designate a new Pope. A great light will flash from their bodies and will settle upon the cardinal who is to become Pope. Christianity, then, will spread throughout the world. He is the Holy Pontiff, chosen by God to withstand the storm. At the end, he will have the gift of miracles, and his name shall be praised over the whole earth. (Dupont, p.45)

Mother Alphonse Eppinger (1867): "After God has purified the world faith and peace will return. Whole nations will adhere to the teachings of the Catholic Church." (Connor, p.25)

Pope Leo XIII (1893): The Orient, courageously and successfully explored by the Portuguese, is coveted by many today for its lucrative trade. We, however, have a more noble purpose in mind...To take care, therefore, of the preservation and propagation of the Catholic religion among the Hindus, a Hindu clergy has to be formed that could administer the sacraments and govern the Christian people properly, no matter how menacing the times...Be sure that the role of Christianity in such remote regions becomes well known. Make your people understand that something must be done for the Hindus (Leo XIII. AD EXTREMAS ON SEMINARIES FOR NATIVE CLERGY. Encyclical of Pope Leo XIII promulgated on June 24, 1893. http://www.vatican.va/holy_father/leo_xiii/encyclicals/documents/hf_l-xiii_enc_24061893_ad-extremas_en.html viewed 07/19/09).
But this acceptance of the "Catholic" leaders will not last. Perhaps I should mention that even many Greo-Roman Catholic writers have warned that one that they call an "antipope" will lead a changed church calling itself "Catholic" that will be an ecumenical world religion that many all over the world will follow, but should not follow (see also Catholic Prophecies: Do They Mirror, Highlight, or Contradict Biblical Prophecies?).
Perhaps it should be mentioned that sometime back, the Vatican announced a step that seemed geared towards getting the Chinese to become Catholic. Notice the following:
The Holy See added the Catechism of the Catholic Church to the Chinese section of its Web site Thursday...

The Holy See launched the Chinese section of its Web site a year ago, which includes both traditional and simplified Chinese characters.

The Web site of the Holy See is currently available in eight languages: Italian, English, French, Spanish, German, Portuguese, Latin and Chinese. (Vatican Posts Catholic Catechism in Chinese. Zenit.org. VATICAN CITY, MARCH 19, 2010 http://www.zenit.org/article-28692?l=english)
Chinese is the first non-European language that the Catechism has become available on the internet. This may be an important step towards the likely temporal conversion of many Chinese to a final form of "Catholicism". Those of Asian descent would do well to learn how the current Roman "Catholic" Church differs from the original Church of God (see Which Is Faithful: The Roman Catholic Church or the Continuing Church of God?) as the former has made many changes and is expected to make even more.
The Vatican has a compromised deal related to Catholicism in China (see 'China Betrays Its Deal with the Vatican' and 'Special Report: Vatican China Sellout').
God Will Provide a Witness
Now, in order to provide light to people, such as the Asians, God will provide a strong witness to the entire world at that time:
3 And I will give power to my two witnesses, and they will prophesy one thousand two hundred and sixty days, clothed in sackcloth." 4 These are the two olive trees and the two lampstands standing before the God of the earth... 7 Now when they finish their testimony, the beast that ascends out of the bottomless pit will make war against them, overcome them, and kill them. 8 And their dead bodies will lie in the street of the great city which spiritually is called Sodom and Egypt, where also our Lord was crucified. Then those from the peoples, tribes, tongues, and nations will see their dead bodies three-and-a-half days, and not allow their dead bodies to be put into graves (Revelation 11:3-4,7-9).
Hence when you see the two witnesses rise up performing miracles and preaching against the future European Beast power, you should resist. The Bible is clear that people of "of all nations, tribes, peoples, and tongues" (Revelation 7:9) will respond to God during this time.
There is a Chinese prophecy that, according to Ruan Pui-Hua is expected to be fulfilled during the time of the Apocalyse, might be referring to one of the two witnesses (one witness may go to Asia more than the other one; see also Who Are The Two Witnesses?):
Zhuge Liang (3rd century): Rescuing others from disaster, is only a saint ... From extreme disaster is born brightness (Pui-Hua, p. 142).
And even more Asians will respond to God after they are resurrected from the dead (cf. Isaiah 9:2).
More on the two witnesses can be found in the article Who Are The Two Witnesses?
The Asians Will Be Among the First to Recognize the Falsehood of the Beast
Lest any have the misimpression that the Asians are not a discerning people, it needs to be understood that they will be among the first to recognize the falsehood of this European power. But before that, there will likely be increased military cooperation among many of the Asian nations.
Notice also something from last decade:
Japan, China agree to improve military, political exchanges

AFP - Nov 19, 2009

TOKYO — The foreign ministers of Japan and China agreed Thursday to advance political and military exchanges in a bid to foster mutual trust, a Japanese diplomat said.

Japan's Katsuya Okada and his Chinese counterpart Yang Jiechi also reiterated their shared resolve to press North Korea to stop its nuclear programmes, to tackle climate change and to boost economic cooperation, he said. http://www.google.com/hostednews/afp/article/ALeqM5gQrVTqWQqZllEyGfqvnSlwVX992g

Japan's new defense minister said that while the American alliance remains the core of security policy, he wants to improve ties between Chinese and Japanese armed forces as a means of dealing with China's military rise. (Dawson C. Japan Defense Chief Urges China Ties Wall Street Journal. September 13, 2011. http://online.wsj.com/article/SB10001424053111904265504576566301313995720.html)
And while Japan and China are not really allies now, this is likely to change (I wrote the preceding statement in 2009 and now it seems to be happening). The stage for military alliances all across Asia is being set right now. China and Pakistan cooperate militarily (see Chinese Troops Supporting Pakistan Military), and in the future, I suspect that Pakistan will join the Kings of the East Beast power.
Probably the Russians, and nearly certainly the Chinese, Japanese, Indians, and other Asians will finally see that the European Beast power, also called "the King of the North" in the Bible, is not something to be worshiped or trusted. See also The Eurasian Union, the Kings of the East, and Bible Prophecy.
Why do we in the Continuing Church of God teach that? Because there are certain verses in both the Book of Daniel and the Book of Revelation that appear to be discussing Asia and the European Beast power.
Notice more scriptures:
9 For behold, I will raise and cause to come up against Babylon An assembly of great nations from the north country, And they shall array themselves against her; From there she shall be captured. Their arrows shall be like those of an expert warrior; None shall return in vain. (Jeremiah 50:9)

50:41 "Behold, a people shall come from the north,
And a great nation and many kings
Shall be raised up from the ends of the earth.
42 They shall hold the bow and the lance;
They are cruel and shall not show mercy.
Their voice shall roar like the sea;
They shall ride on horses,
Set in array, like a man for the battle,
Against you, O daughter of Babylon.

43 "The king of Babylon has heard the report about them,
And his hands grow feeble;
Anguish has taken hold of him,
Pangs as of a woman in childbirth…"(Jeremiah 50:41-43).

"40 At the time of the end the king of the South shall attack him; and the king of the North shall come against him like a whirlwind, with chariots, horsemen, and with many ships; and he shall enter the countries, overwhelm them, and pass through. 41 He shall also enter the Glorious Land, and many countries shall be overthrown; but these shall escape from his hand: Edom, Moab, and the prominent people of Ammon. 42 He shall stretch out his hand against the countries, and the land of Egypt shall not escape. 43 He shall have power over the treasures of gold and silver, and over all the precious things of Egypt; also the Libyans and Ethiopians shall follow at his heels. 44 But news from the east and the north shall trouble him; therefore he shall go out with great fury to destroy and annihilate many. 45 And he shall plant the tents of his palace between the seas and the glorious holy mountain; yet he shall come to his end, and no one will help him (Daniel 11:40-45).
Notice that the end time King of the North (the European Empire) will overwhelm the King of the South (a Moslem empire), but that those from the east and the north shall trouble the King of the North. This appears to be referring to China and Russia, and apparently India and other Asian nations. And notice that they will be used to help cause the Babylonian King of the North to come to his end.
However, war is not their ultimate destiny. Deification is.
This turning against the Beast may happen once a "loathsome sore" comes upon those who either worshipped the Beast or had his mark (Revelation 16:2)—and this would affect some in Asia. It will likely be that the Asians will realize that once this and the other events in Revelation 16 come to pass, that the "great" Western leaders that they have been following do not have the power to stop this and thus finally conclude that they do not really represent God.
And even though the Bible shows that the King of the North will lose, certain Greco-Roman Catholics are now misled as some of their prophets falsely seem to tell them that the Asians will be defeated:
Countess Francesca de Brillante (20th Century). "I see yellow warriors and red warriors marching against Europe. Europe will be completely covered with a yellow fog that will kill the cattle in the fields. Those nations that rebelled against the law of Christ will perish by fire. Europe will then be too large for them who survive (Dupont, p. 78).

Nostradamus (16th century): Meanwhile the great Asiatic Empire will spread across the sea and continents to destroy the Christian world (Culleton, p. 168).

David Poreus (17th century). "The Great Monarch will be of French descent, large forehead, large dark eyes, light brown wavy hair and an eagle nose. He will crush the enemies of the Pope and will conquer the East." (Dupont, p.31)
However, as the Bible will be correct (and certain Greco-Roman Catholic prophets often shown to be wrong), it will not turn out as the Europeans hope--the East will rebel.
This power of the north and east essentially seems to be a Russian-led confederation. This northern power includes those from the ends of the earth (apparently including the Pacific area of Asia and the northern extremes of Asia) that will destroy much of the Babylonian empire of the European King of the North.
Notice also:
11 Make the arrows bright!
Gather the shields!
The Lord has raised up the spirit of the kings of the Medes.
For His plan is against Babylon to destroy it,
Because it is the vengeance of the Lord,
The vengeance for His temple. (Jeremiah 51:11)
The fact that there are multiple kings of the Medes indicates that multiple powers involved in this end time confederation represent multiple governments. Perhaps, such as Russia, Belarus, Crimea, etc.
Armenia (called Ararat below and some commentators, like Barnes, associate Minni with western Armenia--it may also have to do with Oscania and Georgia) and others are also referred to below as part of the confederation that goes against end time Babylon:
24 "And I will repay Babylon
And all the inhabitants of Chaldea
For all the evil they have done
In Zion in your sight," says the Lord.

25 "Behold, I am against you, O destroying mountain,
Who destroys all the earth," says the Lord. (Jeremiah 51:24-25a)

27 Set up a banner in the land, Blow the trumpet among the nations! Prepare the nations against her, Call the kingdoms together against her: Ararat, Minni, and Ashkenaz. Appoint a general against her; Cause the horses to come up like the bristling locusts.

28 Prepare against her the nations, With the kings of the Medes, Its governors and all its rulers, All the land of his dominion. 29 And the land will tremble and sorrow; For every purpose of the Lord shall be performed against Babylon, To make the land of Babylon a desolation without inhabitant. (Jeremiah 51:27-29)
Powers from northern, eastern, and western Asia are going to get together against Europe.
This will not end well for the end time daughter of Babylon.
Cooperation Between Russia, China, and India
Right now, Russia, China, and India are cooperating more and more and seem to be getting ready to ultimately be able to fulfill various biblical prophecies.
Currently, they are all agreeing that they want an end to US dollar dominance of world trade, which will mean that they will have to cooperate more closely together to accomplish this:
India Joins Russia, China in Questioning U.S. Dollar Dominance

Suresh Tendulkar, an economic adviser to Indian Prime Minister Manmohan Singh, said he is urging the government to diversify its $264.6 billion foreign-exchange reserves and hold fewer dollars.

"The major part of Indian reserves is in dollars -- that is something that's a problem for us," Tendulkar, chairman of the Prime Minister's Economic Advisory Council, said in an interview yesterday in Aix-en-Provence, France, where he was attending an economic conference...

As the talks have neared, China and Russia have stepped up calls for a rethink of how global currency reserves are composed and managed, underlining a power shift to emerging markets from the developed nations that spawned the financial crisis.

"There should be a system to maintain the stability of the major reserve currencies," Former Chinese Vice Premier Zeng Peiyan said in a speech in Beijing yesterday, highlighting China's concerns about a global financial system dominated by the dollar...

Russian Proposals

Russian President Dmitry Medvedev has repeatedly called for creating a mix of regional reserve currencies as part of the drive to address the global financial crisis, while questioning the dollar's future as a global reserve currency. Russia's proposals for the Group of 20 major developed and developing nations summit in London in April included the creation of a supranational currency.

"We will resume" talks on the supranational currency proposal at the G-8 summit in L'Aquila on July 8-10, Medvedev aide Sergei Prikhodko told reporters in Moscow yesterday. (Bloomberg - July 4, 2009 By Mark Deen and Isabelle Mas. http://www.bloomberg.com/apps/news?pid=20601087&sid=aR7yfqUwTb4M

August 12, 2013

Russia wants to be seen as a strong, resource-heavy player in Europe, worthy of mention in the same sentence as the U.S. and China when the discussion turns to global geopolitical and economic influence. http://thetyee.ca/Opinion/2013/08/12/Sochi-Olympics-Vanity-Project/

Recent media reports in China and Russia suggest that China is continuing to consider backing the yuan with gold. Since 2005, we have said that such a move by China was likely as China seeks to become a superpower and lessen and undermine U.S political dominance. http://www.marketoracle.co.uk/Article41572.html

For a multitude of decades following the end of World War II, the U.S. dollar has reigned supreme as the universal currency with which most international trade was conducted…

Even as China awakened, and became the world's runnerup world's economic superpower, its "yuan" barely increased as a sovereign currency for global trade in general. If anything, the dollar has maintained its strength, and then some, as the foreign investment magnet has gravitated toward the U.S. This requires conversion by other world currencies into the dollar.But, now, an unpublicized component of the recent Sino-Russian Alliance has been a joint effort to campaign for its relative currencies to be accepted in lieu of the greenback. This is based on Russia's massive exports of oil and natural gas, and China's unparalleled dominance in world export of finished commercial, industrial and consumer goods, as well as commodity components. A few preliminary statistics indicate progress in that direction:

1) China's foreign exchange reserve, which has increased from $2.2 trillion in 2009 to $3.4 trillion currently, has been offset by China's U.S. dollar reserves decrease from 69% to 54% during the same time period.

2) The People's Bank of China has signed nearly two trillion yuan worth of currency swap deals with 20 countries and regions, including Hong Kong.

3) China and Russia have aggressively built up their gold reserves, still recognized worldwide as a stabilizing backup for world currencies used in ongoing international trade. This has greatly curbed the U.S.'s one indisputable world lead, which the China/Russia combine is attempting to eventually overtake. http://voices.mydesert.com/2013/08/09/chinarussia-attempt-to-dethrone-us-dollar-currency-supremacy/
Notice that they have long met together to discuss how to better cooperate on many matters:
Facing Western supremacy

By M.D. NALAPAT Professor M.D. Nalapat is director of the School of Geopolitics at the Manipal Academy of Higher Education, India.
UPI Outside View Commentator

NEW DELHI, Feb. 13 , 2007 (UPI) – The foreign ministers of the three giants of the Asian landmass — Russia, China and India — will meet Feb. 14 in New Delhi to advance an old proposal for a Trilateral Global Alliance that would effectively exclude the West from a position of superiority in Asia…
Notice the reasons the same article gives as why:
Although the Russian people look "European," the fact is that they are separate culturally from Europe. They have their own mindset, traditions and values, and hence will always be opposed, silently or overtly, by continental European powers such as Germany and France, which recognize Russia as not only different, but with the potential to overshadow both of them, should Moscow ever be admitted into the European Union.

After years of seeking to become "good Europeans" by leaving behind their Russian heritage — a process that began with Mikhail Gorbachev and lasted even into the Putin presidency — the Russian leadership has finally realized that the major continental European powers have zero intention of giving parity, let alone primacy, to Moscow. Hence, President Vladimir Putin has focused as much on Asia as on Europe, and with far better results than from his several failed efforts at integration into Europe. This has opened the way for an India-China-Russia alliance.

In the case of China, both Mao Zedong — under whose leadership China "stood up" in 1949 after centuries of servitude — and Deng Xiaoping understood that a relationship with the Western world could only be tactical and temporary, and that finally the clash of interests would lead to tensions. However there were others who sought to create an equitable partnership with the West, especially the United States, much as Putin tried in his first years in power. Today, the strong leadership of President Hu Jintao has clearly recognized that: a) China needs to rely on its own strength first; and b) the best way of developing this power is through a partnership with India and Russia…

In the next round, Iran and Indonesia would enter as partners within the TGA, followed by some key countries in Southeast Asia, the Middle East and a peacefully unified, nuclear-armed Korea. The TGA would have an Asian membership, but global influence, even in Phase I, when only Russia, China and India would be members. Phase II would see the entry of other Asian powers, while Phase III would witness the entry of selected countries in South America, such as Brazil, and Africa, such as Nigeria and South Africa.

The change in attitude by both the Chinese and Russian leaderships toward the Western world is the engine driving forward this partnership. In the case of India, after six decades of conducting a foreign policy independent of the West, now a team similar to Boris Yeltsin's is in office in New Delhi, for whom the only desirable path is accommodation with Western demands.

China went through such a phase during the Jiang Zemin period, while Russia's similar period lasted from 1985 till 2003. That year Moscow realized that the policy of the continental European powers was to cut away at its relationships and sphere of influence, so that finally Moscow would become as irrelevant in Europe as Belgium, a country with which it is often compared in economic terms.

The reality is that Russia possesses a single item — its nuclear and missile arsenal — that gives the country greater weight than Germany, France and Italy combined. The same goes for China. India is thus far a relative pygmy in the strategic field, although the scientific base of the country is strong enough to close this gap within six to seven years, should the political leadership decide on such a course. Since the mid-1990s, several within the Indian strategic establishment — including this writer — believed the Western world would be farsighted enough to make India a partner on terms of parity. However, many are now veering to the view that the Western world still sees India much as the British did in the past, as a secondary power that ought to be satisfied with crumbs.

This refusal of the Western alliance to acknowledge the equality of China, Russia and India with themselves is the reason the years ahead are likely to witness the birth of an India-China-Russia global alliance that would soon become the biggest geopolitical factor in Asia and then in Africa and South America. (http://www.upi.com/InternationalIntelligence/view.php?StoryID=20070212-115533-6356r).
Thus, the three largest "kings from the East" are setting the stage to fulfill end-time biblical prophecies. And they also want influence beyond Asia–and will ultimately resent the influence of the Europeans, apparently even more than they presently resent the influence of the USA today.
(Perhaps it should also be mentioned that I have long suspected that Taiwan,, Korea, and Japan, would end up being parts of the "kings from the east", along with nations such as China, Russia, and likely also India. According to the New York Times,on March 22, 2008, "Taiwan elected on Saturday its first president who had campaigned for closer economic relations with Beijing, paving the way for a considerable lessening of tensions in one of Asia's oldest flashpoints." As the mainland of China grows in military power, it is more and more setting its sights on the Taiwanese island. Taiwan will one day be confederate with PRC.
This concept of Asian involvement in a major battle is confirmed in the Book of Revelation. Notice the following:
13 Then the sixth angel sounded: And I heard a voice from the four horns of the golden altar which is before God, 14 saying to the sixth angel who had the trumpet, "Release the four angels who are bound at the great river Euphrates." 15 So the four angels, who had been prepared for the hour and day and month and year, were released to kill a third of mankind. 16 Now the number of the army of the horsemen was two hundred million; I heard the number of them. 17 And thus I saw the horses in the vision: those who sat on them had breastplates of fiery red, hyacinth blue, and sulfur yellow; and the heads of the horses were like the heads of lions; and out of their mouths came fire, smoke, and brimstone. 18 By these three plagues a third of mankind was killed–by the fire and the smoke and the brimstone which came out of their mouths. (Revelation 9:13-18)
Only China andIndia and others in Asia (many of which will align themselves with China and Russia against the European Empire), are capable of fielding a two hundred million man army. Thus, Revelation looks to be discussing an Asian role in the end-time prophecies.
Although the Chinese flag itself is basically red and yellow, it perhaps should be mentioned that the colors of the Chinese flag for its navy and air force is military is red, blue, and yellow. Also, notice the colors of the insignia that many of its troops wear: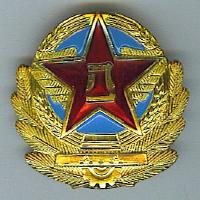 Interestingly, there were only about 100,000,000 males (including children) on the entire earth when God had the Apostle John pen the prophecy in Revelation 9:16 that a 200,000,000 man army would form (Rastogi VB, Kishore B. A Complete Course in ISC Biology. Pitambar Publishing, 1997, p. 24). This means, despite those who claim that the Book of Revelation was fulfilled centuries ago (see The Dangerous Rise of Preterists), that the prophecy about the 200 million man army is for a time like we are now in.
According to two I checked with (I cannot find a firm reference on the date), Chairman Mao allegedly boasted in the 1960s of an army of two hundred million men, and according to one source, referenced that prophecy in Revelation.
Notice something about this army from the late Herbert W. Armstrong:
The second WOE, with its symbols of horses and horsemen ... is also referred to as an event in the DAY OF THE ETERNAL in Joel 2:4. This refers to a tremendous military power ... They come with an army of two hundred million! Think of it — an army of two hundred million! World events are now moving rapidly to make possible the creation of a ... Eurasian army of that unbelievable manpower! (Armstrong HW. The Book of Revelation Unveiled at Last! 1972)
Notice what Joel 2 indicates some of what that two hundred million man army will do:
2 ... A people come, great and strong, The like of whom has never been; Nor will there ever be any such after them, Even for many successive generations. 3 A fire devours before them, And behind them a flame burns; The land is like the Garden of Eden before them, And behind them a desolate wilderness;Surely nothing shall escape them. 4 Their appearance is like the appearance of horses; And like swift steeds, so they run. 5 With a noise like chariots Over mountaintops they leap, Like the noise of a flaming fire that devours the stubble,Like a strong people set in battle array. 6 Before them the people writhe in pain; All faces are drained of color. 7 They run like mighty men, They climb the wall like men of war; Every one marches in formation, And they do not break ranks. 8 They do not push one another; Every one marches in his own column. Though they lunge between the weapons, They are not cut down. 9 They run to and fro in the city, They run on the wall; They climb into the houses, They enter at the windows like a thief. (Joel 2:2-9)
That massive army will cause fear and massive destruction and even 'climb into houses'–which is what raping armies tend to do!
Interestingly, there is a Russian prediction made over a century ago that Russia and China will take over Europe that the New York Times published over a century ago:
... one of the causes which will eventually lead to a regenerated China attacking Europe will be the predominance of males over females in the Celestial Kingdom … for China is bound to make a memorable appearance on the world's stage , and it is indispensable that Russia bind herself in close unison with China until China "overflows her shores and pours down in a torrent on Europe." (DR. MENDELEYEFF'S STRIKING PROPHECY, Dead Chemist Foretold the Attack of Europe by a Regenerated China. WILL FIRST FIGHT INDIA Preponderance of Males the Cause -- Japan, Not an "Originator Power," Can Never Be Great. New York Times, August 11, 1907. http://query.nytimes.com/mem/archive-free/pdf?res=9B03E1DF103EE033A25752C1A96E9C946697D6CF viewed 04/21/09 August 11, 1907 ).
I believe that part of why China itself will help supply manpower for the 200,000,000 man army of Revelation 9:16 is because of its past "one child policy" (which it adopted in the early 1980s). This policy resulted in an excessively high male to female birth ratio because of gender-driven abortions--thus more males than normal will be more willing to fight in the military.
Consider the following observation from a professor in China:
October 24, 2015

A Chinese professor's controversial suggestion that poorer men could share wives has sparked debate online on how to solve China's gender imbalance.

Zhejiang University economics professor Xie Zuoshi's proposal has been met with heavy criticism that it is immoral.

China has one of the biggest gender imbalances in the world, with about 118 boys born to every 100 girls.

The imbalance is largely due to the one-child policy and cultural preferences for male children. …

"So please don't talk to me about morals. If we don't let the 30 million bachelors have women, their lives would have no hope and then they may go around raping, killing, setting off bombs… (let me emphasise that this is a possibility, I'm not saying they would definitely do that). Don't tell me that is your morality?" he said. http://www.bbc.com/news/world-asia-china-34612919
While I do not agree with Xie Zuoshi's proposal for biandry (a woman having two husbands), he is correct that China's one child policy has led to gender imbalance and that this is likely to cause social problems and/or violence. China is likely to experience social unrest this century for many reasons, and gender imbalance will be a factor at times.
Furthermore, since no later than 2007, I have written that China's one-child policy was likely to be a factor in it supporting the coming 200,000,000 man army of Revelation 9:16.
While many associate poverty with higher level of violence, Jonathan Last wrote the following which was published in the Wall Street Journal back in 2011:
In Chinese provinces where the sex ratio has spiked, a crime wave has followed. Today in India, the predictor of violence and crime for any given area is not income but sex ratio. http://www.wsj.com/articles/SB10001424052702303657404576361691165631366
Sex ratio is a factor in crime and violence. Males without females are more willing to be part of invading armies that may end up destroying and pillaging.
According to one researcher, since the late 1970s, 163 million abortions have been performed specifically for the purpose of eliminating female babies, and this makes the areas where there are more significantly more males much more violent (for details, please see Abortion, the Bible, and a Woman's Right to Choose). And thus China's "one child" policy appears to have helped set the stage for some of this 200 million man army in the 21st century. It may be of interest to note that because of abortions and cultural prefences, more males than normal are also being produced in India (India Producing More Males than Females). I have long believed that populous India would supply some of the 200,000,000 man army and its sex ratio imbalance would be a contributing factor.
History has shown that when there is a major imbalance of excess males, wealthier men tend to still get married, either locally or by securing brides from other lands (such as Vietnam for many Chinese). This tends to leave more poorer males unable to secure brides. Males who have less income and no wives tend to be more reckless and violent in their behavior.
While some believe that China and/or Russia will start World War III (WWIII, see also World War III: Steps in Progress), actually they will be part of something that could be called World War Four (WWIV)--they will be involved in the destruction of Europe and the gathering at Armageddon!
Also notice the following:
12 Then the sixth angel poured out his bowl on the great river Euphrates, and its water was dried up, so that the way of the kings from the east might be prepared. 13 And I saw three unclean spirits like frogs coming out of the mouth of the dragon, out of the mouth of the beast, and out of the mouth of the false prophet. 14 For they are spirits of demons, performing signs, which go out to the kings of the earth and of the whole world, to gather them to the battle of that great day of God Almighty. 15 Behold, I am coming as a thief. Blessed is he who watches, and keeps his garments, lest he walk naked and they see his shame." 16 And they gathered them together to the place called in Hebrew, Armageddon (Revelation 16:12-16).
Here we see that the kings from the East (hence more than one country) are those that need to cross the Euphrates. This combined with Revelation 9, which shows that two hundred million man army be assisted by angels at the Euphrates is strong biblical evidence that Asia is at least part of this massive army. They will be involved in what could be called World War Four.
China is clearly a nation that biblical is one of the "kings from the east." Russia, India, Japan, Korea, Taiwan, and others are also probably "kings from the East" (Revelation 16:12) as they all are in the farthest eastern reaches of Asia.
China's Silk Road project looks to pave some of the roads to help get to Armagedon as well as develop some naval ports (watch Is China paving roads to Armageddon?). This project is happening now!
Although most will apparently come to Armageddon by land, potentially, if portions of the 200 million man army from the East that the Book of Revelation prophecies (Revelation 9:13-20) will head to the Middle East via ship, some may stop and refuel at the Seychelles. And unless the Seychelles later teams up very closely with Europe, the likely agreement with China could facilitate the transport of the 200 million man army or at least facilitate logistical supplies for that army.
12 Then the sixth angel poured out his bowl on the great river Euphrates, and its water was dried up, so that the way of the kings from the east might be prepared. (Revelation 16:12)

Perhaps it should be mentioned that instead of "kings of the east," that part of Revelation 16:12 is more literally, "kings of the sunrise":
12 And the sixth poured out his bowl upon the great river Euphrates, and its water was dried up, so that the way might be prepared of the kings of the rising of the sun. (Revelation 16:12, Berean Literal Bible)

12 The sixth poured out his bowl on the great river, the Euphrates. Its water was dried up, that the way might be made ready for the kings that come from the sunrise. (Revelation 16:12, New Heart English Bible)

12 And the sixth angel poured out his vial into the great river Euphrates; and its water was dried up, that the way of the kings from the rising of the sun might be prepared. (Revelation 16:12, Jubilee Bible 2000)

12 And the sixth poured out his bowl upon the great river, the river Euphrates; and the water thereof was dried up, that the way might by made ready for the kings that come from the sunrising. (Revelation 16:12, American Standard Version)

12 And the sixth angel poured out his vial upon that great river Euphrates; and dried up the water thereof, that a way might be prepared for the kings from the rising of the sun. (Revelation 16:12, Douay-Rheims Bible)

12 And the sixth messenger did pour out his vial upon the great river, the Euphrates, and dried up was its water, that the way of the kings who are from the rising of the sun may be made ready; (Revelation 16:12, Young's Literal Translation)
Note: The sunrise areas would thus this would seem to also include Indochina (including Vietnam), Indonesia, and other lands (since Indonesia is Islamic, it is likely to wish much closer alignment with the Chinese in the end after the King of the North overwhelms the Islamic King of the South per Daniel 11:40-43; see also The Arab and Islamic World In the Bible, History, and Prophecy).
But All Will Notice the Great Tribulation
Jesus warned about a future time of a great tribulation:
21 For then there will be great tribulation, such as has not been since the beginning of the world until this time, no, nor ever shall be. 22 And unless those days were shortened, no flesh would be saved; but for the elect's sake those days will be shortened (Matthew 24:21-22).
Since this great tribulation affects the whole world, it will affect the Asians as well.
In Revelation 16, we also see that God will issue punishment to nearly all of humanity after Babylon (the European Empire) falls:
17 Then the seventh angel poured out his bowl into the air, and a loud voice came out of the temple of heaven, from the throne, saying, "It is done!" 18 And there were noises and thunderings and lightnings; and there was a great earthquake, such a mighty and great earthquake as had not occurred since men were on the earth. 19 Now the great city was divided into three parts, and the cities of the nations fell. And great Babylon was remembered before God, to give her the cup of the wine of the fierceness of His wrath. 20 Then every island fled away, and the mountains were not found. 21 And great hail from heaven fell upon men, each hailstone about the weight of a talent. Men blasphemed God because of the plague of the hail, since that plague was exceedingly great (Revelation 16:17-21).
God sent the punishments to get all men, including most of the Asians, to repent, but most refused at first:
9 And men were scorched with great heat, and they blasphemed the name of God who has power over these plagues; and they did not repent and give Him glory (Revelation 16:9).
A significant part of the 200,000,000 man army (Revelation 9:16) of the "kings of the east" will gather at Armageddon (Revelation 16:12-16). Those who are persuaded by demonic signs and wonders (Revelation 16:13-14) and fight against the returning Jesus will be destroyed (Revelation 19:19-21). It will take seven months to bury the dead (Ezekiel 39:11-16).
(For more on the Great Tribulation and when it may begin, please see the article Where Can the Great Tribulation Begin?); for more on Armageddon you can also read the article titled Armageddon.)
Repentance for the Nations or You?
Since the Asian nations are prophecied to be involved with Babylon and various wars, what about you?
Does this mean that you are doomed?
No. God does not require "group salvation". The Apostle Paul wrote:
...work out your own salvation with fear and trembling... (Philippians 2:12)
Thus, your personal relationship with God is not determined by what your fellow countrymen do.
Can, will, God help you during the coming tribulation?
Notice the prophecy for this latter time tribulation in the Hebrew scriptures:
29 But from there you will seek the Lord your God, and you will find Him if you seek Him with all your heart and with all your soul. 30 When you are in distress, and all these things come upon you in the latter days, when you turn to the Lord your God and obey His voice 31 (for the Lord your God is a merciful God), He will not forsake you nor destroy you, nor forget the covenant of your fathers which He swore to them. (Deuteronomy 4:29-31)

Thus, help from God during these hard times will be available to the truly sincere who really strive for it.
Then What Happens at the End of this Age?
After all these battles and punishments, the tribulation will end. And Christ will return:
Immediately after the tribulation of those days the sun will be darkened, and the moon will not give its light; the stars will fall from heaven, and the powers of the heavens will be shaken. 30 Then the sign of the Son of Man will appear in heaven, and then all the tribes of the earth will mourn, and they will see the Son of Man coming on the clouds of heaven with power and great glory (Matthew 24:29-30).

And He has on His robe and on His thigh a name written: KING OF KINGS AND LORD OF LORDS (Revelation 19:16).
This will usher in a kingdom that will be established for 1,000 years:
4 And I saw thrones, and they sat on them, and judgment was committed to them. Then I saw the souls of those who had been beheaded for their witness to Jesus and for the word of God, who had not worshiped the beast or his image, and had not received his mark on their foreheads or on their hands. And they lived and reigned with Christ for a thousand years. 5 But the rest of the dead did not live again until the thousand years were finished. This is the first resurrection. 6 Blessed and holy is he who has part in the first resurrection. Over such the second death has no power, but they shall be priests of God and of Christ, and shall reign with Him a thousand years (Revelation 20:4-6).
And people of many nations, including those of Asia, will be part of this kingdom. Notice:
9 After these things I looked, and behold, a great multitude which no one could number, of all nations, tribes, peoples, and tongues, standing before the throne and before the Lamb (Revelation 7:9).
After the thousand years are over, there will be problems, and then all will be resurrected--there will be a second resurrection:
7 Now when the thousand years have expired, Satan will be released from his prison 8 and will go out to deceive the nations which are in the four corners of the earth, Gog and Magog, to gather them together to battle, whose number is as the sand of the sea. 9 They went up on the breadth of the earth and surrounded the camp of the saints and the beloved city. And fire came down from God out of heaven and devoured them. 10 The devil, who deceived them, was cast into the lake of fire and brimstone where the beast and the false prophet are. And they will be tormented day and night forever and ever. 11 Then I saw a great white throne and Him who sat on it, from whose face the earth and the heaven fled away. And there was found no place for them. 12 And I saw the dead, small and great, standing before God, and books were opened. And another book was opened, which is the Book of Life. And the dead were judged according to their works, by the things which were written in the books. 13 The sea gave up the dead who were in it, and Death and Hades delivered up the dead who were in them. And they were judged, each one according to his works (Revelation 20:7-13).
It is important to note that all remaining are judged at the second resurrection, but not all are condemned. However, prior to the second resurrection, apparently a Russian-led confederation (apparently of Asians) will rebel and attempt to attack God's people (apparently in Jerusalem)--but they will not be successful (see also the article Russia: Its Origins and Prophesied Future). They will be destroyed, but will be raised in the second resurrection.
When is Salvation Available?
The mainstream "Christian" view correctly teaches that there is salvation in no other than Jesus (Acts 4:10-12), as "there is no other name under heaven given among men by which we must be saved" (vs.12).
But what happens to the multitudes in Asia who have not even heard the name of Christ? And those who will not respond as they possibly could (Deuteronomy 4:29-31)? And what happens to those born before Christ's earthly ministry? Recall that the Bible teaches that after Adam sinned, humankind was blocked from the tree of life as God had it guarded so that humans would not be able to access it on their own (Genesis 3:22-24).
Even the basic Protestant view is that unless one professes belief in Jesus prior to the first death, then salvation will be unavailable. It is perhaps because of the difference between this view and that of the real Church of God, that Protestants and various naysayers tend to label real Church of God as a cult. The fact that our doctrines actually come from the Bible does not seem to stop them from such labeling.
The Continuing Church of God specifically teaches that God is only calling a relatively few during this age with the Day of Pentecost (also called the Day of Firstfruits, Numbers 28:26) partially explaining this. "Of His own will He brought us forth by the word of truth, that we might be a kind of firstfruits of His creatures" (James 1:18).
Jesus and the Continuing Church of God teach, "No one can come to Me unless the Father who sent Me draws him" (John 6:44). And that will be few at this time, "For many are called, but few are chosen" (Matthew 22:14), "Because narrow is the gate and difficult is the way which leads to life, and there are few who find it" (Matthew 7:14).
Protestants and Catholics tend to feel, correctly, that God uses ministers to preach (Romans 10:14). Yet, the message is not always clear. In Isaiah 6:9-11 God teaches,
"Go, and tell this people: 'Keep on hearing, but do not understand; Keep on seeing, but do not perceive.' Make the heart of this people dull, And their ears heavy, And shut their eyes; Lest they see with their eyes, And hear with their ears, And understand with their heart, And return and be healed." Then I said, "Lord, how long?" And He answered: "Until the cities are laid waste and without inhabitant, The houses are without a man, The land is utterly desolate".
In other words, the bulk of the people are not to understand until after a time of great desolation.
Furthermore, the Bible reveals that God has prohibited idolaters to have proper understanding:
And the rest of it he makes into a god, His carved image. He falls down before it and worships it, Prays to it and says, "Deliver me, for you are my god!" They do not know nor understand; For He has shut their eyes, so that they cannot see, And their hearts, so that they cannot understand (Isaiah 44:17-18).

They have no knowledge, Who carry the wood of their carved image, And pray to a god that cannot save (Isaiah 45:20).
Thus, is God going to condemn those who worship idols for what He has not let them understand?
Protestant and Roman Catholic theology tends to say yes.
Those in the Continuing Church of God say no.
Unless the idolater has committed the unpardonable sin (which is unlikely) they will be judged as other uncalled people are.
Hence, the billions throughout history in Asia and Africa (and elsewhere) are not condemned to suffer forever for following practices they really do not understand.
Those who were uncalled in this age (including most people and nearly all of the Asians, including those that have long been dead) will be offered an opportunity for salvation. This will happen after the second resurrection.
And nearly all of them will accept it. The Continuing Church of God teaches that God will ultimately give every individual an opportunity for salvation--and that nearly every individual will accept that opportunity. The vast majority of human beings ever born will ultimately be in God's family.
This means that ultimately that nearly all Asians will be in the permanent kingdom of God.
Many do not understand that God will OFFER salvation to all (see also Universal Offer of Salvation: There Are Hundreds of Verses in the Bible Supporting the Doctrine of True Apocatastasis):
6 And all flesh shall see the salvation of God. (Luke 3:6)

10 And all the ends of the earth shall see The salvation of our God. (Isaiah 52:10)
Notice some of the descriptions of God's kingdom from the Book of Revelation:
Then I, John, saw the holy city, New Jerusalem, coming down out of heaven from God, prepared as a bride adorned for her husband. 3 And I heard a loud voice from heaven saying, "Behold, the tabernacle of God is with men, and He will dwell with them, and they shall be His people. God Himself will be with them and be their God. 4 And God will wipe away every tear from their eyes; there shall be no more death, nor sorrow, nor crying. There shall be no more pain, for the former things have passed away." (Revelation 21:2-4).
All should recall that Jesus taught:
29 They will come from the east and the west, from the north and the south, and sit down in the kingdom of God. 30 And indeed there are last who will be first, and there are first who will be last (Luke 13:28-30).
Those from the east and north will include the Asians (the south would be those in Africa, Latin America, and many islands). Yes, there will be some from the west, but notice that those in the west are no more prominent than those from the other regions. Many then in Asia will be among those who are first in the Kingdom of God.
We in the Continuing Church of God understand that God will offer salvation to everyone in this age or the age to come (Matthew 12:32; Mark 10:30).
Conclusion
Asia is a major player on the world scence in the 21st century.

In the 21st century, its wealth and influence is prophesied to increase. The Asians, including the Chinese, Russians, and Indians, will most likely be among the first to benefit from the coming European Empire, as well as be among those who see that it is not what it pretends to be.

God apparently plans to allow China and others in Asia as part of a coalition of kings from the East, which definitely looks to include the eastern and northern Russians, to put an end to the King of the North's military ambitions.

Just because the whole world (and not just the Asians) will be deceived by the rising European Beast power, you do not have to be. Hopefully this article has given you some reasons to look at the world and your life and will motivate to come to God now on His terms. To learn more about what happened to Christianity, a good place to start may be The History of Early Christianity page. May God call you today and grant you the understanding so that you will "pray always that you may be counted worthy to escape all these things that will come to pass, and to stand before the Son of Man" (Luke 21:36).

Sadly, because most in Asia do not strive know the true God now, God will punish them as well as the other inhabitants on the Earth. And apparently many will also rebel at the close of the millennium, but will not succeed.

However, since God is a God of love, He intends to resurrect the Chinese, Russians, Indians, and all other Asians and offer them salvation. A salvation that nearly all will accept as nearly all the Asians who ever lived will be in the kingdom of God. A kingdom without fear or death or sorrow. A glorious kingdom. Deification will be available for the Asians. And that is the prophesied future for nearly all of Asians. Nearly all Asians will accept God's offer of salvation, which will be made available to them after the second resurrection.

Other articles in this series try to address some of the other witnesses that God has provided to the Asian peoples, as well as His plan for the Asian peoples.

Here is a link to a related sermon: Asia in Prophecy.

Note: There are daily news, doctrinal, and prophecy updates at the Church of God News page for those interested in how world events are fulfilling Bible prophecy. And this often includes updates involving Asia at that page.

The Eurasian Union, the Kings of the East, and Bible Prophecy Is there a Eurasian union that will be formed? Is one being formed right now? Are any leaders working on that in the 21st century? Does the Bible teach that there will be a Eurasian union? If some type of Eurasian union is formed, who might it benefit and who will it destroy? A related video would be Is The Eurasian Union Rising?


China, Its Biblical Past and Future, Part 1: Genesis and Chinese Characters Where did the Chinese people come from? Japeth, Javan, Magog? Is there evidence that the Chinese peoples must have known about various accounts in the Book of Genesis up until their dispersion after the Tower of Babel? What do Chinese writings and characters help show? What about the Garden of Eden, Noah's Flood, and the Tower of Babel? Here is a link to a version of this article in Spanish: ¿Prueban los caracteres chinos la exactitud de la Biblia? A related sermon is also available: China's biblical past and prophetic actions.
China, Its Biblical Past and Future, Part 2: The Sabbath and Some of God's Witness in China When did Christianity first come to China? What about the Apostle Thomas? Did Confucius say anything to get the Chinese to possibly consider Christianity? Is there early evidence that they observed the seventh day sabbath? What about the Ten Commandments? What type of Church of God witness has there been to China? What has been happening with China that ties it together with prophecies in Revelation? What about the 200 million man army and Armageddon? What about the Belt and Road Initiative and end time Babylon the Great? A related sermon is also available: China's biblical past and prophetic actions. Watch also China's Silk Road and Babylon the Great.
Is China THE Threat to the United States of America? China is the world's most populace nation. China has the world's largest standing military. China is a major economic power and it holds a lot of U.S. debt. China also has problems with corruption, pollution, and its hukou registration system. Will China face civil unrest? Is China prophesied to be wealthy in the end times? Will China takeover the U.S.A. or will it be another power? What does Bible prophecy reveal? This is a YouTube video.
The Dramatic Story of Chinese Sabbathkeepers This reformatted Good News article from 1955 discusses Sabbath-keeping in China in the 1800s.
India, Its Biblical Past and Future: Any Witness? The Bible discusses the origins of those of Indian heritage. This article quotes the Bible and also discusses some of the witness to India throughout history and what is happening in the 21st century (including those in Bangladesh, Pakistan, and Sri Lanka).
India and the Beast of Revelation 13 Do biblical, Catholic, and even Hindu prophecies suggest that many in India will follow, for a while, the Beast and False Prophet/Antichrist? Here is link to a related YouTube video

Will People in India Worship the Beast of Revelation 13?


Japan, Its Biblical Past and Future, Part 1: Any Witness? This is a draft of an in-process article about Japan. Have they had any witness?
Japan, Its Biblical Past and Future, Part 2: Prophecy Japan in prophecy. What is prophesied for Japan. Will God save the Japanese?
Russia and Ukraine: Their Origins and Prophesied Future Russia in prophecy. Where do the Russians come from? What about those in the Ukraine? What is prophesied for Russia and its allies? What will they do to the Europeans that supported the Beast in the end? There is also a video sermon available:

Russia in the Bible and in Prophecy

and a video sermonette available: Ukraine in Prophecy?
Islands and Bible Prophecy What's ahead for islands? What does the Bible prophesy about them?
Universal Offer of Salvation: There Are Hundreds of Verses in the Bible Supporting the Doctrine of True Apocatastasis Do you believe what the Bible actually teaches on this? Will all good things be restored? Will God call everyone? Will everyone have an opportunity for salvation? Does God's plan of salvation take rebellion and spiritual blindness into account?
Continuing Church of God The group striving to be most faithful amongst all real Christian groups to the word of God
CCOG.ASIA We in the Continuing Church of God also have the url www.ccog.asia which has a focus on Asia and has various articles in Mandarin Chinese as well as some in English, plus some items in other Asian languages. 我们在继续神的教会也提供此网址 www.ccog.asia, 关注于亚洲并且有各种各样的中英文文章,其中一些用菲律宾语翻译的文章也正在进行中,准备添加到这个网站中。
CCOG.IN This is a website targeted towards those of Indian heritage. It has a link to an edited Hindi translation of The Mystery of the Ages and is expected to have more non-English language materials in the future.
CDLIDD.ES La Continuación de la Iglesia de Dios. This is the Spanish language website for the Continuing Church of God.
PNIND.PH Patuloy na Iglesya ng Diyos. This is the Philippines website Continuing Church of God. It has information in English and Tagalog.
Paglalahad ng Mga Paniniwala ng Patuloy na Iglesya ng Diyos This is the Statement of Beliefs of the Continuing Church of God in Tagalog, the primary language of the Philippines.


Thiel B. Ph.D. China, Its Biblical Past and Future, Part 3: Asia in Prophecy. www.cogwriter.com/china3 (c) 2006/2007/2008/2009/2010/2011/2012/2013/2014/2015/2016/2017/2018 /2019 / 2021 /2022 /2023 0506