October 6th, 2022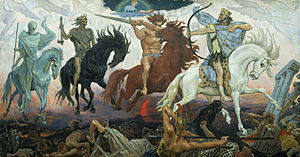 1887 depiction of the 'Four Horsemen of the Apocalypse'
We are seeing a lot of violence. Here is a report related to Thailand:
October 6, 2022

BANGKOK (AP) — A gunman who attacked a child care center in Thailand and then fired from his car as he fled killed more than 30 people Thursday, including two dozen children, authorities said.

It was the deadliest mass shooting in the country's history. The assailant, identified as a former police officer, killed his wife and child before taking his own life.

Photos and videos posted online of the day care showed the floor of one room was smeared with blood and sleeping mats scattered about. Pictures of the alphabet and other colorful decorations adorned the walls.

In videos, frantic family members could be heard weeping outside the building. Ambulances stood by as police and medical workers walked around.

A witness told Thailand's Kom Chad Leuk television at the scene that they had locked the door to the building when they saw the suspect approaching with a handgun, but that he shot through it. …

Authorities identified the assailant as a former police officer and said he entered the child care center after noon in the northeastern Thai town of Nongbua Lamphu. https://apnews.com/article/shootings-thailand-84efe7ba76707f4b3d47ee8394c4f24f?utm_source=homepage&utm_medium=TopNews&utm_campaign=position_01
A cowardly and senseless act.
Here is a report related to Ethiopia:
October 5, 2022

More than 50 people were killed in an air strike on Tuesday that hit a school in northern Ethiopia's Tigray region that was sheltering people displaced by conflict between the federal and regional governments, two aid workers and Tigray forces said.

The air strike in the town of Adi Daero, some 40 km from the border with Eritrea, appears to be one of the deadliest carried out during the nearly two-year war, which has killed thousands and uprooted millions. https://www.reuters.com/world/africa/more-than-50-killed-northern-ethiopia-air-strike-say-aid-workers-tigray-forces-2022-10-05/
Notice also the following:
1 This know also, that in the last days perilous times shall come. 2 For men shall be lovers of their own selves, covetous, boasters, proud, blasphemers, disobedient to parents, unthankful, unholy, 3 Without natural affection, trucebreakers, false accusers, incontinent, fierce, despisers of those that are good, 4 Traitors, heady, highminded, lovers of pleasures more than lovers of God; 5 Having a form of godliness, but denying the power thereof: from such turn away. (2 Timothy 3:1-5, KJV)
Killing children in a day care center or in a school is certainly consistent with being fierce and without natural affection.
Notice also the following related to Haiti:
October 6, 2022

Haitian Prime Minister Ariel Henry on Wednesday called on the international community to help the Caribbean nation, as a gang blockade of a key fuel terminal has created widespread shortages of goods including drinking water.

Gangs have since last month been blocking the entrance to the Varreux fuel terminal, creating dire shortages of diesel and gasoline and crippling day-to-day activities in Haiti. https://www.reuters.com/world/americas/haitis-pm-henry-calls-foreign-help-amid-gang-blockade-2022-10-06/
Gangs take away peace and are making the horrible situation in Haiti worse.
Then there is the conflict between Russia and Ukraine.
October 6, 2022

A Ukrainian official said Thursday Russian shelling struck residential buildings in Zaporizhzhia, killing at least two people.

Oleksandr Starukh, the governor of the Zaporizhzhia region, posted on Telegram that five other people were trapped in rubble following the attack. https://www.voanews.com/a/russian-attack-hits-residential-buildings-in-zaporizhzhia/6778257.html

October 6, 2022

Even as the Kremlin moved to absorb parts of Ukraine in a sharp escalation of the conflict, the Russian military suffered new defeats that highlighted its deep problems on the battlefield and opened rifts at the top of the Russian government.

The setbacks have badly dented the image of a powerful Russian military and added to the tensions surrounding an ill-planned mobilization. https://apnews.com/article/russia-ukraine-putin-6ef2407371c67f0736459378833fab7a

October 6, 2022

Amid unconfirmed reports that a train operated by Russia's nuclear division was spotted heading toward Ukraine, the White House says that it has no indication that Russia is preparing to use nuclear weapons against Ukraine. https://www.voanews.com/a/is-russia-moving-nuclear-weapons-toward-ukraine/6777640.html
Here is something about the situation in Yemen and Saudi Arabia:
October 6, 2022
The ceasefire between the Iran-backed Houthi movement and the Republic of Yemen Government expired on October 2, but a truce between the parties still looks possible.
U.N. and other mediators have, however been unable to convert the temporary ceasefire into substantive progress on a permanent settlement for the conflict.
A return to combat is certain to worsen conditions for Yemen's civilians, who have found some small relief during the reprieve since April.
The Houthis have raised new demands at the bargaining table, apparently under the impression they have the upper hand militarily should fighting resume.  …

The two main Persian Gulf powers that back the Yemen government – Saudi Arabia and the United Arab Emirates (UAE) – have supported the ceasefire in large part because the truce has required the Houthis to cease their Iran-supplied missile and armed drone attacks on their territories. However, despite the benefits of the truce for both sides, and for Yemen's civilians, U.N. and other international mediators were unable to transition the ceasefire into substantive negotiations on a permanent settlement of the Yemen conflict. Neither side perceived that they were too disadvantaged on the battlefield or the diplomatic chessboard to begin accepting even the minimum acceptable demands of the other side. https://thesoufancenter.org/intelbrief-2022-october-6/
TEHRAN (Tasnim) – A senior member of Yemen's popular Ansarullah resistance movement warned that the country's armed forces will target oil facilities buried deep inside Saudi Arabia and the United Arab Emirates if the rights of the Yemeni people are not upheld.
Then there's the Congo:
October 6, 2022

A note sent to Agenzia Fides by the collective "Peace for Congo" states that "since November 2021, more than 150,000 people have fled their villages: some have taken refuge in Uganda, others have been hosted in families residing in areas protected by the government".
The note adds that "According to anonymous sources, M23 is recruiting new recruits in refugee camps set up in Uganda and Kenya, providing them with military training in the Chanzu area, in the heart of the Virunga National Park". Furthermore, "According to a provincial deputy elected in the territory of Rutshuru, three foreign currencies are used in the areas occupied by the M23. These are the Ugandan shilling, the Rwandan franc and the US dollar. The Congolese franc is not used". http://www.fides.org/en/news/72897-AFRICA_DR_CONGO_The_UN_prepares_to_invade_eastern_DRC_ceding_ground_to_African_initiatives
Here is something about Afghanistan:
October 5, 2022

Amid an intensified terror campaign by the Islamic State Khorasan (ISK) group in Afghanistan which has killed dozens of civilians this week, Taliban authorities claim they have captured the group's liaison for Europe.

On Tuesday, the Taliban's intelligence agency released a video confession of an alleged ISK member who says he helped foreign nationals join the terrorist group in Afghanistan.

"I had invited 10 to 15 people and one of them has come to Afghanistan," says the Afghan man in the video.

The man also claims he collected funds for ISK from three European countries. "I collected $15,000 from Ukraine, 5,000 euros from Germany, and about 1,500 euros from Spain."

The release of the Taliban video comes at a time when ISK has perpetrated several deadly attacks in the Afghan capital over the past few weeks.

At least 50 people, mostly schoolgirls, were killed and more than 100 wounded in an explosion at an educational center in Kabul on Friday.

The victims were Shiite Muslims. ISK has declared a religious war against Shiites.

On Wednesday, a bomb blast at a mosque near the interior ministry in Kabul killed at least four worshippers and wounded 25 others, Taliban authorities confirmed. https://www.voanews.com/a/is-ramps-up-attacks-in-afghanistan-taliban-claim-key-arrest/6778056.html
Here is something about Somalia:
6 October 2022

On Monday, al-Shabab used at least two trucks and a small vehicle with three suicide bombers to target people in the central Somali city of Beledwayne, in Hiran province.

At least 40 people were killed and almost 100 more injured. Those in critical conditions were flown to the capital Mogadishu. Residents have told DW that the explosions were the worst the city has seen in years.

The simultaneous blasts ripped through a military camp that hosts local government offices, destroying several homes and and businesses in the neighbouhood.

Residents in central Somalia spent hours digging through the rubble of collapse. https://www.dw.com/en/somalia-pushes-on-with-offensive-against-al-shabab-despite-attack/a-63346361
There are also conflicts currently between Turkey and Greece, Hamas and Israel, Libya, etc.
Notice something that Jesus predicted:
6 And you will hear of wars and rumors of wars. See that you are not troubled; for all these things must come to pass, but the end is not yet. 7 For nation will rise against nation, and kingdom against kingdom. And there will be famines, pestilences, and earthquakes in various places. 8 All these are the beginning of sorrows. (Matthew 24:6-8)
Both COVID-19 and what we are seeing associated with battles throughout the world, plus protests and rumors of war could be a factor in 'apocalyptic' matters such as the following:
3 When He opened the second seal, I heard the second living creature saying, "Come and see." 4 Another horse, fiery red, went out. And it was granted to the one who sat on it to take peace from the earth, and that people should kill one another; and there was given to him a great sword. (Revelation 6:3-4)
The literal Greek here for "peace" (εἰρήνην transliterated as eirēnēn) in Revelation 6 can be interpreted to mean taking away prosperity as well (see BibleHub.com). COVID-19 has, to a degree, done that. People are afraid or at least uneasy to a degree we have not seen around the world anytime in the 21st century. Plus there are a lot of protests and then there are the actual conflicts, such as Ethiopia, Iran, Libya, etc.
Barnes Notes on the Bible states:
The power given to him that sat on the horse: and power was given to him that sat thereon to take peace from the earth, and that they should kill one another. This would seem to indicate that the condition immediately preceding this was a condition of tranquility, and that this was now disturbed by some cause producing discord and bloodshed. This idea is confirmed by the original words – τὴν εἰρήνην tēn eirēnēn – "the peace"; that is, the previously existing peace. When peace in general is referred to, the word is used without the article: Matthew 10:34, "Think not that I am come to send peace – βαλεῖν εἰρήνην balein eirēnēn – upon the earth."
So, this rider is not just a rider of war, but taking away THE peace.
It is NOT constant physical warfare everywhere, though physical violence and warfare (consistent with Jesus' words in Matthew 24, Mark 13, and Luke 21) will also occur.
Here is something related to Hong Kong:
October 6, 2022

The Hong Kong government has rejected the findings of an official US agency, which said the city's Beijing-imposed national security law has had "a devastating effect" on civil society.

The government statement on Wednesday evening responded to the publication of a report by the US Congressional-Executive Commission on China, entitled "Hong Kong's Civil Society: From an Open City to a City of Fear." https://hongkongfp.com/2022/10/06/hong-kong-govt-rejects-us-criticism-of-devastating-national-security-law/
But things will get worse.
The old WCG also put out the following:
Where is it all going to end? That was the question the twelve disciples of Jesus Christ posed in the twenty-fourth chapter of Matthew. Christ's answer, known as the Olivet Prophecy, is quite revealing. "And ye shall hear of wars and rumours of wars," Christ said, referring to one of the prophetic signals that would herald the end of an age (verse 6).

Certainly there have always been wars. And certainly Christ's words had particular meaning for that day and age. Within a few short decades Roman legions under the command of Titus sacked, burned and pillaged the city of Jerusalem.

But Jesus' warning about war was also applicable to another period in history. In the book of Revelation, Christ, speaking through the apostle John, amplified some of His previous prophetic statements. In the sixth chapter, John writes: "And there went out another horse that was red: and power was given to him that sat thereon to take peace from the earth, and that they should kill one another: and there was given unto him a great sword" (Rev. 6:4).

John was not speaking about the fall of Jerusalem. That war was already some twenty years behind him. John was referring to future events that would bring 6000 years of human history crashing to a cataclysmic close. … John is referring to a time yet ahead of us when "peaceful coexistence" will be a thing of the past. …

It's no wonder that Jeremiah, in referring to these tumultuous times, stated: "Alas! for that day is great, so that none is like it: it is even the time of Jacob's trouble …" (Jer. 30:7). (Ritter G. 4 Horsemen of the Apocalypse – The Red Horse – War, pp. 48, 52; see also Ritter R. The War that could end it all. Good News, December 1975)
There may also be wars in parts of the world that have rarely had them (perhaps, for example, even between some South American nations), as well as wars in areas that have long been especially tense (like Korea, possibly involving other Asian nations). Damascus (capital of Syria) ultimately will be destroyed and could be a signal for destruction to come for Jacob (Isaiah 17:1-4). There will likely be civil unrest and perhaps rioting in scales not seen before, including within some Western nations (such as in Europe and North America). This will lead to military leaders rising up in various parts of the world. And one European (the final King of the North) will, after making one or more false peace deals/pronouncements (e.g. Daniel 9:26-27; 11:27; 1 Thessalonians 5:3), become the final Beast leader (Revelation 13:4) and he will take over many nations (Daniel 11:39-43).
We are getting closer to the start of the Great Tribulation than most people realize.
Related to some of this, the Continuing Church of God put out the following sermon on its ContinuingCOG channel:
Revelation 6:1-8 shows the opening of four seals and discusses the rides of the Four Horsemen of the Apocalypse. Each of which appears to be associated with aspects of the "beginning of sorrows" that Jesus mentions in the Gospels of Matthew, Mark, and Luke. What do each of the horsemen represent? Did the old Worldwide Church of God teach that these rides were still in the future in the late 21st century? Could any have began in the 21st century? Does the rider of the white horse represent Jesus or false religion? Are there ties to the interfaith and ecumenical movements? What might the bow the horseman has represent? Could this be a tie to Satan the Devil? What about the Beast and False Prophet? Has the "beginning of sorrows" started? Could the first seal be opened? Could COVID-19 have anything to do with the second seal? Has "the peace" been taken from the earth? Could the rider of the red horse have begun with an opening of the second seal? What about riots, looting wars, and rumors of war? Are food inflation, food shortages, and famines associated with the opening of the third seal and rider of the black horse of famine? Could human actions such as evolution teachings, genetically-modified crops, and viral research be factors in the rides of the four horsemen? Is more than death related to pestilences associated with the rider of the pale horse, the fourth seal? Why might this be a factor in 666? Will most people fail to recognize the rides of the four horsemen of the Apocalypse until it is too late to take action? What about the fifth seal and the start of the Great Tribulation? Are there problems with Roman and Eastern Orthodox prophecies concerning the end and the Great Monarch? What about prophecies related to Noah, the King of the North, Armageddon, and Antichrist? Dr. Thiel covers these issues and also includes some speculation and analysis.
Here is a link to the sermon video: Sorrows and the Four Horsemen of the Apocalypse.
Pray, as Jesus said, for God's kingdom to come (Matthew 6:10).
Some items of possibly related interest include the following:
Four Horsemen of the Apocalypse What do each of the four horseman of the Apocalypse represent? Have they began their ride? Did Jesus discuss the any of this? Might their rides coincide with the "beginning of sorrows? Do they start their ride prior to the Great Tribulation? Did Nostradamus or any other 'private prophets' write predictions that may mislead people so that they may not understand the truth of one or more of the four horseman? There is also a related YouTube video titled Sorrows and the Four Horsemen of the Apocalypse.
21 items to prophetically watch in 2021 Much is happening. Dr. Thiel points to 21 items to watch (cf. Mark 13:37) in this article. Here is a link to a related sermon video: 21 Items to Watch in 2021.
Mexico, Central America, South America, Brazil, and the Caribbean in Prophecy [Español: México, América central, Suramérica, Brasil y el Caribe en la profecía] [Português: México, América Central, Ámérica do Sul, e Brasil na profecia] What will happen to those of Latin America? Will they have prosperity? Will they cooperate with Europe? Will they suffer in the future? What role might the various Caribbean nations/territories play? Two videos of related interest are available: Will Mexico Regain USA Territories? and Donald Trump and Mexico's future. A sermon of related interest is available: Latin America in Prophecy.
Africa: Its Biblical Past and Prophesied Future What does the Bible teach about Africa and its future? Did the early Church reach Africa? Will God call all the Africans? A related online sermon is also available: Africa: Its biblical past, present, and future. A video of possible interest is: Nairobi Conference: All About Love.
Fourth Horseman of the Apocalypse What is the pale horse of death and pestilences? What will it bring and when? Here is a link to a related sermon: Fourth Horseman, COVID, and the Rise of the Beast of Revelation. Here is a version of that sermon in Spanish: El Cuarto Caballo, El COVID y El Surgimiento de la Bestia del Apocalipsis. Some shorter related videos may include Amphibian Apocalypse: Threat to Humans? and Zombie Deer Disease is Here! Are the 10 Plagues on Egypt Coming? Here is a version of the article in Spanish: El cuarto jinete de Apocalipsis, el caballo pálido de muerte y pestilencia.
Does God Have a 6,000 Year Plan? What Year Does the 6,000 Years End? Was a 6000 year time allowed for humans to rule followed by a literal thousand year reign of Christ on Earth taught by the early Christians? Does God have 7,000 year plan? What year may the six thousand years of human rule end? When will Jesus return? 2031 or ? There is also a video titled 6000 Years: When will God's Kingdom Come? Here is a link to the article in Spanish: ¿Tiene Dios un plan de 6,000 años?
Might the U.S.A. Be Gone by 2028? Could the USA be gone by the end of 2028 or earlier? There is a tradition attributed to the Hebrew prophet Elijah that humanity had 6,000 years to live before being replaced by God's Kingdom. There are scriptures, writings in the Talmud, early Christian teachings that support this. Also, even certain Hindu writings support it. Here is a link to a related video: Is the USA prophesied to be destroyed by 2028? In Spanish: Seran los Estados Unidos Destruidos en el 2028?
When Will the Great Tribulation Begin? 2022, 2023, or 2024? Can the Great Tribulation begin today? What happens before the Great Tribulation in the "beginning of sorrows"? What happens in the Great Tribulation and the Day of the Lord? Is this the time of the Gentiles? When is the earliest that the Great Tribulation can begin? What is the Day of the Lord? Who are the 144,000? Here is a version of the article in the Spanish language: ¿Puede la Gran Tribulación comenzar en el 2020 o 2021? ¿Es el Tiempo de los Gentiles? A related video is: Great Tribulation: 2026 or 2027? A shorter video is: Can the Great Tribulation start in 2022 or 2023? Here is a video in the Spanish language: Es El 2021 el año  de La Gran Tribulación o el Grande Reseteo Financiero.
The Gospel of the Kingdom of God This free online pdf booklet has answers many questions people have about the Gospel of the Kingdom of God and explains why it is the solution to the issues the world is facing. Here are links to four related sermons:  The Fantastic Gospel