Wednesday, March 31st, 2010
TRANSFORMED FROM TRUTH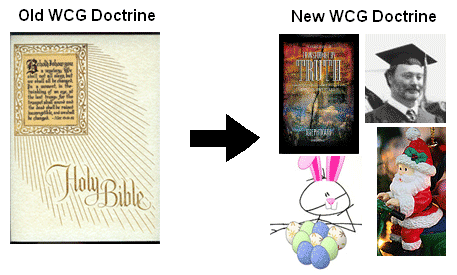 GCI, which was formerly called WCG, recently announced the following statistics for 2009:
Together Vol. 5 No. 2 April-May 2010 Sharing the Good News in 2009: A Media Report
In 2009 GCI Media published five issues of Christian Odyssey—almost 78,000 copies. The magazine's mission, as seen in its masthead, is "Exploring Life and Faith." We feature articles on practical Christian living, explanations of basic beliefs of the Christian faith, with Bible studies, book reviews, interviews, and other interesting and practical helps for Christian life…

We published six issues of Together: Grace Communion International News, for a total of 64,000 copies…

We published 12 letters from Joseph Tkach, which were sent to donors, for a total of about 79,000 letters.
This is down about 99% for the days when the old Plain Truth magazine was out.   The old WCG put out something like 70,000,000-90,000,000 copies of it per year (and in multiple languages).  The old WCG also put out much other literature as well (and millions of letters).
For those unfamiliar, let me mention that the leadership of Grace Communion International changed the name and doctrines of the old WCG.  It also changed its emphasis and obviously no longer produces as much literature as Herbert W. Armstrong's WCG did.  GCI also changed what the "gospel" was.
Many of the COGs came out of the WCG when its current leadership began its campaign of making changes.
Three articles of possibly related interest may include:
The Gospel of the Kingdom of God was the Emphasis of Jesus and the Early Church Did you know that? Do you even know what the gospel of the kingdom is all about? True religion should be based upon the true gospel.
The Similarities and Dissimilarities between Martin Luther and Herbert W. Armstrong This article clearly shows some of the doctrinal differences between in the two. At this time of doctrinal variety and a tendency by many to accept certain aspects of Protestantism, the article should help clarify why the Living Church of God is NOT Protestant. Do you really know what the Protestant Reformer Martin Luther taught and should you follow his doctrinal example?
There are Many COGs: Why Support the Living Church of God? This is an article for those who wish to more easily sort out the different COGs. It really should be a MUST READ for current and former WCG/GCI members or any interested in supporting the faithful church. It also explains a lot of what the COGs are all about.