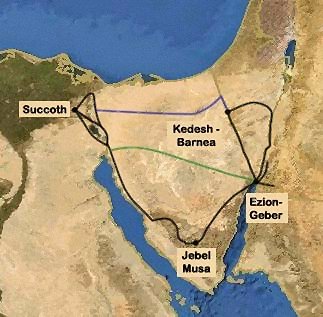 Some Proposed Routes of the Exodus
The following item was of interest:
Biblical plagues really happened say scientists

The Biblical plagues that devastated Ancient Egypt in the Old Testament were the result of global warming and a volcanic eruption, scientists have claimed.

http://www.telegraph.co.uk/science/science-news/7530678/Biblical-plagues-really-happened-say-scientists.html
The fact is that God controls the weather and that include things such as volcanic eruptions (and their timing) (see also Who Controls the Weather?).  I have seen this type of research before.
While those of us who believe the Bible already knew that the plagues in Exodus occurred, these types of research findings should make it easier for some people who are less sure to accept that the Bible is accurate.
Some articles of possibly related interest may include:
Is God's Existence Logical? Some say it is not logical to believe in God. Is that true?
Is Evolution Probable or Impossible or Is God's Existence Logical? Part II This short article clearly answers what 'pseudo-scientists' refuse to acknowledge.
Where Did God Come From? Any ideas? And how has God been able to exist? Who is God?
How is God Omnipotent, Omnipresent, and Omniscient? Here is a biblical article by Wallace Smith which answers what many really wonder about it.
What is the Meaning of Life? Who does God say is happy? What is your ultimate destiny? Do you really know? Does God actually have a plan for YOU personally?
The Bible: Fact or Fiction? This is a booklet written by Douglas Winnail that answers if the Bible is just a collection of myths and legends or the inspired word of God.
Read the Bible Christians should read and study the Bible. This article gives some rationale for regular bible reading.
What is the Appropriate Form of Biblical Interpretation? Should the Bible be literally understood? What do the writings of the Bible, Origen, Herbert W. Armstrong, and Augustine show?