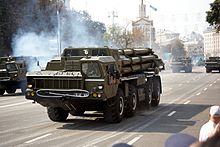 Ukrainian BM-30 Smerch Rocket Launcher (Michael)
The Kiev government of Ukraine shelled those supporting the declared Donetsk People's Republic, which reportedly had received more arms:
November 9, 2014

Ukraine's separatist bastion of Donetsk came under intense artillery fire Sunday, increasing strains on a two-month-old cease-fire deal between Ukrainian government forces and pro-Russian separatists.

European monitors in Ukraine say they are very concerned after seeing convoys of heavy weapons and tanks in separatist-controlled areas of Ukraine. …

U.S. Secretary of State John Kerry said in Beijing Saturday the U.S. and Russia agreed to exchange information about developments in Ukraine. When it comes to sanctions against Russia, Kerry said choices Moscow makes on Ukraine will decide what happens.

Russian Foreign Minister Sergei Lavrov, who met briefly with Kerry, said it is up to the separatists and Ukrainian government to finalize the cease-fire.

Ukraine says Russia has sent dozens of tanks, heavy weapons, ammunition and soldiers into Kremlin-backed eastern Ukraine. NATO sources said that the vehicles appeared to be unmanned. But a spokesperson said they "represent a potential for significant reinforcements of heavy weapons to the Ukrainian separatists."   http://www.voanews.com/content/shelling-rocks-ukraine-donetsk/2513618.html

Ukraine's military said its forces killed as many as 200 rebels in fighting in Donetsk as dozens of tanks and other military vehicles crossed the border into Ukraine from Russia.

"Insurgents who were shelling Ukrainian troop positions at Donetsk Airport yesterday were killed by government troop artillery strikes," Ukraine's Defence Ministry said on its website. "Four separatist tanks, two armoured personnel carriers, two howitzers, and an infantry combat vehicle were destroyed, and up to 200 insurgents were killed."

The death toll, which couldn't be independently confirmed, is the biggest reported number of troops or fighters killed since the start of a September 5 truce. Earlier, the Ukrainian government said it had suffered more than 100 killed and about 600 wounded since the cease-fire came into force.

As tensions between the former Soviet republics threatened to escalate into open war, Ukraine's army is preparing "for an adequate reaction", military spokesman Andriy Lysenko said in Kiev on Friday. He said pro-Russian rebel shelling of government troops with grad missiles, mortars and artillery had killed five soldiers and wounded 16 in the last 24 hours. http://www.smh.com.au/world/ukraine-says-up-to-200-rebels-killed-in-donetsk-airport-fighting-20141107-11iyn3.html

November 9, 2014

Shelling has resumed in the eastern Ukrainian city of Donetsk, just hours after an intense artillery bombardment throughout the night.

An eyewitness said the overnight shelling was the worst in more than a month, lasting almost eight hours.

It appeared to be coming from both rebel and government positions.

The fighting comes a day after monitors saw large numbers of military vehicles in rebel areas. Ukraine says it thinks the rebels get equipment from Russia.

Moscow denies this, although in the past it has said that Russian soldiers on leave were fighting among the rebels. …

The shelling in Donetsk started four days ago, just after elections in rebel areas, but the round which took place overnight into Sunday was extremely heavy. …

Fears of a return to full-scale conflict were raised after the separatists held elections on Sunday in defiance of Ukraine's government and Western countries.

Russia has recognised the vote which led to separatist leader Alexander Zakharchenko, 38, being sworn in as head of the self-declared Donetsk People's Republic.

Igor Plotnitsky, a 50-year-old ex-Soviet army officer, was declared head of the self-proclaimed Luhansk People's Republic, further to the east.

President Petro Poroshenko has accused the rebels of tearing up the peace deal and said that a law granting the rebel-held regions partial autonomy would be scrapped. He has ordered reinforcements to key cities in case of a rebel offensive.

But the separatists hit back on Wednesday, arguing that it was the scrapping of the special status deal that broke the peace agreement.  http://www.bbc.com/news/world-europe-29975341
The question now is how bad does Russia want eastern Ukraine?
Russia may be waiting for formal requests by the Donetsk People's Republic and/or the Luhansk People's Republic to openly and directly intervene.
Vladimir Putin already knows that the USA will not intervene directly militarily.  He also knows that there should be a new USA president in just over two years, so he can start a new relationship with the USA then, despite how much his relationship with the Obama Administration is damaged now.
The more pressing issues for Vladimir Putin in all of this is his relations with Europe.  Specifically German Chancellor Angela Merkel and his supporters in Moldova.  He also has concerns about the sale of Russian oil to Europe, but as he feels he can instead sell it to China and others in the east, the oil situation is not always paramount in his thinking.
Vladimir Putin most likely wants to give Angela Merkel the argument that Kiev forced him to do what he has done and he is trying to support the will of the people in the east.  Angela Merkel, however, wants all of Ukraine in the European Union and will not be pleased to lose more of it (Crimea has already been lost and is now part of Russia).  That does not mean she will pull out all stops against Russia publicly.  However, Germany will take steps it feels will make itself better able to deal with Russia in the future.  As Germans today celebrate the destruction of the Berlin Wall, they realize that Russia has been a historical problem and most are willing to take steps to try to minimize Russian influence in the future.
While Russia does have some concerns about the West and sanctions, it really is trying to figure out how to get the public in eastern Ukraine and Moldova on its side.  If Kiev keeps shelling and upsetting those in Donetsk and Luhansk, they may want more Russian help and intervention.
That also might encourage the pro-Russian supporters in Moldova.
Moldova is considered to be the poorest nation in Europe and has parliamentary elections scheduled for November 30th.  Moldova has signed an Association Agreement with the European Union in Brussels on 27 June 2014.  Although Moldova has taken steps to be part of the European Union, many there do not trust that the European Union will truly help and that Russia would be a more reliable partner.
Russia wants more nations to support its upcoming Eurasian Union while those in Brussels want more nations to support its European Union.
The Bible itself tells of a type of Eurasian confederation (Jeremiah 50:41-42; Revelation 16:12-14) as well as a confederation of Europeans (Daniel 11:21-40; Revelation 13).
Eastern Ukraine and Moldova are basically between both.  Yet since the Bible tells of a joining of the "kings of the Medes" (Jeremiah 51:11-32), this means whichever peoples are more from a Median background will ultimately support Russia against Europe.
Some items of possibly related interest may include:
Russia and Ukraine: Origins and Prophesied Future Where do the Russians come from? What about those in the Ukraine? What is prophesied for Russia and its allies? What will they do to the Europeans that supported the Beast in the end? You can also watch the short video Ukraine in Prophecy?
Russia in the Bible and in Prophecy Is Russia mentioned in the Bible? It it is where is it? Is there any evidence of a people moving to the land that the Russians now occupy? What do Catholic and other prophecies say about Russia? What does the Bible teach? How are Protestants often in error on this? Is there more in biblical prophecy for Russia than war? Does God have a plan to save Russia and her allies? Does Russia have a history involving Sabbath keepers? Does scripture tie Russia in with Armageddon? Will Russia help defeat the end time Babylonian power?
Germany's Assyrian Roots Throughout History Are the Germanic peoples descended from Asshur of the Bible? Have there been real Christians in Germanic history? What about the "Holy Roman Empire"? There is also a You-Tube video sermon on this titled Germany's Biblical Origins.
Germany in Biblical and Catholic Prophecy Does Assyria in the Bible equate to an end time power inhabiting the area of the old Roman Empire? What does prophecy say Germany will do and what does it say will happen to most of the German people? Here is a link to a video Is the USA Pushing Germany to Start WWIII?
The Gospel of the Kingdom of God was the Emphasis of Jesus and the Early Church Did you know that? Do you even know what the gospel of the kingdom is all about? You can also see a YouTube video sermon The Gospel of the Kingdom.
When Will the Great Tribulation Begin? 2014, 2015, or 2016? Can the Great Tribulation begin today? What happens before the Great Tribulation in the "beginning of sorrows"? What happens in the Great Tribulation and the Day of the Lord? Is this the time of the Gentiles? When is the earliest that the Great Tribulation can begin? What is the Day of the Lord? Who are the 144,000? Here is a version of the article in the Spanish language: ¿Puede comenzar la Gran Tribulación en 2014 o 2015? ¿Es el Tiempo de los Gentiles? You can also see the English language sermon video: The Great Tribulation from the Mount of Olives.
Ezekiel 38: For Russia & Iran in Our Day? Is Ezekiel 38 about to be fufilled? A related video is available titled Ezekiel 38: For Russia, Ukraine, & Iran Now?
Bible News Prophecy July-Sept. 2014: The Coming Eurasian Union Here is the latest magazine from the Continuing Church of God. The cover of which shows Vladimir Putin and features an article about the coming Eurasian Union.
Europa, the Beast, and Revelation Where did Europe get its name? What might Europe have to do with the Book of Revelation? What about "the Beast"? Is an emerging European power "the daughter of Babylon"? What is ahead for Europe? Here is a link to a video titled: Can You Prove that the Beast to Come is European?
European Technology and the Beast of Revelation Will the coming European Beast power would use and develop technology that will result in the taking over of the USA and its Anglo-Saxon allies? Is this possible? What does the Bible teach? Here is a related YouTube video: Military Technology and the Beast of Revelation.
Must the Ten Kings of Revelation 17:12 Rule over Ten Currently Existing Nations? Some claim that these passages refer to a gathering of 10 currently existing nations together, while one group teaches that this is referring to 11 nations getting together. Is that what Revelation 17:12-13 refers to? The ramifications of misunderstanding this are enormous.
World War III: Steps in Progress Are there surprising actions going on now that are leading to WWIII? Might a nuclear attack be expected? Does the Bible promise protection to all or only some Christians? How can you be part of those that will be protected? A related video would be Is World War III About to Begin? Can You Escape?
Wars, rumors of wars, and the Apocalypse Jesus foretold a time before the end where there would be wars and rumors of wars. The Apocalypse (the Book of Revelation) warns of the red horseman of war. Now, even secular writers, like Larry Edelson, are worried that wars and rumors of war are the most menacing problem that now haunts the earth? Are they right? What is the solution? This is a sermonette-length video.
Is Russia the King of the North? Some claim it is. But what does the Bible teach? Here is a link to a video, also titled Is Russia the King of the North?
The Eurasian Union, the Kings of the East, and Bible Prophecy Is there a Eurasian union that will be formed? Is one being formed right now? Are any leaders working on that in the 21st century? Does the Bible teach that there will be a Eurasian union? If some type of Eurasian union is formed, who might it benefit and who will it destroy? A related video would be Is The Eurasian Union Rising?
Who is the King of the North? Is there one? Do biblical and Roman Catholic prophecies for the Great Monarch point to the same leader? Should he be followed? Who will be the King of the North discussed in Daniel 11? Is a nuclear attack prophesied to happen to the English-speaking peoples of the United States, Great Britain, Canada, Australia, and New Zealand? When do the 1335 days, 1290 days, and 1260 days (the time, times, and half a time) of Daniel 12 begin? When does the Bible show that economic collapse will affect the United States? In the Spanish language check out ¿Quién es el Rey del Norte? Here is a link to a video titled: The Future King of the North.
Barack Obama, Prophecy, and the Destruction of the United States-Second Edition for Second Obama Term This is a 160 page book for people truly interested in prophecies related to Barack Obama and the United States, including learning about many that have already been fulfilled (which the book documents in detail) and those that will be fulfilled in the future. It also has a chapter about a Republican choice. This book is available to order at www.barackobamaprophecy.com. The physical book can also be purchased at Amazon from the following link: Barack Obama, Prophecy, and the Destruction of the United States: Is Barack Obama Fulfilling Biblical, Islamic Catholic, Kenyan, and other America-Related Prophecies? What About Republican Leaders? Second Edition for Second Obama Term.
Barack Obama, Prophecy, and the Destruction of the United States-Second Term-Amazon Kindle edition. This electronic version is available for only US$2.99. And you do not need an actual Kindle device to read it. Why? Amazon will allow you to download it to almost any device: Please click HERE to download one of Amazon s Free Reader Apps. After you go to for your free Kindle reader and then go to Barack Obama, Prophecy, and the Destruction of the United States-Second Term-Amazon Kindle edition.