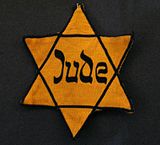 Jews in Poland has to Wear the Above Badge After Germany Invaded in WWII (Daniel Ullrich, Threedots)

Despite the cries of 'never again,' we are again seeing steps that discriminate against Jews.  In the Eastern Ukrainian area of Donetsk, Jews are being forced to register based upon their religion/ethnicity:
April 17, 2014

Jews ordered to register in east Ukraine

USA Today – April 17, 2014

Jews in the eastern Ukrainian city of Donetsk where pro-Russian militants have taken over government buildings were told they have to "register" with the Ukrainians who are trying to make the city become part of Russia, according to Ukrainian and Israeli media.

Jews emerging from a synagogue say they were handed leaflets that ordered the city's Jews to provide a list of property they own and pay a registration fee "or else have their citizenship revoked, face deportation and see their assets confiscated," reported Ynet News, Israel's largest news website…

The leaflets bore the name of Denis Pushilin, who identified himself as chairman of "Donetsk's temporary government," and were distributed near the Donetsk synagogue and other areas, according to the reports.

Pushilin acknowledged that flyers were distributed under his organization's name in Donetsk, but denied any connection to them, Ynet reported in Hebrew.

http://www.usatoday.com/story/news/world/2014/04/17/jews-ordered-to-register-in-east-ukraine/7816951/
This was a terrible event.  This is significant and shows that the 21st century is not immune from antisemitism and Jewish persecution.
Jesus Himself foretold of persecution for Christians.  There was a poem that said something like:
They first came for the Jews, but as I was not a Jew, I paid no attention,

Then they came from one group then another, then lastly they came for me.
Those in the true Church of God have always been the side being persecuted and has never been on the side of the persecutors. And this will be true again in the future. Sadly, the shooter, yesterday, is barely the 'tip of the iceberg' as more persecution is coming.
This type of registration in Donetsk is dangerous and racist.  It is wrong.
There was an agreement in Geneva related to Ukraine today:
April 17, 2014

GENEVA –  Top diplomats from the United States, European Union, Russia and Ukraine reached agreement after marathon talks Thursday on immediate steps to ease the crisis in Ukraine.

The tentative agreement puts on hold — for now at least — additional economic sanctions the West had prepared to impose on Russia if the talks were fruitless. And that will ease international pressure both on Moscow and nervous European Union nations that depend on Russia for their energy…

The agreement, reached after seven hours of negotiation in Geneva, requires all sides to refrain from violence, intimidation or provocative actions. It calls for the disarming of all illegally armed groups and for control of buildings seized by pro-Russian separatists to be turned back to authorities. http://www.foxnews.com/world/2014/04/17/deal-reached-on-calming-ukraine-tensions/
Hopefully, the agreement that was reached today regarding Ukraine, Russia, the EU, and USA will stop this.  We will see if and how long this lasts as there are tensions in the region.
Racial hatred is wrong.