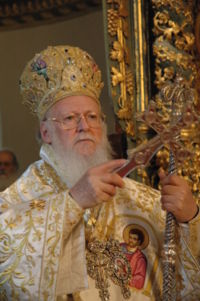 Patriarch Bartholomew I of Constantinople
In a move that was not unexpected, a branch of the Eastern Orthodox in Ukraine officially have asked to become independent:
Ukraine splinter church seeks independence

By MARIA DANILOVA (AP) – 3 days ago

KIEV, Ukraine — A breakaway Orthodox Christian church in Ukraine is pressing its call for recognition as a legitimate entity independent of the Moscow-based church that dominates the faith in the former Soviet Union, officials said Monday.

The appeal comes weeks after the head of the Moscow-based Russian Orthodox Church, Patriarch Kirill, visited Ukraine and criticized splinter churches seeking independence.

The Ukrainian Autocephalous Church sent an official request last week to Ecumenical Patriarch Bartholomew I of Constantinople, the spiritual leader of the 250 million world's Orthodox Christians. It said the church "is ready and strives" to come under Constantinople's jurisdiction as an independent group.

Spokesman Yevhen Zapletnyuk said the Ukrainian Autocephalous Church believes that winning recognition from Bartholomew would will help heal the rifts among Ukraine's Orthodox believers, many of whom want to come out of Moscow's shadow.

"We have extended a hand," Zapletnyuk told The Associated Press. "We believe this is the way to salvation."

Allegiance in Ukraine's predominant Orthodox Christian faith is split among three major churches. The Ukrainian Autocephalous Church and the larger Ukrainian Orthodox Church Kiev Patriarchate have lobbied Constantinople for recognition as legitimate and independent of the Ukrainian Orthodox Church Moscow Patriarchate, which is subordinate to Patriarch Kirill…

The Ukrainian Orthodox Church Kiev Patriarchate, which broke away after the 1991 Soviet collapse, claims 14 million parishioners and some 3,000 priests, and opinion polls show it is gaining popularity. The Russian-affiliated Ukrainian Orthodox Church claims 28 million followers in Ukraine and more than 9,000 priests. http://www.google.com/hostednews/ap/article/ALeqM5gaLTUHZM4yMTS3zCHs9wy94ZnvYwD9ADQFPG0
It is not totally clear how Patriarch Bartholomew will handle this.  If he accepts this, then it will likely cause a major rift between him and Patriarch Kirill of Russia.
And that is not something that I believe that Patriarch Bartholomew wants.  I believe that he is working towards unity within the Orthodox and ultimately with Rome as well.
I reported about a previous request from Ukraine in June of 2008 (see Ukraine Moving Away From Russia for details) for independence from the Russian Orthodox.
Since the official status of the Eastern Orthodox in the USA is still unclear after two centuries (and no official answer was finalized from the Ukrainian request last year), this might suggest that Patriarch Bartholomew will simply receive the request from the Ukrainians and neither accept nor officially deny the request.  He will likely try to work behind the scenes to attempt to minimize dissent between the Russians and the independently-minded Ukrainian splinter.
Two articles of possibly related interest may include:
Some Similarities and Differences Between the Orthodox Church and the Churches of God Both groups have some amazing similarities and some major differences. Do you know what they are?
Russia: Its Origins and Prophesied Future Where do the Russians come from? What is prophesied for Russia? What will it do to the Europeans that supported the Beast in the end?