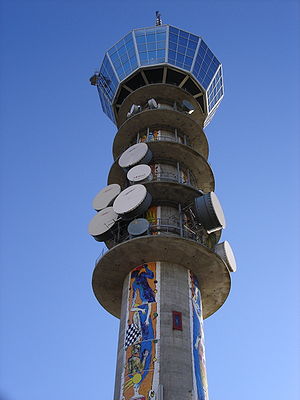 Today, I did another radio interview on the Genesis Communication Network at 3:06-3:59 pm EST, which is 12:06-12:59 pm PST, for the show named the Nutrimedical Report.  While this is sometimes a difficult door to manage (as the host and I have differing prophetic/doctrinal views on various points, it is his program and I'm simply a guest), the host is a Sabbath-keeper who keeps the Holy Days (though he is not COG).  This show does reach a lot of people interested in prophetic matters and is broadcast on scores of radio stations.   We in CCOG are willing to go through doors that others sometimes either cannot or will not.
Topics covered included the Pope's agenda and growing Protestant acceptance of it.
According to the host, this program reaches multiple million of people over dozens of actual and online radio stations, including now also providing coverage in Africa and Asia.
The host posted links related to the topics that I sent him including:
This is a way we can reach many at no financial cost (we do not pay to be on the program or get the links posted).
I have been doing radio on a little bit more than once per month basis, as a guest, since the official formation of Continuing Church of God.
Matthew 24:14 and Matthew 28:19-20 are being fulfilled via the internet, radio, literature, and personal contact by those of us in the Continuing Church of God.
Some items of possibly related interest could include:
Should the Church Still Try to Place its Top Priority on Proclaiming the Gospel or Did Herbert W. Armstrong Change that Priority for the Work? Some say the Church should mainly feed the flock now as that is what Herbert W. Armstrong reportedly said. Is that what he said? Is that what the Bible says? What did Paul and Herbert W. Armstrong expect from lower level leaders?
The Final Phase of the Work What is the final phase of the work? Who will lead it? Do you have the courage to support it? Here is a related YouTube video titled The Final Phase of the Work. The written article has been translated into Spanish La Fase Final de la Obra.
Leading the Final Phase of the Work Matthew 24:14 teaches "And this gospel of the kingdom will be preached in all the world as a witness to all the nations, and then the end will come " will be fulfilled and RCG is not the group doing this. Who is leading the final phase of the work? What did Herbert Armstrong and the old WCG teach about that and about prophets? Does Bob Thiel meet the criteria that the Bible and the old WCG set? What is the proof? What has the Continuing Church of God been doing?  This is a sermonette length video.
Getting the Gospel Out is More than a Local Job Discusses Biblical rationale for doing an international, and not just a local, work.
Continuing Church of God The group striving to be most faithful amongst all real Christian groups to the word of God. To see how CCOG has done so far, here is a sermon Continuing Church of God (CCOG) first year anniversary: What has been accomplished? Here is a written link to a version of that sermon in the Spanish language: Aniversario del primer año de la Continuación de la Iglesia de Dios: ¿Qué se ha cumplido?
CCOG.ASIA We in the Continuing Church of God also have the url www.ccog.asia which has a focus on Asia and has various articles in Mandarin Chinese as well as some in English, plus some items in other Asian languages. 我们在继续神的教会也提供此网址 www.ccog.asia, 关注于亚洲并且有各种各样的中英文文章,其中一些用菲律宾语翻译的文章也正在进行中,准备添加到这个网站中。
CCOG.IN This is a website targeted towards those of Indian heritage. It has a link to an edited Hindi translation of The Mystery of the Ages and is expected to have more non-English language materials in the future.
CCOG.EU This is a website targeted toward Europe. It has materials in more than one language (currently it has English, Dutch, and Serbian, with links also to Spanish) and it is intended to have additional language materials added.
CDLIDD.ES La Continuación de la Iglesia de Dios. This is the Spanish language website for the Continuing Church of God.
PNIND.PH Patuloy na Iglesya ng Diyos. This is the Philippines website Continuing Church of God. It has information in English and Tagalog.