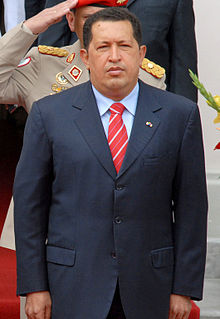 Hugo Chávez
Venezuela's President Hugo Chávez has died:
5 March 2013

CARACAS, Venezuela — President Hugo Chávez of Venezuela died Tuesday afternoon after a long battle with cancer, the government announced, leaving behind a bitterly divided nation in the grip of a political crisis that grew more acute as he languished for weeks, silent and out of sight in hospitals in Havana and Caracas…

Mr. Chávez's departure from a country he dominated for 14 years casts into doubt the future of his socialist revolution. It not only alters the political balance in Venezuela, the fourth-largest foreign oil supplier to the United States, but also in Latin America, where Mr. Chávez led a group of nations intent on reducing American influence in the region…

When a president dies, the Constitution says that the nation should "proceed to a new election" within 30 days, and that the vice president should take over in the meantime. The election is likely to pit Mr. Maduro, whom Mr. Chávez designated as his political successor, against Henrique Capriles Radonski, a young state governor who lost to Mr. Chávez in a presidential election in October. http://www.nytimes.com/2013/03/06/world/americas/hugo-chavez-of-venezuela-dies.html?pagewanted=all&_r=0
The situation in Venezuela (whose official name is República Bolivariana de Venezuela) may now be quite volatile.  Those in Venezuela need your prayers.
From Mexico in the north down to Chile and Argentina in the south, Latin America covers a vast amount of territory. In all of these lands, including Venezuela, the majority of people are either of European heritage, indigenous, or a mixture of indigenous and European.
Most people in the nations of Latin America have some type of ethnic tie to Europe. And the vast majority of the people in Latin America speak some type of a European language–with Spanish and Portuguese being the two major languages there.
The ancient Romans developed a system of laws, courts and administrative skills to manage their empire. Today, that Roman law forms the basis of legal codes in France, Italy, the European Union, and in the Latin American countries. Roman law also undergirds Roman Catholic canon law (Civilization Past & Present, Wallbank, 6th edition, pp. 87–88). European and Latin American legal systems much more closely resemble each other than they do of the American and British systems (the American system is based on the British system).
Most of the peoples in Latin America are Roman Catholic. And this is true of nearly every nation there. Religion, thus, is a major cultural tie to Europe.  As far as Venezuela goes, according to government estimates, about 92% of the population is at least nominally Roman Catholic.
Latin America is of importance to the Vatican.
Currently, cardinals of the Church of Rome are meeting in Vatican City to determine who to elect as their next pope.  At least two "leading candidates" are from South America.  It may be that the death of Hugo Chávez could be a factor in possibly selecting a pontiff from that region.
Because of the cultural, ethnic, language, legal, and religious ties between Europe and Latin America, the two regions will likely cooperate more in the future. These ties will be primarily economic, along with the religious and cultural ones, but also may include some type of military cooperation.  This is consistent with Ezekiel 27:12-23 and other scriptures.
The situation in Venezuela may well affect the Vatican as its cardinals conclave later this month.
Some articles of possibly related interest may include:
Mexico, Central America, South America, Brazil, and the Caribbean in Prophecy [Español: México, America Central, Suramérica, y el Brasil en profecíal] [Português: México, América Central, Ámérica do Sul, e Brasil na profecia] What will happen to those of Latin America? Will they have prosperity? Will they cooperate with Europe? Will they suffer in the future? What rule might the various Caribbean nations/territories play?
The Malachy Prophecies and "Peter the Roman" An Irish bishop allegedly predicted something about 112 popes in the 12th century. Pope Benedict XVI was number 111. The next pope would be number 112 and is to reign until Rome is destroyed. May he be an antipope/final Antichrist?
Pope Benedict XVI and the next pope Will the pope that succeeds Pope Benedict XVI fulfill biblical and non-biblical prophecies? What about Pope Benedict himself? Pope Benedict XVI resigned his pontificate effective February 28, 2013. Might his resignation lead to the fulfillment of prophecy? Might his resignation lead to the prophesied Antichrist according to biblical and Catholic prophecies? Do Catholic prophecies foretell of an antipope as the next pope? Is the Peter the Roman of the Malachy prophecies the next pope? Is there a 6,000 year plan? Is the 6,000 year almost up?
Which Is Faithful: The Roman Catholic Church or the Continuing Church of God? Do you know that both groups shared a lot of the earliest teachings? Do you know which church changed? Do you know which group is most faithful to the teachings of the apostolic church? Which group best represents true Christianity? This documented article answers those questions.