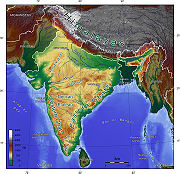 Some in Asia are apparently coming out of the great recession.  India now seems to have started to have some significant economic growth:
India's Growth Accelerates for First Time Since 2007 (Update3)

By Cherian Thomas

Aug. 31 (Bloomberg) — India's economic growth accelerated for the first time since 2007, indicating the global recession's impact on Asia's third-largest economy is waning.

Gross domestic product expanded 6.1 percent last quarter from a year earlier after a 5.8 percent rise in the previous quarter, the Central Statistical Organisation said in New Delhi today. Economists forecast a 6.2 percent gain.

India joins China, Japan and Indonesia in rebounding as Asian economies benefits from more than $950 billion of stimulus spending and lower borrowing costs. India's recovery may stall as drought threatens to reduce harvests and spur food inflation, making it harder for the central bank to judge when to raise interest rates…

As the global recession hit India, the central bank injected about 5.6 trillion rupees ($115 billion) into the economy, which together with government fiscal stimulus amounts to more than 12 percent of GDP.

China's economic growth accelerated to 7.9 percent last quarter from 6.1 percent in the previous three months, aided by a 4 trillion yuan ($585 billion) stimulus package and lower borrowing costs. China and India are the world's two fastest growing major economies…

India's industrial production in June gained 7.8 percent from a year earlier, the fastest pace in 16 months, the government said Aug. 12.

Ahya expects the economy to grow between 5.2 percent and 5.8 percent in the year to March 31. That pace of expansion is attracting overseas companies including Harley-Davidson Inc., the biggest U.S. motorcycle maker. The U.S. economy shrank at a 1 percent annual rate last quarter. http://www.bloomberg.com/apps/news?pid=20601091&sid=aluPxOFxzkMs
Although nations in Asia will have economic ups and downs, the Bible tells of a time when the trading nations will become even more wealthy because of a power called "Babylon" in Revelation 18.  This seems to be the same power referred to as "the daughter of Babylon" in Jeremiah (50:42 ; 51:33), Zechariah (2:7), and Isaiah (47:1).  Thus, it does not seem to be a reference to the Babylon in Iran.  Other parts of the Bible suggest it is a European power (for details, see Europa, the Beast, and Revelation).
If the economies of Asia recover at a faster rate than the USA (which they now are doing) this will continue the trend to reduce the economic gap between the Americans and the Asians.  This is also something that the Bible indicated would need to happen.
For more about India and other nations in Asia, please check out the following articles:
India, Its Biblical Past and Future: Any Witness? The Bible discusses the origins of those of Indian heritage and discusses some of the witness to them (including those in Bangladesh, Pakistan, and Sri Lanka).
China, Its Biblical Past and Future, Part 1: Genesis and Chinese Characters This article provides information showing that the Chinese peoples must have known about various accounts in the Book of Genesis up until their dispersion after the Tower of Babel.
China, Its Biblical Past and Future, Part 2: The Sabbath and Some of God's Witness in China When did Christianity first come to China? And is there early evidence that they observed the seventh day sabbath?
Asia in Prophecy What is Ahead for Asia? Who are the "Kings of the East"? What will happen to nearly all the Chinese, Russians, Indians, and others of Asia? China in prophecy, where? Who has the 200,000,000 man army related to Armageddon?
Korea in Prophecy, Any Witness? Does God have a plan for the Koreans? Is Korea mentioned in any prophecies? Will Koreans be among the first in the Kingdom of God? 한국의 언어로 : 한국 예언, 모든 증인에?
Japan, Its Biblical Past and Future, Part 1: Any Witness? This is a brief article about Japan. Have they had any witness?
Japan, Its Biblical Past and Future, Part 2: Prophecy Japan in prophecy. What is prophesied for Japan? Will God save the Japanese?
Islands and Bible Prophecy What's ahead for islands? What does the Bible prophesy about them?