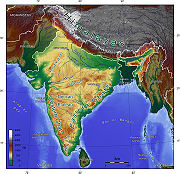 India and China continue to take steps to try to cooperate:
India, China Talk About Border Amid Rising Tensions

Wall Street Journal – Aug 8, 2009  by PETER WONACOTT

NEW DELHI — Shaded by an old war and a new economic rivalry, India and China sat down Friday for another attempt to settle the territory that divides them.

Indian National Security Adviser M. K. Narayanan and Chinese State Councilor Dai Bingguo were scheduled to hold two days of talks on contested areas of their shared border. Although a breakthrough wasn't expected — like the previous 12 rounds of meetings — both sides sought to play down tensions between Asia's two largest emerging economies even amid signs they are escalating.

"Despite the twists and turns in China-India ties and border disputes, the two countries share the same historical responsibilities of developing economies," China's ambassador to India, Zhang Yan, said in an interview Tuesday with the Chinese state-run Xinhua News Agency. Mr. Zhang urged the two nations to handle their problems "with the utmost political wisdom."

China's call for calm comes as the relationship enters choppy waters. With their companies jockeying for market share abroad and their militaries modernizing at home, China and India have been regarding each other less as friendly neighbors and more as future rivals.

India has lodged a record number of antidumping cases against China in the World Trade Organization. China has objected to a loan program from the Asian Development Bank that included a proposed flood-control project in the Indian state of Arunachal Pradesh, which covers territory Beijing claims as its own. Both countries have invested heavily in recent years upgrading their navies.

India and China fought a brief border war in 1962. India lost the war, but territorial disputes with China have endured. Aside from the area that India calls Arunachal Pradesh, the two countries also differ over part of the border with China's Tibet Autonomous Region.

Neither side is showing signs of budging on its claims. In July, as part of the ADB loan fracas, India's foreign minister, S.M. Krishna, told parliament that the government "has clearly conveyed to the Chinese side that Arunachal Pradesh is an integral part of India."

On Friday, an Indian foreign-ministry spokesman declined to comment before the conclusion of the talks. China's foreign ministry also didn't offer any details of the meetings.  http://online.wsj.com/article/SB124964895363214289.html
India and China still are distant distrustful of each other.  Readers of the Bible are aware of a soon coming time when the "kings from the east" (Revelation 16:12) will come west with an army of 200,000,000 (Revelation 9:16).
This simply cannot happen without an ultimate increase of cooperation between India and China.  And it will likely involve others in Asia (including those from Russia, Korea, Japan, and other nations).
While the current talks have apparently not solved all the issues.  The fact that India and China have been meeting and talking shows that both sides are trying to see how they can get along better.
Articles of possibly related interest may include:
India, Its Biblical Past and Future: Any Witness? The Bible discusses the origins of those of Indian heritage and discusses some of the witness to them (including those in Bangladesh, Pakistan, and Sri Lanka).
China, Its Biblical Past and Future, Part 1: Genesis and Chinese Characters This article provides information showing that the Chinese peoples must have known about various accounts in the Book of Genesis up until their dispersion after the Tower of Babel.
China, Its Biblical Past and Future, Part 2: The Sabbath and Some of God's Witness in China When did Christianity first come to China? And is there early evidence that they observed the seventh day sabbath?
Asia in Prophecy What is Ahead for Asia? Who are the "Kings of the East"? What will happen to nearly all the Chinese, Russians, Indians, and others of Asia? China in prophecy, where? Who has the 200,000,000 man army related to Armageddon?
Korea in Prophecy, Any Witness? Does God have a plan for the Koreans? Is Korea mentioned in any prophecies? Will Koreans be among the first in the Kingdom of God? 한국의 언어로 : 한국 예언, 모든 증인에?
Japan, Its Biblical Past and Future, Part 1: Any Witness? This is a brief article about Japan. Have they had any witness?
Japan, Its Biblical Past and Future, Part 2: Prophecy Japan in prophecy. What is prophesied for Japan? Will God save the Japanese?
Russia: Its Origins and Prophesied Future Where do the Russians come from? What is prophesied for Russia? What will it do to the Europeans that supported the Beast in the end?
Islands and Bible Prophecy What's ahead for islands? What does the Bible prophesy about them?