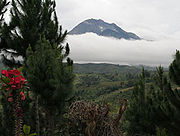 Mount Apo in Mindanao, Philippines
While the USA is considered to possibly be on the verge of a "double-dip" recession, many in Asia see growth over there.
The Philippines is sounding upbeat:
The Philippines may narrow its budget deficit next year to the smallest since 2008 as economic growth accelerates, Finance Secretary Cesar Purisima said.

The 2011 shortfall may shrink to as little as 226 billion pesos ($5 billion), or 2.5 percent of gross domestic product if the economy expands 7 percent, Purisima told reporters in Manila today. Growth this year may reach or exceed the top-end of the government's 5 percent-to-6 percent goal, Economic Planning Secretary Cayetano Paderanga said.

The Southeast Asian nation is targeting annual growth of as much as 8 percent starting next year, betting that investments in railways, roads and ports will create jobs and boost trade.  (By Max Estayo and Cecilia Yap – Sep 1, 2010. http://www.bloomberg.com/news/2010-09-01/philippines-says-budget-deficit-may-narrow-next-year-as-growth-accelerates.html)
And while some of the above may be just hopeful thinking, nothing coming out of financial leaders in the USA government sound anywhere near that optimistic for the USA's economy.
Meanwhile, there is more growth in China:
Manufacturing in China grew at a faster pace in August after the weakest performance since early 2009 in July, signalling that the economy's slowdown is stabilising.  (Bloomberg / Hong Kong September 02, 2010.  http://www.business-standard.com/india/news/china-manufacturing-growth-rebounds/406607/)
The world is changing.  There is a shift away from the USA and its allies like Canada leading the way in the world (though currently Canada is doing better than the USA).
Russia and India also seem to be improving:
Indian factories expanded apace in August, although slightly slower than in July, after Asia's third-largest economy grew at its fastest rate in nearly three years in the last quarter.

And the manufacturing sector of Russia — part of the BRIC quartet of new economic powers alongside China, India and Brazil — expanded at its fastest rate in 28 months largely thanks to the strong domestic demand.  (2 Sep, 2010, 12.39AM IST,REUTERS. http://economictimes.indiatimes.com/news/economy/indicators/Manufacturing-picks-up-in-India-and-China-slips-in-Europe/articleshow/6477223.cms)

It is not that there is no growth in any parts of the USA's economy (it had some manufacturing growth), but its debt and other policies seem to provide pressure for the growth to be limited.
Europe is having its ups and downs as well, but ultimately it will end up on top for a while, according to Bible prophecy.
Some articles of possibly related interest may include:
Islands and Bible Prophecy What's ahead for islands? What's ahead for the Philippines?  What does the Bible prophesy about islands?
India, Its Biblical Past and Future: Any Witness? The Bible discusses the origins of those of Indian heritage and discusses some of the witness to them (including those in Bangladesh, Pakistan, and Sri Lanka).
China, Its Biblical Past and Future, Part 1: Genesis and Chinese Characters Where did the Chinese people come from? This article provides information showing that the Chinese peoples must have known about various accounts in the Book of Genesis up until their dispersion after the Tower of Babel.
China, Its Biblical Past and Future, Part 2: The Sabbath and Some of God's Witness in China When did Christianity first come to China? And is there early evidence that they observed the seventh day sabbath?
Asia in Prophecy What is Ahead for Asia? Who are the "Kings of the East"? What will happen to nearly all the Chinese, Russians, Indians, and others of Asia? China in prophecy, where? Who has the 200,000,000 man army related to Armageddon?
Russia: Its Origins and Prophesied Future Russia in prophecy. Where do the Russians come from? What about those in the Ukraine? What is prophesied for Russia and its allies? What will they do to the Europeans that supported the Beast in the end?
Is Russia the King of the North? Some claim it is. But what does the Bible teach?
Anglo – America in Prophecy & the Lost Tribes of Israel Are the Americans, Canadians, British, Scottish, Welsh, Australians, Anglo-Southern Africans, and New Zealanders descendants of Joseph? Where are the lost ten-tribes of Israel? Who are the lost tribes of Israel? What will happen to the Jews in Israel? Will God punish the U.S.A., Canada, United Kingdom, and other Anglo nations? Why might God allow them to be punished first?
Europa, the Beast, and Revelation Where did Europe get its name? What might Europe have to do with the Book of Revelation? What about "the Beast"? Is an emerging European power "the daughter of Babylon"? What is ahead for Europe?