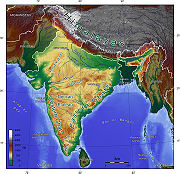 Iran was not the only country with nuclear power issues in the news today:
Japan minister warns India against nuclear tests

By Rupam Jain Nair (AFP) –


NEW DELHI — Japan's foreign minister warned India on Saturday against conducting any new nuclear tests, saying such a move would force a halt to any civilian nuclear cooperation between the two countries.   http://www.google.com/hostednews/afp/article/ALeqM5gidySTRElq0qbJnTK9pBYeB1m5Cg
India wants more energy for its people and considers that nuclear reactors are one of the most cost-effective ways to acquire the energy it feels it needs.
India basically believes that the nuclear power technology it needs externally can be best supplied by Japan.  But Japan is telling India that it will cut India off it conducts any more nuclear tests.
While Pakistan (often considered India's chief military threat) has its current internal problems (including the massive flooding), India may feel that it can forgo conducting nuclear tests until after it gets the technology it needs from Japan and/or learns enough so that it will no longer need Japan.
And while the Japanese likely realize this, they feel that they can conduct business with India (for a while) under their terms.  This deal, presuming it happens, will apparently increase the financial wealth of both of these Asian nations.
Some articles of possibly related interest may include:
Asia in Prophecy What is Ahead for Asia? Who are the "Kings of the East"? What will happen to nearly all the Chinese, Russians, Indians, and others of Asia? China in prophecy, where? Who has the 200,000,000 man army related to Armageddon?
India, Its Biblical Past and Future: Any Witness? The Bible discusses the origins of those of Indian heritage and discusses some of the witness to them (including those in Bangladesh, Pakistan, and Sri Lanka).
Japan, Its Biblical Past and Future, Part 1: Any Witness? Where did the Japanese people come from? Have they had any witness?
Japan, Its Biblical Past and Future, Part 2: Prophecy Japan in prophecy. What is prophesied for Japan? Will God save the Japanese?