T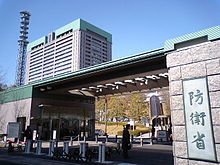 Japanese Ministry of Defense (本屋)
India and Japan are apparently getting so concerned about China that they conducted joint naval exercises:
As China Eyes Indian Ocean, Japan and India Pair Up on Defense
The Bible tells that the "kings of the sunrise" (Revelation 16:12, literal translation) will some day cooperate.  Having Japan and India cooperate now may be a step in that direction.  And even though fear of China is a major motivator, they will likely later cooperate with China in fulfillment of certain biblical prophecies (cf. Revelation 9:13-20; 16:12).
As far as Japan goes, some there are now willing to overlook the problems with the nuclear power plant disaster from last year's tsunami and earthquakes, as well as its historical aversion to nuclear weapons because of Hiroshima and Nagasaki, in order to get the weapons for themselves:
Support for nuclear bomb gets louder in Japan

August 1, 2012

TOKYO: A contentious debate over nuclear power in Japan is also bringing another question out of the shadows: Should Japan keep open the possibility of making nuclear weapons? It may seem surprising in the only country devastated by atomic bombs, particularly as it marks the 67th anniversary of the bombings of Hiroshima on August 6 and Nagasaki three days later…As Japan weighs whether to phase out nuclear power, some conservatives, including some influential politicians and thinkers, are becoming more vocal about their belief that Japan should have at least the ability to make nuclear weapons.
Since India already has nuclear weapons, it is possible that India may cooperate with Japan in this area as well.
To learn more, please check out the following articles:
Asia in Prophecy What is Ahead for Asia? Who are the "Kings of the East"? What will happen to nearly all the Chinese, Russians, Japanese, Indians, and others of Asia? China in prophecy, where? Who has the 200,000,000 man army related to Armageddon?
Japan, Its Biblical Past and Future, Part 1: Any Witness? Where did the Japanese people come from? Have they had any witness?
Japan, Its Biblical Past and Future, Part 2: Prophecy Japan in prophecy. What is prophesied for Japan? Will God save the Japanese?
India, Its Biblical Past and Future: Any Witness? The Bible discusses the origins of those of Indian heritage and discusses some of the witness to them (including those in Bangladesh, Pakistan, and Sri Lanka).