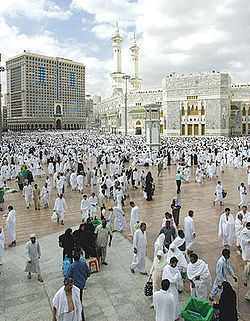 Mecca, Saudi Arabia


Saudi Arabia is cancelling Islamic pilgrimages to Mecca because of the coronavirus:
Saudi Arabia Cancels Pilgrimage Entries to Mecca Over Fears of Coronavirus

February 28, 2020

On Thursday, Saudi Arabia canceled entry visas to pilgrims hoping to arrive at Mecca, Islam's holiest site over concerns about the coronavirus. The Saudi government also suspended travel permits to Medina, the second holiest site in Islam.

"Saudi Arabia renews its support for all international measures to limit the spread of this virus and urges its citizens to exercise caution before traveling to countries experiencing coronavirus outbreaks," the Saudi foreign ministry said in a statement announcing the decision. "We ask Allah (the Muslim word for God) to spare all humanity from all harm." https://www.breakingisraelnews.com/145984/saudi-arabia-cancels-pilgrimage-entries-to-mecca-over-fears-of-coronavirus/
One of the goals of all practicing Muslims is to visit Mecca at least once in their lifetimes if they can. In July of 2013, Saudi Arabia warned people about an earlier strain of the coronavirus as 38 had already died from it in Saudi Arabia that year (see Saudi Arabia warning visitors to Mecca about coronavirus risk).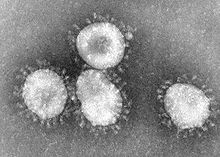 Coronaviruses

The World Health Organization warned that the coronavirus is spreading:
Coronavirus outbreak getting bigger–WHO

28 February 2020

The virus could reach most "if not all countries", the World Health Organization warns
Stock markets across the globe are suffering their worst week since 2008
The first British death from Covid-19 is announced in Japan
Nigeria and Mexico confirm their first cases
China confirms another 327 cases – the lowest daily increase for a month – and 44 deaths, mainly in Hubei
New Zealand, Belarus, the Netherlands, and and Lithuania confirm first cases  https://www.bbc.com/news/live/world-51669434
Financial markets around the world are concerned about the coronavirus:
Global Markets Continue Downward Trajectory Amid Coronavirus Fears

February 28, 2020

Global markets continued their downward trajectory Friday amid fear that are spreading faster than the coronavirus.

COVID-19 has disrupted supply chains, caused the initiation of travel bans and essentially wrecked business and trade around the world.

Analysts are predicting this week will be the worst week since the 2008 global financial crisis.

"These are highly uncertain times, no one really knows the answer and the markets are really panicking," John Lau, SEI Investments Head of Asian Equities told Reuters.

Tokyo and Shanghai slumped Friday by a margin of 3.7%, while Seoul and Sydney also fell by more than 3%. European markets were down 2-3% in early trading.

Fears over the virus and the effects on global trade and manufacturing sent the Dow Jones Industrial Average plummeting Thursday 1,191 points — the largest single-day drop in history. It marks a 4% single-day decline on the value of the stocks on the list, and a 10% decline in the Dow from its record high set just two weeks ago. Another index, the S&P 500 was off 12% from its all time high, just a week ago.

Technology stocks were down Thursday, with such giants as Apple and Microsoft warning that the virus has affected its supply lines from Asia.

Energy stocks also took a beating in part over a recent drop in oil prices and anticipation that fewer people will travel because of the virus.

No one right now knows exactly where the coronavirus outbreak is heading because health experts are still learning about it. https://www.voanews.com/economy-business/global-markets-continue-downward-trajectory-amid-coronavirus-fears

Coronavirus updates: Stock markets fall as cases spread

28 February 2020

European and Asian stock indexes have been hit hard amid mounting concerns about the impact of the COVID-19 virus on business. The virus has continued to spread, with 27 new cases in Germany. https://www.dw.com/en/coronavirus-updates-stock-markets-fall-as-cases-spread/a-52566672
The coronavirus has the potential to push down China's economy and help the international rise of Europe. Europe is prophesied to dominate world trade (cf. Revelation 18) and the coronavirus looks to be a factor in that.
As prophecy watchers tend to be aware, infections are part of the pestilences that the Bible warned about for the end times. Jesus taught:
7…And there will be famines, pestilences, and earthquakes in various places. 8 All these are the beginning of sorrows. (Matthew 24:7-8)

8 … And there will be earthquakes in various places, and there will be famines and troubles. These are the beginnings of sorrows. (Mark 13:8)
We seem to be in the time Jesus called "the beginning of sorrows." There have been "earthquakes in various places" this past year. There are some famines and they may increase soon. and cornonaviruses are not the only potential pestilences starting to rise up either (see, for example, 'Worse than AIDs' gonorrhea strain spreading from Japan).
Notice also the following end time prophecies:
12 One-third of you shall die of the pestilence, and be consumed with famine in your midst; and one-third shall fall by the sword all around you; and I will scatter another third to all the winds, and I will draw out a sword after them. (Ezekiel 5:12)

7 When He opened the fourth seal, I heard the voice of the fourth living creature saying, "Come and see." 8 So I looked, and behold, a pale horse. And the name of him who sat on it was Death, and Hades followed with him. And power was given to them over a fourth of the earth, to kill with sword, with hunger, with death, and by the beasts of the earth. (Revelation 6:7-8)
Many believe that infectious diseases are part of the "beasts of the earth" that are prophesied to kill a significant portion of humankind in Revelation 6:7-8, especially in the light of what Jesus taught in Matthew 24:7-8 and what is also recorded in Ezekiel 5:12 and other scriptures.
That being said, the 2019/2020 outbreak of COVID-19 (the name of the new strain of the coronavirus) is NOT the fulfillment of Revelation 6:7-8, though it looks to be part of the sorrows and troubles Jesus spoke of.
It is reported that the Israelis are close to a vaccine on COVID-19:
Israeli scientists are on the cusp of developing the first vaccine against the novel coronavirus, according to Science and Technology Minister Ofir Akunis. If all goes as planned, the vaccine could be ready within a few weeks and available in 90 days, according to a release.

"Congratulations to MIGAL [The Galilee Research Institute] on this exciting breakthrough," Akunis said. "I am confident there will be further rapid progress, enabling us to provide a needed response to the grave global COVID-19 threat," Akunis said, referring to the disease caused by the novel coronavirus. 02/27/20 https://www.jpost.com/HEALTH-SCIENCE/Israeli-scientists-In-three-weeks-we-will-have-coronavirus-vaccine-619101
Some see vaccines as the solution, whereas some others prefer a more natural approach (see VOA: Trump: US 'Totally Prepared' for Coronavirus' AP: Vexed by how to contain virus, countries take tough steps' WT: Natural Protection).
And no, I do not intend to get that Israeli vaccine. But many people likely will.
If such a vaccine is viable and the concerns still out there on COVID-19, Israel would stand to profit from such a vaccine.
Some links of related interest may include:
Fourth Horseman of the Apocalypse What is the pale horse of death and pestilences? What will it bring and when? Some related videos may include Amphibian Apocalypse: Threat to Humans?, Zombie Deer Disease is Here! Are the 10 Plagues on Egypt Coming?, and Biological Warfare and Prophecy. Here is a version of the article in Spanish: El cuarto jinete de Apocalipsis, el caballo pálido de muerte y pestilencia.
The Arab and Islamic World In the Bible, History, and Prophecy The Bible discusses the origins of the Arab world and discusses the Middle East in prophecy. What is ahead for the Middle East and those who follow Islam? What about the Imam Mahdi? What lies ahead for Turkey, Iran, and the other non-Arabic Muslims? An item of possibly related interest in the Spanish language would be: Líderes iraníes condenan la hipocresía de Occidente y declaran que ahora es tiempo para prepararse para el Armagedón, la guerra, y el Imán Mahdi.
Iran in Prophecy Is Iran in Bible prophecy? If so, what does the Bible teach? What names, other than Persia, may be used to describe Iran? There is also a related YouTube video titled Iran In Prophecy.
China, Its Biblical Past and Future, Part 1: Genesis and Chinese Characters Where did the Chinese people come from? Japeth, Javan, Magog? Is there evidence that the Chinese peoples must have known about various accounts in the Book of Genesis up until their dispersion after the Tower of Babel? What do Chinese writings and characters help show? What about the Garden of Eden, Noah's Flood, and the Tower of Babel? Here is a link to a version of this article in Spanish: ¿Prueban los caracteres chinos la exactitud de la Biblia? A related sermon is also available: China's biblical past and prophetic actions.
China, Its Biblical Past and Future, Part 2: The Sabbath and Some of God's Witness in China When did Christianity first come to China? What about the Apostle Thomas? Did Confucius say anything to get the Chinese to possibly consider Christianity? Is there early evidence that they observed the seventh day sabbath? What about the Ten Commandments? What type of Church of God witness has there been to China? What has been happening with China that ties it together with prophecies in Revelation? What about the 200 million man army and Armageddon? What about the Belt and Road Initiative and end time Babylon the Great? A related sermon is also available: China's biblical past and prophetic actions. Watch also China's Silk Road and Babylon the Great.
Asia in Prophecy What is Ahead for Asia? Who are the "Kings of the East"? What will happen to nearly all the Chinese, Russians, Indians, and others of Asia? China in prophecy, where? Who has the 200,000,000 man army related to Armageddon? Two YouTube video are Is China THE Threat to the United States of America? and China: A King of the East.
The New Testament Church, History, and Unclean Meats Are foods considered to have been unclean in the Old Testament considered to be food in the New Testament? This article discusses this from the perspective of the New Testament. It also has a list of clean and unclean animals. It also answers the question, is pork healthy or is pork dangerous? There is also a sermon-length video on this: Christians and Unclean Meats; a short video is also available: Did Jesus declare all animal flesh food?
The Gospel of the Kingdom of God This free online pdf booklet has answers many questions people have about the Gospel of the Kingdom of God and explains why it is the solution to the issues the world is facing. Here are links to three related sermons: The World's False Gospel, The Gospel of the Kingdom: From the New and Old Testaments, and The Kingdom of God is the Solution.
Differences Between Islam and the Continuing Church of God What are some of the main differences? Are there any similarities? A video of related interest is titled: Islam: Any Christian Concerns or Similarities?
GMOs and Bible Prophecy What are GMOs? Since they were not in the food supply until 1994, how could they possibly relate to Bible prophecy? Do GMOs put the USA and others at risk? Here is a related YouTube video GMO Risks and the Bible.
Chimeras: Has Science Crossed the Line? What are chimeras? Has science crossed the line? Does the Bible give any clues? A video of related interest is Half human, half pig: What's the difference?
Four Horsemen of the Apocalypse What do each of the four horseman of the Apocalypse represent? Have they began their ride? Did Jesus discuss the any of this? Might their rides coincide with the "beginning of sorrows? Do they start their ride prior to the Great Tribulation? Did Nostradamus or any other 'private prophets' write predictions that may mislead people so that they may not understand the truth of one or more of the four horseman? There is also a related YouTube video titled The Four Horsemen of the Apocalypse.
Does God Have a 6,000 Year Plan? What Year Does the 6,000 Years End? Was a 6000 year time allowed for humans to rule followed by a literal thousand year reign of Christ on Earth taught by the early Christians? Does God have 7,000 year plan? What year may the six thousand years of human rule end? When will Jesus return? 2027 or 20xx? There is also a video titled 6000 Years: When will God's Kingdom Come? Here is a link to the article in Spanish: ¿Tiene Dios un plan de 6,000 años?
When Will the Great Tribulation Begin? 2020, 2021, or 2022? Can the Great Tribulation begin today? What happens before the Great Tribulation in the "beginning of sorrows"? What happens in the Great Tribulation and the Day of the Lord? Is this the time of the Gentiles? When is the earliest that the Great Tribulation can begin? What is the Day of the Lord? Who are the 144,000? Here is a version of the article in the Spanish language: ¿Puede la Gran Tribulación comenzar en el 2020 o 2021? ¿Es el Tiempo de los Gentiles? You can also see the English language sermon videos: The Great Tribulation from the Mount of Olives and Can the Great Tribulation begin before 2020? A shorter and newer video is: Could the Great Tribulation Begin in 2020?
Donald Trump in Prophecy Prophecy, Donald Trump? Are there prophecies that Donald Trump may fulfill? Are there any prophecies that he has already helped fulfill? Is a Donald Trump presidency proving to be apocalyptic? Two related videos are available: Donald: 'Trump of God' or Apocalyptic? and Donald Trump's Prophetic Presidency.
Trump Presidency Magic 8 Ball or Bible Prophecy? BBC reported that one might as well use a 'Magic Eight-Ball' to try to predict what will happen in the remaining time of Donald Trump's presidency. What is a 'Magic Eight-Ball'? Dr. Thiel not only explains that, but also briefly goes over 10 biblically-based warnings he wrote would happen if Donald Trump were elected that have already began to come to pass. He also goes over something he wrote back in 2008 that the Trump presidency is also helping lead to fulfillment. Should you trust Bible prophecy or not? Dr. Thiel says that Bible prophecy can be trusted, despite the view of skeptics and others that either overlook or despise the Bible. This is a video.
Donald Trump and America's Apocalypse This 188 page book is for people truly interested in prophecies related to Donald Trump and the United States, including learning about several that have already been fulfilled and those that will be fulfilled in the future. The physical book can be purchased at Amazon for $12.99 from the following link: Donald Trump and America's Apocalypse.
Donald Trump and America's Apocalypse-Kindle Edition This electronic version of the 188 page print edition is available for only US$3.99. And you do not need an actual Kindle device to read it. Why? Amazon will allow you to download it to almost any device: Please click HERE to download one of Amazon s Free Reader Apps. After you go to for your free Kindle reader and then go to Donald Trump and America's Apocalypse-Kindle Edition.