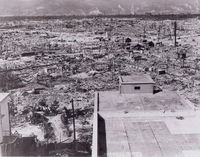 Hiroshima After the Atomic Bomb Was Detonated
Pakistan and Saudi Arabia continue to discuss military cooperation:
Zardari, Al Waqdani discuss defence ties

Zee News – April 25, 2011

Pakistan President Asif Ali Zardari and visiting head of the Royal Saudi Naval Forces today held a meeting here in which they "emphasised upon further augmenting socio-economic, trade and defence ties between the two countries".

"Pak-Saudi bilateral relations including defence cooperation between the two countries were discussed during the meeting," the President's office said in a statement.

Zardari hailed the contributions of Vice Admiral Dakheel Allah Bin Ahmed Al Waqdani, the commander Royal Saudi Naval Forces, in promoting and giving further impetus to existing the relationship between the defence forces of the two countries, the statement said.

The president said Pakistan values its cordial and friendly equation with the brotherly Muslim country the Kingdom of Saudi Arabia. http://www.zeenews.com/news702301.html
The "brotherly Muslim" comment sounds a bit like "the  Muslim Brotherhood" to me (though right now that is not what Saudi Arabia seems to want).
Pakistan is the only Islamic nation that clearly has nuclear weapons. It has been reported that Pakistan may have made some type of clandestine deal with Saudi Arabia concerning nuclear weapons (see Pakistan's Nuclear Weapons, Saudi Arabia, and the King of the South and More on Saudi Nuclear Ambitions).  With all the issues regarding Iran and others attempting to get them, it would not surprise me if the Saudis have taken steps to have possible access to them themselves (though to claim so publicly would likely upset the USA and certain other nations).
Since it appears that the final King of the South will be an Islamic power, it would seem reasonable that Pakistan may somehow cooperate with and/or support it for a while at least.
Some articles of possibly related interest may include:
Is There A Future King of the South? Some no longer believe there needs to be. Might Egypt, Islam, Iran, Arabs, or Ethiopia be involved? What does the Bible say?
The Arab World In the Bible, History, and Prophecy The Bible discusses the origins of the Arab world and discusses the Middle East in prophecy. What is ahead for the Middle East and those who follow Islam?
India, Its Biblical Past and Future: Any Witness? The Bible discusses the origins of those of Indian heritage and discusses some of the witness to them (including those in Bangladesh, Pakistan, and Sri Lanka).