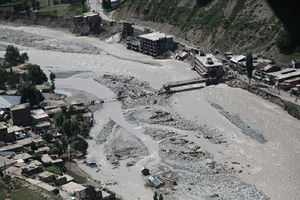 Bridge washed out by flooding in Pakistan
The flooding in Pakistan has reached massive proportions:
Wikipedia reported:
The floods were caused by monsoon rains…and were described as the worst in this area in the last 80 years.[18] The Pakistan Meteorological Department said that 300 mm (12 inches) of rain fell over a 36-hour period and more was expected. So far as many as 500,000 or more people have been displaced from their homes.
The people in Pakistan need our prayers.
The flooding in Pakistan will likely affect the political balance there.  Ultimately, since it is a predominantly Muslim country and because of its prior nuclear arrangements with Saudi Arabia (see Pakistan's Nuclear Weapons, Saudi Arabia, and the King of the South), I suspect that Pakistan may provide certain military support to the soon coming final Islamic King of the South.
The weather situations around the world affect many things, including the economy, people's lives, politics, and the food supply.  The fact that so much is happening now in so many areas, may be consistent with certain end time prophecies.  But the end is not yet.
LCG has long had a booklet of possibly related interest titled "Who Controls the Weather? " that is available for those interested in more on the weather and Bible prophecy.
Jesus foretold on a time of natural disasters as "the beginning of sorrows" (Matthew 24:7-8), but the Book of Revelation (16:8-11) tells of a time of even greater disturbances during "the Day of the Lord".

Now there is good news as ultimately, God's kingdom will come and those issues will be gone (Revelation 7:16).
Some articles of possibly related interest may include:
The Gospel of the Kingdom of God was the Emphasis of Jesus and the Early Church Did you know that? Do you even know what the gospel of the kingdom is all about? True religion should be based upon the true gospel.
Asia in Prophecy What is Ahead for Asia? Who are the "Kings of the East"? What will happen to nearly all the Chinese, Russians, Indians, and others of Asia? China in prophecy, where? Who has the 200,000,000 man army related to Armageddon?
India, Its Biblical Past and Future: Any Witness? The Bible discusses the origins of those of Indian heritage and discusses some of the witness to them (including those in Bangladesh, Pakistan, and Sri Lanka).
Is There A Future King of the South? Some no longer believe there needs to be. Might Egypt, Islam, Iran, Arabs, or Ethiopia be involved? What does the Bible say?