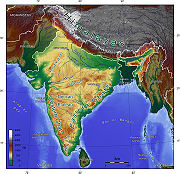 India
India and Pakistan are trying to improve aspects of their relationship:
September 9, 2012

Pakistan and India agreed to ease visa restrictions for their citizens to boost business travel and trade across their border as part of their push for peace.
India's Foreign Minister S.M. Krishna signed the visa agreement in Islamabad yesterday during a three-day visit. The change will allow businessmen from both countries to get multiple entry visas, exempting them from a police reporting requirement. Tourist visas will also be issued for the first time, according to the state-run Pakistan Television.
The agreement was signed after Krishna held talks with his Pakistani counterpart Hina Rabbani Khar for the second time since peace talks resumed last year.  http://www.businessweek.com/news/2012-09-09/india-pakistan-relax-visa-requirements-as-part-of-peace-process
Peace and a reduction of hostilities is a good thing. Jesus taught:
9 Blessed are the peacemakers, For they shall be called sons of God. (Matthew 5:9)
So why might the India/Pakistan visas and peace talks be of prophetic concern?
There are several. For one, the Bible tells of a time coming when there will be a Eurasian union of the "kings of the east" (Revelation 16:12) will put together a 200,000,000 man army (Revelation 9:16). This would likely involve India and probably also at that stage Pakistan. So, any cooperation between those nations now could assist in them being part of the end time confederation of Revelation 9:16 and 16:12.
And while real peace will come after Jesus returns, there will be wars, false deals, and oppression until then. While it is good that Pakistan and India are trying to resolve their differences through talking instead of wars, in this age, they will not be able to bring real and lasting peace (Isaiah 59:8; Romans 3:10-18).
But Jesus, "the Prince of Peace" (Isaiah 9:6), ultimately will.
World events continue to align with properly understood biblical prophecy.
Two articles of possibly-related prophetic interest may include:
India, Its Biblical Past and Future: Any Witness? The Bible discusses the origins of those of Indian heritage and discusses some of the witness to them (including those in Bangladesh, Pakistan, and Sri Lanka).
Asia in Prophecy What is Ahead for Asia? Who are the "Kings of the East"? What will happen to nearly all the Chinese, Russians, Indians, and others of Asia? Who has the 200,000,000 man army related to Armageddon?