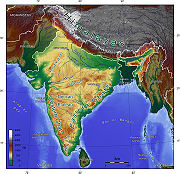 India Highlighted with Pakistan in Upper Left
Jesus warned about wars and rumors of wars.  Here is one from the news today:
Rumours of war create panic in Pakistan
ISLAMABAD (IANS): The Pakistan Air Force has increased its vigilance flights creating panic and sparking war rumours, as Defence Minister Ahmad Mukhtar Chaudhry Monday warned that the country had the potential and right to defend itself if forced to war.
"If India tried to thrust war, then the armed forces of Pakistan have all the potential and right to defend (the country)," Chaudhry told reporters, as he said the defence of Pakistan was in strong hands.
Chaudhry said India would never want war because "if it breaks out, then god forbid the situation might develop into a nuclear war."
He said Congress president Sonia Gandhi's statement relating to war with Pakistan was nothing but an election stunt…
Several jets were seen flying close to Lahore and Islamabad, alarming some residents, witnesses said.
Last weekend, Pakistan said Indian jets violated its airspace in two parts of the country, but were chased back over the border. New Delhi said there was no violation.
Nuclear-armed India and Pakistan have fought three wars over the last 60 years.
Remember that Jesus taught:
6 And you will hear of wars and rumors of wars. See that you are not troubled; for all these things must come to pass, but the end is not yet (Matthew 24:6).
We live in perilous times, but the end is not yet.
Several articles of possibly related interest may include:
Can the Great Tribulation Begin in 2009, 2010, or 2011? Can the Great Tribulation begin today? When is the earliest that the Great Tribulation can begin? What is the Day of the Lord?
Does God Have a 6,000 Year Plan? What Year Does the 6,000 Years End? Was a 6000 year time allowed for humans to rule followed by a literal thousand year reign of Christ on Earth taught by the early Christians? When does the six thousand years of human rule end?
India, Its Biblical Past and Future: Any Witness? The Bible discusses the origins of those of Indian heritage (such as India, Pakistan, Sri Lanka, and Bangladesh), and discusses some of the witness to them.