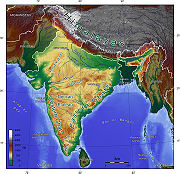 India announced plans to increase its naval power while Pakistan is buying naval ships from China:
India plans to build 100 warships

Financial Times – July 30, 2009

India has plans to add about 100 warships to its navy over the next decade as it seeks to modernise its armed forces, and develop its low-cost shipbuilding capabilities.

Captain Alok Bhatnagar, director of naval plans at India's ministry of defence, said on Thursday that 32 warships and submarines were under construction in the country's shipyards. Work on 75 more ships, including aircraft carriers, destroyers, frigates and amphibious vessels, would begin over 10 years.

New Delhi is sensitive to lagging behind Beijing's naval might in the region. China has three times the number of combat vessels as India and five times the personnel. Officials are wary of port developments in neighbouring Pakistan and Sri Lanka that offer Chinese warships anchorages and potentially greater control of the Indian Ocean and Arabian Sea.

However, India has one of the fastest growing navies in the world. Its fleet of about 120 vessels is the fifth largest…

Pakistan receives Chinese frigates

China on Thursday formally handed over the first of four new naval frigates built for Pakistan in a deal which highlights the close ties between the armed forces of the two countries, writes Farhan Bokhari.

The launch of the new frigate is part of the F-22P programme, estimated to be worth $700m (€497m, £424m), which includes the supply of a batch of Chinese helicopters.

"The addition of these new ships will not only strengthen the Pakistan navy fleet but will also [enhance] the country's shipbuilding capabilities," Pakistan's navy said. http://www.ft.com/cms/s/0/16de2e94-7d22-11de-b8ee-00144feabdc0.html
But as reported here recently (India & Pakistan Lack Trust, But…), it is likely that in the future India, China, and Pakistan will cooperate, instead of compete, militarily.  Larger navies would seem to likely facilitate the movement of the prophesied 200,000,000 man army that is mentioned in the Book of Revelation.
Two articles of possibly related interest may include:
India, Its Biblical Past and Future: Any Witness? The Bible discusses the origins of those of Indian heritage and discusses some of the witness to them (including those in Bangladesh, Pakistan, and Sri Lanka).
Asia in Prophecy What is Ahead for Asia? Who are the "Kings of the East"? What will happen to nearly all the Chinese, Russians, Indians, and others of Asia? Who has the 200,000,000 man army related to Armageddon?