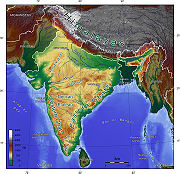 The nation of India now has its own nuclear submarine:
India launches nuclear submarine

India has launched its first nuclear-powered submarine, becoming only the sixth country in the world to do so.

BBC – July 26, 2009

The 6,000 tonne Arihant was launched by India's Prime Minister Manmohan Singh at a ceremony on the south-east coast.

It was built entirely in India with Russian assistance and a second one is due to be constructed shortly.  It will undergo trials over the next few years before being deployed and will be able to launch missiles at targets 700km (437 miles) away.

Until now, only the US, Russia, France, Britain and China had the capability to build nuclear submarines.

'China threat'

Launching the INS Arihant, Mr Singh said India had no aggressive designs on anyone.  But the sea was becoming increasingly relevant to India's security concerns, he added.

"It is incumbent upon us to take all measures necessary to safeguard our country and to keep pace with technological advancements worldwide," he told the ceremony in the port city of Visakhapatnam.

The BBC's Sanjoy Majumder in Delhi says until now India has been able to launch ballistic missiles only from the air and from land.

Nuclear submarines will add a third dimension to its defence capability.  When it is eventually deployed, the top-secret Arihant will be able to carry 100 sailors on board.

It will be able to stay under water for long periods and thereby increase its chances of remaining undetected. By contrast, India's ageing conventional diesel-powered submarines need to constantly surface to recharge their batteries.

Our correspondent says the launching of the Arihant is a clear sign that India is looking to blunt the threat from China which has a major naval presence in the region.  http://news.bbc.co.uk/2/hi/south_asia/8169360.stm
India's launch indicates that it intends to be respected as a military power.
And while it may be trying to send a signal to other nations, the Bible tells of a time when the "kings of the east" will get together militarily (cf. Revelation 16:12).
Two articles of possibly related interest may include:
India, Its Biblical Past and Future: Any Witness? The Bible discusses the origins of those of Indian heritage and discusses some of the witness to them (including those in Bangladesh, Pakistan, and Sri Lanka).
Asia in Prophecy What is Ahead for Asia? Who are the "Kings of the East"? What will happen to nearly all the Chinese, Russians, Indians, and others of Asia? China in prophecy, where? Who has the 200,000,000 man army related to Armageddon?