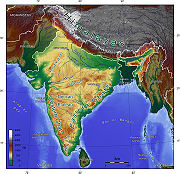 The following was recently announced today:
UPDATE 1-US committed to completing India nuclear pact-Obama

WASHINGTON, Nov 24 (Reuters) – President Barack Obama told a joint news conference with Indian Prime Minister Manmohan Singh on Tuesday that he was committed to completing a bilateral civil agreement that would open up India's potential $150 billion market in power plants.

"I reaffirmed to the prime minister my administration's commitment to fully implement the U.S.-India civil nuclear agreement, which will increase American exports and create jobs in both countries," Obama said..  http://www.reuters.com/article/companyNewsAndPR/idUSN2431035420091124
The selling of civilian nuclear technology may also end up providing technology that India may use for military purposes.  It would not seem that this deal will please Pakistan, but it should somewhat improve ties between the USA and India.  I have reported about India's military nuclear plans in the past (see India's Nuclear Program).
While I expect India to have some ups and downs, according to Bible prophecy, its economy will outlast that of the USA's.
Some articles of possibly related interest may include:
India, Its Biblical Past and Future: Any Witness? The Bible discusses the origins of those of Indian heritage and discusses some of the witness to them (including those in Bangladesh, Pakistan, and Sri Lanka).
Asia in Prophecy What is Ahead for Asia? Who are the "Kings of the East"? What will happen to nearly all the Chinese, Russians, Indians, and others of Asia? Who has the 200,000,000 man army related to Armageddon?
Barack Obama Carries Hindu Monkey God Unlike some of the odd stories about Barack Obama, this one is apparently true.
Prophecies of Barack Obama? Eight reasons why Barack Obama is apocalyptic and eight reasons why Barack Obama is not the Antichrist. This article includes many biblical and non-biblical prophecies, from around the world, that seem to discuss Barack Obama. Did Nostradamus predict Barack Obama dealing with the Antichrist?  Might Barack Obama set the stage for the kings of the North and South as at least one Shiite prophecy suggests?  This is the longest and most complete article on this page on Barack Obama prophecies. Read it and decide for yourself if President Obama seems to be fulfilling various prophecies.
Barack Obama, Prophecy, and the Destruction of the United States Some claim that Barack Obama is the prophesied "son of Kenya", based up an early 20th century writing.