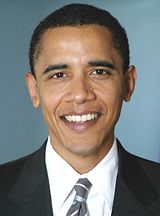 Barack Obama Carries a Hindu Idol
The following was in the news recently:
Indian Americans Take Note of Obama, Thanks to Hanuman

Washington Post – June 27, 2008

At a town hall meeting, a woman asked Obama what kept him grounded, and in response he emptied his pockets. "People are so generous to me, investing their hopes in me," he said, holding up a cupped hand full of trinkets. "This I usually don't show in these town hall meetings. I have all these things that people give me — all these different little good luck charms."

One of the trinkets, it turns out, was a tiny figurine of Hanuman — the Hindu monkey god.

"It's a big deal," said Bhavna Pandit, 28, a political fundraising consultant based in Washington who thinks the revelations will lead to new interest in Obama among Indian American donors.

Pandit said news of the Obama trinket has swept across Indian American living rooms and through Indian newspapers and TV networks. She said the people she knows as "aunties and uncles" — women and men from her parents' generation — are suddenly taking note of Obama in a way they had not done before. "They think it's kind of neat. They rarely see our religion played out in the mainstream media in America." http://blog.washingtonpost.com/the-trail/2008/06/27/indian_americans_take_note_of.html
India monkey god idol for Obama
BBC – June 23, 2008
A group of Indians are planning to present a statue of the revered Indian monkey God, Hanuman, to Democratic presidential candidate Barack Obama.
The group decided to order the idol after they read a magazine report saying that Mr Obama carried a good luck 'monkey king' charm.
They say that a Barack Obama victory would be good for India.
Hindus revere monkeys which they believe are descendents of the monkey God Hanuman.
The two-foot tall, 15kg gold-polished, brass idol has been made as a present for Mr Obama because "he will be good for India if he becomes the next president," according to Brij Mohan Bhama, leader of the group.
Mr Bhama belongs to the ruling Congress party and also runs a textile mill in the western city of Mumbai.
'Monkey charm'
"We have heard that he carries a small monkey charm in his pocket. So he is a devotee of Hanuman. That's why we want to present him with this idol," he said.
Mr Bhama and his friends have also invited Carolyn Sauvage-Mar, chairwoman of the group, Democrats Abroad-India, to a meeting they are holding on Tuesday to pray for Mr Obama's success. http://news.bbc.co.uk/2/hi/south_asia/7468662.stm
While carrying idols is not acceptable for true Christians (please see What Did the Early Church Teach About Idols and Icons? ), I doubt that John McCain is any more of a real "Christian" than Barack Obama (although B. Obama's abortion position should be untenable, even for the world's "Christianity").
But apparently, many in India have been impressed by Barack Obama carrying a Hindu idol (more information on India can be found in the article India, Its Biblical Past and Future: Any Witness?).
If you have not already done so, you may wish to read a purported Kenyan prophecy about Barack Obama, in the news item Barack Obama, Prophecy, and the Destruction of the United States.