This morning I received a forwarded email from one I have known for a long time as follows:
Isabell Hoeh (1924-2007)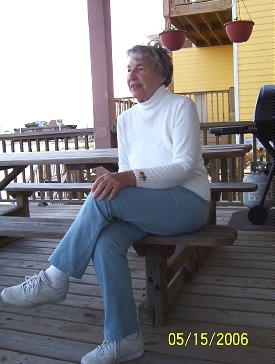 In remembrance of our Mother…
Isabell Flora (Kunkel) Hoeh
5-15-1924 to 11-21-2007
Mother is remembered for a skip in her step and a songbirg's "hello" for each of us. Our days began with the sound of Mom in the pre-dawn kitchen promising a sunlit day. This prepared us for each day and Mother then had time to enjoy her garden.
Her pioneer spirit of mid-west origin had opportunity to mingle with metropolitan and even global society. In this she was friendly and had a kind or at least a considered and tempered word for all she encountered.
Like a tree in a favorite sitting place, memory of her gives moment to contemplate the gravity of life's journey.
The family wishes to thank you for your thoughtful and heartwarming cards and letters which supported us and our Mother over the last few years. There will be a private service for family only. Donations in her memory can be made to your local food bank.
Sincerely,
Karline Ellis
    1441 West Lagoon Avenue
    Gulf Shores, AL 36542
Comments by COGwriter
Her late husband, Herman Hoeh, died in 2004.  He was one of the five originally ordained evangelists by Herbert W. Armstrong on December 20, 1952, but strangely did not leave WCG when it changed.  Only one of the five original evangelists is still alive (RC Meredith, who is with the Living Church of God).
On other matters WCG, the AW site shows a brochure featuring Joseph P. McNulty which states that he was "the exclusive financial advisor to the property owner, the Worldwide Church of God" and states that the old Ambassador Campus was sold in three parcels for an amount exceeding $125,000,000 (this money was basically used to fund the retirements for those who accepted the changes at WCG).