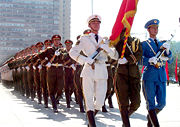 Chinese Soldiers
Russia and China have again publicly announced that they plan increased military cooperation:
Russia and China announce new era of military cooperation

The Times – April 29, 2009

Russia and China announced plans for an intensified programme of military cooperation yesterday as part of a burgeoning "strategic partnership".

As many as 25 joint manoeuvres will be staged this year in a demonstration of strengthening ties between Moscow and Beijing, Russia's Defence Minister, Anatoly Serdyukov, said at a meeting with his Chinese counterpart Liang Guanglie.

Mr Serdyukov gave no details of the planned exercises but said that Russia was "satisfied with the level of our military and military-technical cooperation" with China. The talks took place ahead of a meeting in Moscow today (wed) of defence ministers from the Shanghai Co-operation Organisation (SCO), seen as an emerging rival to Nato.

The Kremlin underscored the SCO's growing military role, saying that the meeting of defence ministers was one of its "most important activities". The SCO held its first military exercises in 2007, when Russia's then President, Vladimir Putin, praised the organisation's "growing defence potential".

Russia and China are founding members of the body along with the Central Asian states of Kazakhstan, Uzbekistan, Tajikistan and Kyrgyzstan. India, Pakistan, Mongolia and Iran have observer status at SCO meetings.

Russia and China staged their first joint war games in 2005 after resolving outstanding border disputes between them. However, Moscow views Beijing as a lucrative market for defence exports and has sold billions of dollars of weaponry to China since the collapse of the Soviet Union ended their Communist rivalry.

President Medvedev described the relationship the former Cold War foes as a "strategic partnership" when he met China's Foreign Minister Yang Jiechi at his country residence outside Moscow on Monday. Foreign Minister Sergei Lavrov said later that Russia and China shared "a common vision of the contemporary world".

Both states have a keen interest in keeping the United States and Europe out of Central Asia as competition intensifies for access to the region's enormous oil and gas reserves. Kyrgyzstan bowed to Russian pressure in February and ordered the closure of a US military base used to supply Nato operations in Afghanistan on the same day as it received pledges of $2.15 billion in aid and loans from the Kremlin.

Russia also announced yesterday that it would conduct at least five test launches of its new Bulava intercontinental ballistic missile before putting it into service at the end of this year…

The trials are part of a modernisation programme for Russia's armed forces… http://www.timesonline.co.uk/tol/news/world/europe/article6188506.ece
The Bible shows that after the Great Tribulation, those of the North and East (apparently references to Russia, China, India, and their future allies) will cause problems for and attack the European King of the North.
This announcement for increased cooperation among Russia, China, and certain allies is simply one step leading to that prophetic fulfillment.
Those interested in more details, should study the following:
Asia in Prophecy What is Ahead for China? Is it a "King of the East"? What will happen to nearly all the Chinese, Russians, Indians, and others of Asia? China in prophecy, where? Who has the 200,000,000 man army related to Armageddon?
Japan, Its Biblical Past and Future, Part 2: Prophecy Japan in prophecy. What is prophesied for Japan. Will God save the Japanese?
Russia: Its Origins and Prophesied Future Where do the Russians come from? What is prophesied for Russia? What will it do to the Europeans that supported the Beast in the end?