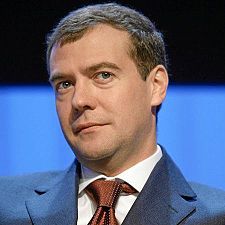 Dmitry Anatolyevich Medvedev

Russia announced that it is moving closer to North Korea :
Russia, N. Korea To Hold Joint Military Exercises

MOSCOW – Russia and North Korea will stage their first joint military exercises next year after agreeing to expand their ties during Kim Jong-Il's visit to Russia last month, a general said on Sept. 13…Kim held rare talks in Siberia with President Dmitry Medvedev that focused on trade and economic assistance. http://www.defensenews.com/story.php?i=7665419&c=ASI&s=TOP
Russia is trying to gain more cooperation throughout Asia (see also Russia Strengthening Ties to China and India, Russia Strengthening Ties to Pakistan, and Russia's Putin Still Working for Eurasian Union). The final time of the Gentiles is rapidly approaching (Luke 21:24).
I have long believed that it is likely that both Koreas will somewhat (at least partially) unify and be part of the Kings of the East (Revelation 16:12).  These kings also include Russia, China, and probably India.  Many Asians will be part of the two hundred million man army against the European power that the Bible says will happen (Revelation 9:13-20).
The recent military cooperation announcement between Russia and many others lately is supportive of that belief.
A combination of economic talks, military deals, aircraft carriers, population, and technology will come together enough to get the "kings of the east" (Revelation 16:12-16) and those from "the far north" (cf. Ezekiel 39:1-2) to cooperate to fulfill Daniel 11:44-45; Revelation 9:13-21.
More and more news events are aligning toward the fulfillment of Bible prophecy.
Some articles of possibly related interest may include:
Russia: Its Origins and Prophesied Future Where do the Russians come from? What is prophesied for Russia? What will it do to the Europeans that supported the Beast in the end?
Is Russia the King of the North? Some claim it is. But what does the Bible teach?
Korea in Prophecy, Any Witness? Where did the Korean people come from? Does God have a plan for the Koreans? Is Korea mentioned in any prophecies? Will Koreans be among the first in the Kingdom of God? 한국의 언어로 : 한국 예언, 모든 증인에?
Asia in Prophecy What is Ahead for Asia? Who are the "Kings of the East"? What will happen to nearly all the Chinese, Russians, Indians, and others of Asia? China in prophecy, where? Who has the 200,000,000 man army related to Armageddon?
Can the Great Tribulation Begin in 2011, 2012, or 2013? Can the Great Tribulation begin today? What happens before the Great Tribulation in the "beginning of sorrows"? What happens in the Great Tribulation and the Day of the Lord? Is this the time of the Gentiles? When is the earliest that the Great Tribulation can begin? What is the Day of the Lord? Who are the 144,000?