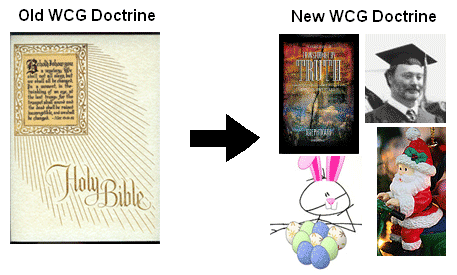 WCG's recent name change (reported here the day it happened on this page, see WCG Changes Name to GCI!) has been picked up by another religious news source:
Worldwide Church of God Changes Name to Signal Inner Change

Religion News Service reports that the Worldwide Church of God, which re-examined and later rebuked the teachings of founder Herbert W. Armstrong after his death in 1986, has changed its name to Grace Communion International. "We are a church that God radically transformed," said church president Joseph W. Tkach, who is a board member of the National Association of Evangelicals. "Our new name is consistent with the transformation and aptly describes what God has made of our fellowship." Armstrong denied the Christian belief in the Trinity and took Old Testament law to heart and encouraged works of righteousness to earn salvation. The church lost half its members, 95 percent of its 1,000-person staff, millions of magazine readers and its college in Pasadena, Calif., when it officially repudiated Armstrong's teachings and "prophetic speculation" in the mid 1990s. http://www.crosswalk.com/news/religiontoday/11602619/
Of course, while we in LCG believe in the Father, Son, and Holy Spirit, we would not agree that the Greco-Roman Trinity that WCG, now GCI, adopted is a proper "Christian" doctrine.  We also strongly deny that the old WCG taught that any can earn salvation through our own works of righteousness.  It is only by grace that one is saved, through faith.
We in the Living Church of God truly believe the following:
8 For by grace you have been saved through faith, and that not of yourselves; it is the gift of God, 9 not of works, lest anyone should boast. 10 For we are His workmanship, created in Christ Jesus for good works, which God prepared beforehand that we should walk in them (Ephesians 2:8-10).
The reader who sent me the link to this news item wrote:
the interesting thing to me is the quote "The church lost half its members, and 95 percent of its 1,000-person staff"  and the people who report on that write as though it is a good thing? Of course they never mention where the lost souls went to?
And of course, that is also a good point.
Some articles of possibly related interest may include:
Binitarian View: One God, Two Beings Before the Beginning Is binitarianism the correct position? What about unitarianism or trinitarianism?  Is there a threeness in the Godhead?
Did Early Christians Think the Holy Spirit Was A Separate Person in a Trinity? Or did they have a different view?
Did the True Church Ever Teach the Modern Trinity? Most act like this is so, but is it?  Did they have a different viewthan the one adopted by Theodosius' Council?
Was Unitarianism the Teaching of the Bible or Early Church? Many, including Jehovah's Witnesses, claim it was, but was it?
Are You Saved? Do You Love Jesus? What is a True Christian? What is the Gospel? Evangelist Richard Ames answers those important questions.