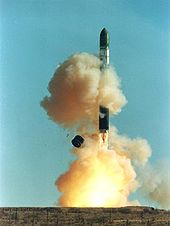 (Photo by ISC Kosmotras)
North Korea apparently wants the world to guess about its next nuclear test:
UNITED NATIONS — North Korea said on Friday that the world would have to "wait and see" when asked for details of "a new form" of nuclear test it threatened to carry out after the United Nations Security Council condemned Pyongyang's recent ballistic missile launch.

North Korea (DPRK) fired two medium-range Rodong ballistic missiles into the sea on March 26. Its first firing in four years of mid-range missiles that can hit Japan followed a series of short-range rocket launches over the past two months.

Members of the Security Council on March 27 condemned the move as a violation of U.N. resolutions and that it would continue discussions on an "appropriate response."

Pyongyang reacted on Sunday with a threat to conduct what it called "a new form of nuclear test."

"The DPRK made it very clear, we will carry out a new form of nuclear test. But I recommend you to wait and see what it is," North Korea's Deputy U.N. Ambassador Ri Tong Il said on Friday during the normally reclusive state's third U.N. news conference this year.

Ballistic missile launches are banned under U.N. Security Council resolutions adopted in response to North Korea's multiple nuclear tests and rocket firings. The council expanded its existing sanctions after Pyongyang's February 2013 atomic test, its third nuclear detonation since 2006.  http://www.voanews.com/content/reu-north-korea-wait-and-see-on-new-nuclear-test/1886696.html
North Korean politicians have often been playing a dangerous game with their country and their people, and hopefully they will realize that a military conflict is not in their interests.
North Korea is one of relatively few small nations to have nuclear weapons and often brags about them and their potential use.
Additionally, like the Iranians who seemingly want nuclear weapons, those in North Korea are believed to be capable of perhaps detonating an EMP (electro-magnetic pulse) type bomb. Such a bomb could cause massive damage to countries like the USA. But, if they were to do that, the USA could still takeover North Korea.
While North Korea is not prophesied to take over the USA (Europe is per Daniel 11:39, etc.), as I wrote in the past, it certainly is possible that it may decided to actually launch one or more missiles at the USA in the future (or take other "terroristic actions; cf. Leviticus 26:26).
If North Korea does take certain steps to sufficiently aggravate the USA into a full military conflict, it needs to realize that it likely will no longer exist as it is. At some point in time, however, I believe that both Koreas will be reunited based upon certain verses in Revelation, yet whether this will be because of a war involving the USA or something else, that is not clear.
The Koreans are Asians and occupy the "land of the sunrise" (Revelation 16:2) and I believe that they are part of the kings of the east that the Book of Revelation discusses having a role in the end time (Revelation 9:16). For years I have written that I expect that they will reunify. The unification of North and South Korea is consistent with biblical prophecy. But North Korea may take unusual actions before then, and it may regret doing so.
Whether this reunification will be because of a war involving the USA, South Korea, or something else (such as waiting until Revelation 9:16; & 16:2), is not clear. But the situation in Korea will change.
As Jesus said, "37 And what I say to you, I say to all: Watch!" (Mark 13:37)
Some items of possibly related interest would include the following:
Korea in Prophecy, Any Witness? Does God have a plan for the Koreans? Is Korea mentioned in any prophecies? Will Koreans be among the first in the Kingdom of God? 한국의 언어로 : 한국 예언, 모든 증인에?
Asia in Prophecy What is Ahead for Asia? Who are the "Kings of the East"? What will happen to nearly all the Chinese, Russians, Indians, Koreans, and others of Asia? China in prophecy, where? Who has the 200,000,000 man army related to Armageddon?
When Will the Great Tribulation Begin? 2014, 2015, or 2016? Can the Great Tribulation begin today? What happens before the Great Tribulation in the "beginning of sorrows"? What happens in the Great Tribulation and the Day of the Lord? Is this the time of the Gentiles? When is the earliest that the Great Tribulation can begin? What is the Day of the Lord? Who are the 144,000? Here is a version of the article in the Spanish language: ¿Puede comenzar la Gran Tribulación en 2013 o 2014? ¿Es el Tiempo de los Gentiles? You can also see the English language sermon video: The Great Tribulation from the Mount of Olives.
Blood Moons and Prophecy There are four 'blood moons' expected in 2014 and 2015. Do they signal the Day of the Lord or the return of Jesus Christ? A related YouTube video is also available: Blood Moons, Prophecy, 2014, and 2015.