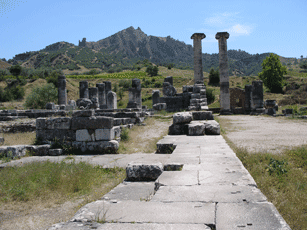 Ruins of Ancient Sardis (Photo by Joyce Thiel)

The Continuing Church of God is pleased to announce its latest suggested sermon: Melito's Homily on the Passover,  which is at its ContinuingCOG channel.
1:24:49
Who was Melito of Sardis? What did he stand for and teach? What was the message he gave for Christians related to the Passover? When did he observe the Passover? How did he tie Jesus Christ and His sacrifice to the Passover in Exodus 12? This sermon not only provides those answers, but it is basically a 21st century rendition of a 2nd century Passover related sermon.
Passover will be after sunset Sunday, April 13, 2014 (here is a link to a Holy Day Calendar).
Here is a link to the sermon: Melito's Homily on the Passover.
Some items of possibly related interest may include:
Melito of Sardis Who was this 2nd Century Church Leader? What Old Testament did he list? What did he teach that most who call themselves Christian later change?
Melito's Homily on the Passover This is one of the earliest Christian writings about the Passover. This also includes what Apollinaris wrote on the Passover as well. Here is a related sermon, also titled Melito's Homily on the Passover.
The Old Testament Canon This article shows from Catholic accepted writings, that the Old Testament used by non-Roman Catholics and non-Orthodox churches is the correct version.
Is There "An Annual Worship Calendar" In the Bible? This paper provides a biblical and historical critique of several articles, including one by the Tkach WCG which states that this should be a local decision. What do the Holy Days mean? Also you can click here for the calendar of Holy Days. (Here is a related link in Spanish/español: Calendario Anual de Adoración –Una crítica basada en la Biblia y en la Historia: ¿Hay un Calendario Anual de Adoración en la Biblia?
What are Postponements? This is by the late evangelist Raymond McNair and explains a lot about postponements and calculations.
Hebrew Calendar and "Postponements" This late evangelist John Ogywn writing explains why the most faithful in the Church of God use the calendar that we do and answers such questions as "Did Jesus Observe the Postponements?"
How often should we partake of THE LORD'S SUPPER? Herbert Armstrong answers that question.
Keeping Passover and the Days of Unleavened Bread How should Christians keep Passover, especially if they are by themselves. Why does the Church of God not require lambs for Passover? How does one keep the Days of Unleavened Bread? For a step-by-step video for Christians to keep it, check out CCOG Passover Service.
Preparing for Passover The Apostle Paul taught that Christians should examine themselves prior to taking Passover. This YouTube video sermon gives suggestions on how to prepare.
Passover and the Early Church Did the early Christians observe Passover? What did Jesus and Paul teach? Why did Jesus die for our sins? There is also a detailed YouTube video available titled History of the Christian Passover.
TPM: Passover on the 14th or 15th? While the real COG observes Passover on the 14th, some observe it on the 15th. Why is the 14th correct?
The Night to Be Observed What is the night to be much observed? When is it? Why do Jews keep Passover twice and emphasize the wrong date? Here is a link to a YouTube video titled The Night to Be Observed.
Should Christians Keep the Days of Unleavened Bread? Do they have any use or meaning now? What is leaven? This article supplies some biblical answers. Here is a YouTube video intended to be viewed for the first day of unleavened bread: Christians and the Days of Unleavened Bread.
UCG and Its Unleavened Bread Study Paper What does the Bible say about eating unleavened bread for seven days? What has UCG officially said about it?
Holy Day Calendar This is a listing of the biblical holy days through 2024, with their Roman calendar dates. They are really hard to observe if you do not know when they occur 🙂 In the Spanish/Español/Castellano language: Calendario de los Días Santos. In Mandarin Chinese: 何日是神的圣日? 这里是一份神的圣日日历从2013年至2024年。.
ContinuingCOG channel. Dr. Thiel has produced YouTube video sermons for this channel. Note: Since these are sermon-length, they can take a little longer to load than other YouTube videos.