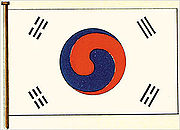 Flag of Korea, 1889
South Korea's President announced that his nation will stop trading with North Korea:
S. Korean President Halts Trade with North

23 May 2010 Kurt Achin

South Korea's president has held a nationwide address to announce stern measures against North Korea. South Korea and the United States say Pyongyang is responsible for sinking a South Korean navy ship.

President Lee Myung-bak on Monday said North Korean must pay for sinking one of South Korea's navy ships.

Mr. Lee says inter-Korean exchanges and trade are being halted…

Forty-six South Korean sailors died in March when an explosion ripped their patrol ship in half. A multinational team concluded a North Korean submarine fired a torpedo at it, a finding Pyongyang calls a "fabrication."  http://www1.voanews.com/english/news/asia/South-Korean-President-North-Korea-Will-Pay-the-Price-for-Sinking-Southern-Ship-94710899.html
Based upon my understanding of end time prophecies, things should change in the Korean peninsula.
Despite threats from North Korea (see North Korea Indicates War is Possible), South Korea felt that it could not stand by and accept the sinking of one of its ships without doing something.  Based upon the location of the Korean peninsula, I have tended to feel that it was part of the territory for the end time "kings of the sunrise" of Bible prophecy.  And as such, likely to ultimately develop closer ties than now exist there.  While the short-term ramifications of South Korea's decision will bring the sides further apart, in the longer-term, it may result in changes in the North.
Ultimately, despite North Korea's limited nuclear capabilities, I suspect that the two Koreas will likely reunite.  Hopefully, it will not take another war for this to happen.
Two articles of possibly related interest would include the following:
Korea in Prophecy, Any Witness? Does God have a plan for the Koreans? Is Korea mentioned in any prophecies? Will Koreans be among the first in the Kingdom of God? 한국의 언어로 : 한국 예언, 모든 증인에?
Asia in Prophecy What is Ahead for Asia? Who are the "Kings of the East"? What will happen to nearly all the Chinese, Russians, Indians, Koreans, and others of Asia? China in prophecy, where? Who has the 200,000,000 man army related to Armageddon?