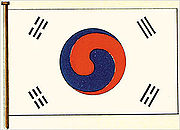 Flag of Korea, 1889
North Korea, blaming USA policy and practices, suggested that it would have some physical response to what is happening.  Now it is hinting that this may involve nuclear deterrence:
N.Korea threatens 'powerful nuclear deterrence'

Sydney Morning Herald – July 24, 2010

(AFP) – North Korea on Saturday threatened a "powerful nuclear deterrence" in response to joint US-South Korean naval exercises starting this weekend, Pyongyang's state media said.

North Korea was prepared for a "retaliatory sacred war", the North's National Defence Commission (NDC) said in a statement, carried by the official Korean Central News Agency (KCNA).

The United States and South Korea have announced joint naval exercises, beginning on Sunday, in what they have described as a bid to deter North Korea's "aggressive" behaviour. http://news.smh.com.au/breaking-news-world/nkorea-threatens-powerful-nuclear-deterrence-20100724-10pbw.html
North Koreans would be so much better off if their government would change its focus from confrontation to cooperation.  People in North Korea are hungry and need our prayers.
The North Korean politicians are playing a dangerous game, and one that they are very likely to lose.  Biblical prophecy seems to suggest cooperation in Korea in the final time just prior to the return of Jesus Christ.  North Korea's latest statements may inadvertently help fulfill that prophetic understanding.  Hopefully, the Red Horseman of war (Revelation 6:3-4) will not have to visit them first–but something like this may happen later this year.
(I have prepared an article on the Red Horseman that I expect to post on September 18, 2010.)
Two articles of possibly related interest would include the following:
Korea in Prophecy, Any Witness? Does God have a plan for the Koreans? Is Korea mentioned in any prophecies? Will Koreans be among the first in the Kingdom of God? 한국의 언어로 : 한국 예언, 모든 증인에?
Asia in Prophecy What is Ahead for Asia? Who are the "Kings of the East"? What will happen to nearly all the Chinese, Russians, Indians, Koreans, and others of Asia? China in prophecy, where? Who has the 200,000,000 man army related to Armageddon?