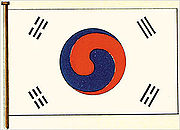 Flag of Korea, 1889
North Korea has decided to engage in some sabre rattling:
January 24, 2013

SEOUL — North Korea is amplifying its rhetoric about carrying out more rocket launches and a third nuclear test.

North Korea's National Defense Commission says the reclusive state will conduct an "all-out confrontation battle" that will include further satellite and long-range launches, as well as what it calls a nuclear test of a "higher level." It says these actions will be aimed at its sworn enemy, the United States.

Some experts speculate the reference to an enhanced nuclear test likely will be an attempt to detonate a uranium bomb, compared to the plutonium devices North Korea tested in 2006 and 2009.

The statement, carried by the state's official news agency and broadcast on radio Thursday, totally rejects Tuesday's U.N. Security Council condemnation of North Korea, calling it an illegal resolution concocted by the United States.

An announcer, reading the defense commission statement, says "settling accounts with the United States needs to be done with force, not with words as the U.S. regards jungle law as the rule for survival."

The Security Council imposed additional sanctions on Pyongyang for its December 12 long-range rocket launch.

The resolution came after weeks of behind-the-scenes negotiations on wording between the United States and China, which is North Korea's sole remaining significant ally.

South Korea Foreign Ministry spokesman Cho Tai-young says the latest statement from Pyongyang is deeply regrettable.  http://www.voanews.com/content/north-korea-vows-nuclear-test-aimed-at-us/1589931.html
The North Korean politicians have often been playing a dangerous game with their country and their people.
While North Korea is not prophesied to take over the USA (Europe is per Daniel 11:39, etc.), it certainly is possible that it may decided to actually launch one or more missiles at the USA in the future.
Yet some time from now, biblical prophecy seems to suggest cooperation by North Korea with likely South Korea and others in Asia in the final time just prior to the return of Jesus Christ (Revelation 16:12).
The Koreans are Asians and occupy the "land of the sunrise" (Revelation 16:2) and I believe that they are part of the kings of the east that the Book of Revelation discusses having a role in the end time (Revelation 9:16).  But North Korea may take unusual actions before then, and it may regret doing so.
Two articles of possibly related interest would include the following:
Korea in Prophecy, Any Witness? Does God have a plan for the Koreans? Is Korea mentioned in any prophecies? Will Koreans be among the first in the Kingdom of God? 한국의 언어로 : 한국 예언, 모든 증인에?
Asia in Prophecy What is Ahead for Asia? Who are the "Kings of the East"? What will happen to nearly all the Chinese, Russians, Indians, Koreans, and others of Asia? China in prophecy, where? Who has the 200,000,000 man army related to Armageddon?