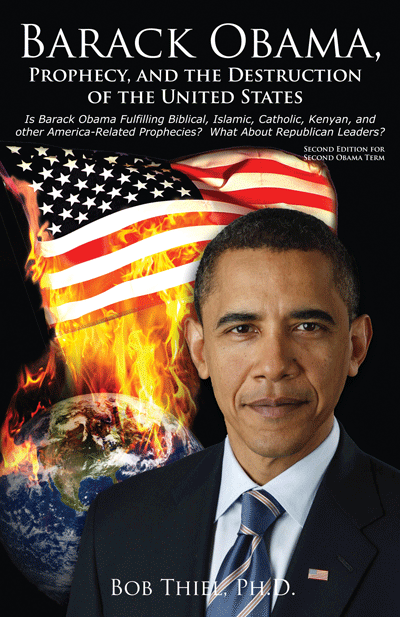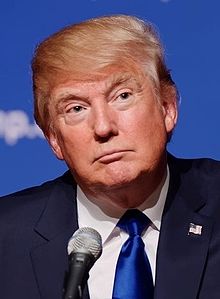 Barack Obama and Donald Trump

Barack Obama spoke against the possibility of a Donald Trump presidency, and Donald Trump responded.
February 17, 2016

After President Obama made a prediction Tuesday that "Mr. Trump will not be president," the billionaire businessman bit back with his own challenge to Mr. Obama's qualifications for the executive office.

"He has done such a lousy job as president," Trump said on stage at a Beaufort, South Carolina rally Tuesday. "You look at our budgets. You look at our spending. We can't beat ISIS. Obamacare is terrible. We're going to terminate it. We're going to absolutely terminate and replace it. I mean you look at everything. Our borders are like Swiss cheese."

Aiming squarely at the president's 2012 election record, Trump had this message for Mr. Obama: "You're lucky I didn't run last time when Romney ran because you would have been a one-term president." …

"I continue to believe Mr. Trump will not be president," Mr. Obama said at a press conference during a summit with Southeast Asian leaders in California. "And the reason is that I have a lot of faith in the American people. Being president is a serious job. It's not hosting a talk show, or a reality show."

He added that "the American people are pretty sensible, and I think they'll make a sensible choice in the end." http://www.cbsnews.com/news/donald-trump-obama-is-lucky-i-didnt-run-against-him-in-2012/
This has been the most openly bizarre presidential nomination season I have ever witnessed for the USA.
For decades, many have claimed that established powers have manipulated elections to get one of two people elected. How successful that may or may not have been in the past is certainly debatable.
But what is not debatable this time, is that powers in both the Democratic and Republican parties have attempted to manipulate the primary elections.
On the Democratic side, somehow Hillary Clinton won the Iowa caucuses based on a few coin tosses. Odd. Then, it was revealed that funding rules were changed to allow Hillary Clinton to get more money than before. Money that would not tend to be as likely to go to her opponent Bernie Sanders.
On the Republican side, we saw the audience for the last debate in South Carolina, clearly stacked against Donald Trump. They were obviously somehow encouraged to 'boo' frequently, in order to give the impression that Donald Trump was not the most popular Republican candidate for the office of the US president. Donald Trump and Rush Limbaugh (according to something I read) bashed the Republican establishment for this.
By commenting about attempted manipulations by Democrats and Republicans does NOT mean that I am a fan of either Bernie Sanders or Donald Trump–as I am not. For a few of my comments about them, check out my post after last week's New Hampshire primary titled Sanders and Trump win, 'Establishment takes a beating.'
That being said, many people in the USA are frustrated with the status quo and being manipulated.
But that is normal for democracy in the USA.
Notice a comment from a secular source that generally supports democracy:
All political campaigns lie and mislead. We all know that, and that knowledge is "baked into the cake," so to speak, when it comes to assessing candidates. (Bookman J. GM on Romney: 'Campaign politics at its cynical worst.' Atlanta Journal Constitution, October 31, 2012. http://blogs.ajc.com/jay-bookman-blog/2012/10/31/gm-on-romney-campaign-politics-at-its-cynical-worst/)
No candidate should lie or mislead. But most seem to think that they cannot be fully honest about what they intend to do in order to not offend some and to get more votes.
Now, getting to some of Barack Obama's comments, which were all over the news yesterday, think about this.  Barack Obama must surely realize that Donald Trump's supporters are opposed to his presidency.
So, by Barack Obama speaking out against the possibility of a Donald Trump presidency, would that not tend to galvanize Donald Trump's supporters to persuade others to vote for Donald Trump?
Is it not possible that Barack Obama made his comments, realizing that this would get more Republicans to support Donald Trump?
Stranger things have happened.
If this is what Barack Obama is doing, then he likely believes that Hillary Clinton or Bernie Sanders would have a better chance beating Donald Trump in the general election this coming November.  Thus, we might have witnessed still another attempt to manipulate this election.
As far as Donald Trump's support goes, Voice of America reported the following about a new poll that came out today:
Trump Widens Lead in Quinnipiac Poll

February 17, 2016

A new poll released Wednesday says businessman Donald Trump has expanded his lead nationally over other competitors for the Republican nomination for president.

The Quinnipiac University poll showed Trump with 39 percent support, followed by 19 percent for Florida Senator Marco Rubio and 18 percent for Texas Senator Ted Cruz.

The last Quinnipiac poll came out February 5 and had Trump leading with 31 percent. Since then, he easily won last week's New Hampshire primary and two Republicans dropped out of the race.

On the Democratic side, the poll remained unchanged with former Secretary of State Hillary Clinton in a virtual tie with Vermont Senator Bernie Sanders, who also scored a sizeable victory in New Hampshire.

The poll was conducted February 10-15 and involved a survey of 1,342 registered voters across the country. http://www.voanews.com/content/trump-widens-lead-in-quinnipiac-poll/3194447.html
The above poll does not reflect Barack Obama's latest comments, but would have been affected by the debate that was in South Carolina the evening of the 13th. The 'setup' in South Carolina does not seem to have hurt Donald Trump.
Donald Trump may very well win the Republican nomination, presuming he is not killed or the Republican establishment cannot figure out a way to stop him. We will also see if the Democratic establishment can stop or slow down Bernie Sanders.
The USA needs national repentance and the Kingdom of God. This year's voting will not solve the problems facing the USA.
Some items of possibly related interest may include:
Should a Christian Vote? This article gives some of the Biblical rationale on this subject. Would Jesus vote for president/prime minister? Is voting in the Bible? This is a subject Christians need to understand. A video of related interest is available titled: Should Christians Vote?
Does God Have a 6,000 Year Plan? What Year Does the 6,000 Years End? Was a 6000 year time allowed for humans to rule followed by a literal thousand year reign of Christ on Earth taught by the early Christians? Does God have 7,000 year plan? What year may the six thousand years of human rule end? When will Jesus return? 2023 or 20xx? There is also a video titled The 6000 Year Plan: Is the end of humanity's reign almost up? Here is a link to the article in Spanish: ¿Tiene Dios un plan de 6,000 años?
When Will the Great Tribulation Begin? 2016, 2017, or 2018? Can the Great Tribulation begin today? What happens before the Great Tribulation in the "beginning of sorrows"? What happens in the Great Tribulation and the Day of the Lord? Is this the time of the Gentiles? When is the earliest that the Great Tribulation can begin? What is the Day of the Lord? Who are the 144,000? Here is a version of the article in the Spanish language: ¿Puede comenzar la Gran Tribulación en 2016 o 2017? ¿Es el Tiempo de los Gentiles? You can also see the English language sermon video: The Great Tribulation from the Mount of Olives. A shorter video is: Can the Great Tribulation Start in 2016?
Just What Do You Mean — Repentance? Do you know what repentance is? Have you truly repented? Repented of what? Herbert W. Armstrong wrote this as a booklet on this important subject.
When You Sin: Do You Really Repent? This is an article by Charles F. Hunting. A related sermon is Confess to God and truly repent.
WTO/TTIP and the Babylonian Beast Will international trade agreements like WTO/TTIP/CETA lead to the fulfillment of end time prophecies concerning the Babylonian Beast power that the Book of Revelation warns against? What does the Bible teach? A related video would be WTO Trade Deal and the Rise of the European Beast Power.
Hillary Clinton in Prophecy Prophecy, Hillary Clinton? Are there prophecies that Hillary Clinton may fulfill? Are there any prophecies that she has already helped fulfill? Could Hillary Clinton be apocalyptic? Could Hillary Clinton be the final Antichrist? A video of related interest is titled Hillary Clinton and Bible Prophecy.
The Gospel of the Kingdom of God was the Emphasis of Jesus and the Early Church Did you know that? Do you even know what the gospel of the kingdom is all about? You can also see a YouTube video sermon The Gospel of the Kingdom.
Women and the New Testament Church What roles did women play in the ministry of Jesus and the apostles? Did Jesus and the Apostle Paul violate Jewish traditions regarding their dealings with women? Do women have any biblical limitations on their role in the Church? Were there female prophets? Do women have any special responsibilities in terms of how they dress? What does the New Testament really teach about women? Here is a related sermon titled: New Testament Women.
Anglo – America in Prophecy & the Lost Tribes of Israel Are the Americans, Canadians, English, Scottish, Welsh, Australians, Anglo-Saxon (non-Dutch) Southern Africans, and New Zealanders descendants of Joseph? Where are the lost ten-tribes of Israel? Who are the lost tribes of Israel? What will happen to Jerusalem and the Jews in Israel? Will God punish the U.S.A., Canada, United Kingdom, and other Anglo-Saxon nations? Why might God allow them to be punished first? Here is a link to the Spanish version of this article: Anglo-América & las Tribus Perdidas de Israel. Information is also in the YouTube sermons titled Where are the Ten Lost Tribes? Why does it matter? and British are the Covenant People. A short YouTube of prophetic interest may be Barack Obama and the State of the Apocalypse.
Will the Anglo-Saxon Nations be Divided and Have People Taken as Slaves? Will the lands of the United States, United Kingdom, Canada, Australia, and New Zealand be divided? What about Jerusalem? What does Bible prophecy teach? Are there non-biblical prophecies that support this idea? Who will divide those lands? Who will end up with the lands and the people? Here is a link to a video titled Will the USA and other Anglo-nations be Divided and Their People Made Slaves? Here is a related item in the Spanish language ¿Serán divididas las naciones anglosajonas?
Hillary Clinton, Prophecy, and the Destruction of the United States This is a 188 page book for people truly interested in prophecies related to Hillary Clinton and the United States, including learning about many that have already been fulfilled and those that will be fulfilled in the future. It also discusses Republicans. The physical book can be purchased at Amazon from the following link: Hillary Clinton, Prophecy, and the Destruction of the United States: Is Hillary Clinton Fulfilling Biblical, Islamic Catholic, Hopi, and other America-Related Prophecies? $11.99.
Hillary Clinton, Prophecy, and the Destruction of the United States-Amazon Kindle edition. This electronic version of the 188 page print edition is available for only US$3.99. And you do not need an actual Kindle device to read it. Why? Amazon will allow you to download it to almost any device: Please click HERE to download one of Amazon s Free Reader Apps. After you go to for your free Kindle reader and then go to Hillary Clinton, Prophecy, and the Destruction of the United States-Amazon Kindle edition.