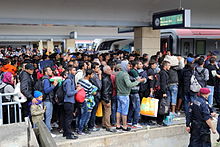 Islamic Migrants Heading to Germany (photo by Bwag)

More and more within Europe are starting to question if Europe can take more Islamic refugees:
September 13, 2015

German police say some 12,200 refugees seeking asylum in the European Union flooded into the southern German city of Munich Saturday, and authorities fear many of them will be spending their nights outdoors because they have nowhere else to go.

Authorities said Sunday that the flow of migrants entering the city has not abated. Munich is a major point of entry to Germany from the east.

On Saturday, rallies over the escalating refugee crisis engulfed major European cities. …

Five hundred thousand migrants and refugees have been seeking asylum in European Union countries this year. …

In Stockholm, Sweden, around 1,000 people gathered in a show of support for a more generous government policy of welcoming refugees.

Others opposed

But about 5,000 people joined a protest against migrants Saturday in Warsaw where the government has opposed fixed refugee quotas proposed by the European Union.Many of them chanted anti-Islamic slogans, while a much smaller number of about 1,000 people rallied in favor of welcoming migrants into Poland. …

Hungary's Prime Minister Viktor Orban has called for a massive European aid package for Syria's neighbors to help curb the flow of migrants into the European Union.

Orban spoke Friday with Germany's Bild newspaper, defending his reluctance to admit more migrants into the EU through Hungary, which has been overwhelmed with refugees hoping to travel farther west.

The Hungarian leader said Syrian refugees already had a safe place to stay in the refugee camps surrounding Syria, and maintained that those coming to Europe were not in fact seeking safety but instead just a better living standard.  …

On Friday at a meeting in Prague, the foreign ministers of Hungary, the Czech Republic, Poland and Slovakia refused entreaties by their counterparts from wealthier Germany and Luxembourg to accept the mandatory quotas, despite its endorsement by the United Nations. …

Denmark declines plan

Denmark also announced Friday that it will not absorb any of 160,000 asylum seekers. "We have taken our share," Integration Minister Inger Stojberg said.

More than 3,000 migrants arrived in Denmark this week, though most had indicated they were en route to friendlier Sweden.  http://www.voanews.com/content/munich-12200-refugees-arrived-saturday/2961794.html

September 13, 2015

The huge influx of migrants into southern Germany has continued unabated, with the Munich authorities now saying 13,000 arrived on Saturday.

But the city authorities have again warned they are at "the limit" when it comes to coping with the numbers.

"We have reached the upper limit of our capacity," a police spokesman said, as frantic efforts were under way to accommodate the new arrivals.

Record numbers have also been crossing from Serbia into Hungary.

More than 4,000 people walked across the border with Serbia – the most so far in one day – just as the authorities in Hungary were completing preparations to seal the frontier. …

Germany's Chancellor Angela Merkel has defended the decision to let in large numbers of refugees, saying she was "convinced it was right".  http://www.bbc.com/news/world-europe-34236878

September 12, 2015

1 million rally for secession in Barcelona

Refugee crisis now threat to break up European Union

Europe finds itself in crisis as hundreds of thousands of refugees largely from Syria make their way by land and sea to Western sanctuary, especially in countries like Britain and Germany, which have some of the most generous social welfare benefits in Europe. …

Contrary to popular perception, most Syrian migrants flooding Europe are Muslim men, and not women and children. The most recent breakdown places the men at 72 percent with women coming on at only at 15 percent and children comprising
13 percent. …

The European Union Friday delayed until next month a decision on refugee numbers that each country is expected to take in. Germany is said to be willing to take in the most refugees, with Spain and Britain among the other nations expected to receive higher quotas. …

At least 1,000 more rallied in Stockholm. "Sweden can do much more, not only because it has the capacity to do so, but also because it, along with the European Union, bears some responsibility for the conflict in Syria," the BBC quoted one demonstrator as saying.

In counter-demonstrations, thousands rallied against the resettlement of refugees in the eastern European countries of the Czech Republic, Poland and Slovakia, highlighting a major east-west divide, with anti-immigrant sentiment rocking the former Communist countries of Central and Eastern Europe.

But it's not only the former Soviet satellites that expressed disappointment with the European Union.

In what has been described by much of the news media as a "shock poll," a survey by the Mail on Sunday last week found a staggering 43 percent of Brits would vote to leave the European Union if a referendum, due by the end of 2017, were held this month. http://www.wnd.com/2015/09/1-million-rally-to-secession-in-barcelona/#2Qu4VyeW3fFZWgz7.99
Notice that many countries in Europe are opposed to taking more Islamic refugees.
Notice something from a Dutch leader:
September 10, 2015

Dutch far-right leader Geert Wilders called the wave of refugees pushing into Europe an "Islamic invasion", during a parliamentary debate on Thursday that exposed deep divisions over how the Netherlands should respond to the crisis.

In a debate a day after European Commission chief Jean-Claude Juncker appealed to EU members to share out refugees arriving on the bloc's fringes, Prime Minister Mark Rutte said the EU should help them in camps closer to their country of origin, rather than in Europe.

Angela Merkel, leader of Germany which is taking in far more refugees than any other EU country, wants the rest of the EU to accept quotas of asylum seekers. The conservative Dutch government says it is only willing to take in more if all EU states agree.

Wilders, who is outside the government but whose party is the most popular in opinion polls, called the wave of refugees arriving on the EU's Mediterranean shores and traveling north "an Islamic invasion".

"Masses of young men in their twenties with beards singing Allahu Akbar across Europe. It's an invasion that threatens our prosperity, our security, our culture and identity," he said.  …

Roughly 54 percent of Dutch voters are opposed to letting into the country more than the roughly 2,000 refugees previously agreed, a poll showed last week. Under the latest proposals that figure is seen rising to more than 9,000.  http://www.reuters.com/article/2015/09/10/us-europe-migrants-netherlands-idUSKCN0RA0WY20150910
Here is something from a British leader who wants the UK out of the European Union:
September 12, 2015

Nigel…Farage said: "As far as the refugee crisis is concerned, we need to define who a refugee is and isn't.

"It's perfectly clear to me the vast majority of people coming across the Med are economic migrants and not refugees.

"When ISIS say they will use this route to flood Europe with their own Jihadists, when they say it, they probably mean it.  http://www.chichester.co.uk/news/local/goodwood-revival-interview-nigel-farage-on-jeremy-corbyn-refugees-and-the-vulcan-bomber-1-6954699
As far Germany goes, Chancellor Merkel stated that the migrants would have to be integrated into German society and not be separated. Since many of the migrants are Muslim, that may not work out well. The time will come when Islam will not be tolerated in Europe (cf. Revelation 13). It may well be that issues with immigrants will be a factor in a coming reorganization of Europe and the rise of the final Beast (Revelation 17:12-13).
While many refugees truly need help, some people are not grateful for the help they get, and some people become hostile to nations that take them in.
Bringing in people from areas filled with terrorists could be a factor in fulfilling prophecies related to terrorism in the Bible (e.g. Leviticus 26:14-17; Deuteronomy 32:25; Ezekiel 21:12; Psalms 73:12,19; Proverbs 1:25-27; Ecclesiastes 12:5).
Will the refugee problem break apart Europe?
Well, it is likely to be a factor that will result in the UK splitting from the continental Europeans.
But what about the continental Europeans, will they split up or unite closer?
Well, although the Bible states that they will have unification problems (Daniel 2:41-43), it also shows that they will reorganize and put in a dictator, the Beast of Revelation (Revelation 17:12-13; see also Must the Ten Kings of Revelation 17:12 Rule over Ten Currently Existing Nations?).  A Europe will arise with a powerful militaristic leader (Revelation 13:4; see also Europa, the Beast, and Revelation) who will enter with peaceful sounding words (Daniel 8:25; 9:27; 11:21-24; see also The 'Peace Deal' of Daniel 9:27), yet he will be the prophesied King of the North.
As far as the Muslims in Europe go, notice some items I posted about this back in 2009, 2010, 2011, and 2012:
The reality is that the Muslims will force Europe to wake-up and re-establish themselves.  Historically, when Europe has been strongly opposed to Islam it has had greater ties to the Vatican.

This is what will occur.  The Bible shows that a European military leader will line up with a religious leader from the city of seven hills (Rome) and ultimately defeat the forces of Islam. (Thiel B. Muslims: European Wake-Up Call. COGwriter, August 9, 2009)

The reality is that the Muslims will be a major factor to get Europe to wake-up and re-establish itself.  Historically, when Europe has been strongly opposed to Islam it has had greater ties to the Vatican.

This is what will occur.  The Bible shows that a European military leader will line up with a religious leader from the city of seven hills (Rome) and ultimately defeat the forces of Islam. (Thiel B. Anti-Islamic PVV Gaining in the Netherlands. COGwriter, March 4, 2010)

A divide between Islam and the nominally-Christian Europe is going to become more and more real.  Though there will be apparent cooperation (cf. Psalm 83; Daniel 11:27), the two will turn against each other (Daniel 11:40-43). (Thiel B. France Begins Burqa Ban. COGwriter, April 11, 2011)

Yet, there are changes happening in Europe.  And according to the Bible, more economic (Revelation 13: 14-17)  and political ones must come to pass (Revelation 17:12-13).  A currency change from the Euro  is a possible, but not biblically-required, change.

As far as the anti-Islamists go, the Bible shows that a European military leader will line up with a religious leader from the city of seven hills (Revelation 17) and ultimately defeat the forces of Islam (Daniel 11:40-43), despite having earlier made one of more deals with the Islamists (cf. Psalm 83:3-8; Daniel 9:27; Daniel 11:27).

Irrespective of one or more temporary political deals with those of the Islamic faith, the anti-Islamic sentiment that Geert Wilders and others have tapped into in Europe is real.  And according to the Bible, it will be resolved in ways differently  than Geert Wilders and others like him publicly state (Daniel 11:40-42). (Thiel B. Political Turmoil in the Netherlands. COGwriter, April 23, 2012)
The above items were posted based upon my knowledge and understanding of biblical prophecy.
But I thought some readers might find some non-biblical prophecy of interest.  Notice what various Catholics have predicted:
Notice the following:
Old English Prophecy: In Germany begins a dance,  Which passes through Italy, Spain, and France, But England shall pay the piper. (Dupont, Catholic Prophecy, pp. 21-22)

Birch Tree Prophecy (Old German) "When the world becomes Godless: revolutions will break out against kings; fathers will be against sons and sons against fathers; dogma will be perverted; men will try to overthrow the Catholic Church…A terrible war will find the north fighting against the south. The south will be led by a Prince wearing a white coat with a cross on the front…" (Culleton, R. Gerald. The Prophets and Our Times. Nihil Obstat: L. Arvin. Imprimatur: Philip G. Scher, Bishop of Monterey-Fresno, November 15, 1941. Reprint 1974, TAN Books, Rockford (IL), p. 143).

Jean Paul Richter (d. 1809): Through a terrible purgatory Europe will return to the faith (Culleton, p. 182).

Brother Louis Rocco (19th century): All over Europe there will rage terrible civil wars…The German sections of Austria will join Germany, so will also the commercial cities of Belgium and Switzerland. A Catholic descendant of a German imperial house will rule a united Germany with peace, prosperity and great power, for God will be with this sovereign (the Great Monarch?)…A Great Monarch will arise after a period of terrible wars and persecutions in Europe. He will be a Catholic; he will not be a German (Culleton, p. 195).

Blessed Joannes Amadeus de Sylva (died 1482): Germany and Spain will unite under a great prince…After much slaughtering, the other nations will be forced to come into this union. There is no hope for the unbelievers until all of Germany is converted; then all will happen quickly…the time will be prolonged until all countries unite under the Great Ruler. After this union, mass conversions will take place… (Connor, Prophecy for Today, p. 34).
The above suggests that something starts in Germany that goes into other parts of Europe, but that England will suffer (this is consistent with biblical prophecy).
Notice that the 15th century Catholic prophecy that foretells a time when a "great prince" will rise up. "All Germany" will apparently convert to the ecumenical religion, and then massive conversions in "all countries" "will happen quickly" under the "Great Ruler."  Notice also:
Rudolph Gekner (died 1675). "A great prince of the North with a most powerful army will traverse all Europe, uproot all republics, and exterminate all rebels. His sword moved by Divine power will most valiantly defend the Church of Jesus Christ. He will combat on behalf of the true orthodox faith, and shall subdue to his dominion the Mahometan Empire. A new pastor of the universal church will come from the shore (of Dalmatia) through a celestial prodigy, and in simplicity of heart adorned with the doctrines of Jesus Christ. Peace will come to the world." (Connor, p.36).

Catholic Priest and saint John Bosco (19th century): War will come from the south, peace from the north. … But behold, a great warrior from the north appears, a banner in his right hand, his arm bearing this inscription: 'Irresistible is the hand of the Lord.' At that moment the Venerable Old Man of Rome went forward to meet him, wielding a flaming torch. The banner then grew larger and its blackness became white as snow; in its center stood out the name of the Almighty in golden letter. The warrior and his followers bowed profoundly to the Venerable Old Man and joined hands with him. (THE THREE PROPHECIES OF ST. JOHN BOSCO, given 1870. http://www.franciscan-archive.org/bosco/opera/bosco.html#12 viewed 08/16/14)

Pseudo-Methodius (7th century): This new Muslim invasion will be a punishment without limit and mercy…In France, people of Christians will fight and kill them…At that same time the Muslims will be killed and they will know the tribulation…The Lord will give them to the powers of the Christians whose empire will be elevated above all empires…The Roman King (Great Monarch) will show a great indignation against those who will have denied Christ in Egypt or in Arabia (Araujo, Fabio R. Selected Prophecies and Prophets. BookSurge LLC, Charlestown (SC), 2007, p. 103).
The above is consistent with prophecies in Daniel 11:40-43.  Some may point to Catholic prophecies as partial justification to eliminate Islam from Europe.
Although there is a pontiff who currently is endorsing the acceptance of these migrants into Europe (see Pope Francis tells tens of thousands of European Catholic facilities to accept one migrant family per church/monastery), expect changes to come.
Islamic migrants into Europe will cause problems, but ultimately will result in a dictator rising up in Europe.
Not only will that not end up well for Islam (Daniel 11:40-43; see also Is the Future King of the South Rising Up?), it will also not end up well for the UK or the USA (Daniel 11:39; see also the article Anglo – America in Prophecy).
Some items of possibly related interest may include:
The 'Peace Deal' of Daniel 9:27 This prophecy could give up to 3 1/2 years advance notice of the coming Great Tribulation. Will most ignore or misunderstand its fulfillment? Here is a link to a related sermon video Daniel 9:27 and the Start of the Great Tribulation.
Who is the King of the West? Why is there no Final End-Time King of the West in Bible Prophecy? Is the United States the King of the West? Here is a version in the Spanish language: ¿Quién es el Rey del Occidente? ¿Por qué no hay un Rey del Occidente en la profecía del tiempo del fin?
Who is the King of the North? Is there one? Do biblical and Roman Catholic prophecies for the Great Monarch point to the same leader? Should he be followed? Who will be the King of the North discussed in Daniel 11? Is a nuclear attack prophesied to happen to the English-speaking peoples of the United States, Great Britain, Canada, Australia, and New Zealand? When do the 1335 days, 1290 days, and 1260 days (the time, times, and half a time) of Daniel 12 begin? When does the Bible show that economic collapse will affect the United States? In the Spanish language check out ¿Quién es el Rey del Norte? Here is a link to a video titled: The Future King of the North.
Europa, the Beast, and Revelation Where did Europe get its name? What might Europe have to do with the Book of Revelation? What about "the Beast"? Is an emerging European power "the daughter of Babylon"? What is ahead for Europe? Here is a link to a video titled: Can You Prove that the Beast to Come is European?
European Technology and the Beast of Revelation Will the coming European Beast power would use and develop technology that will result in the taking over of the USA and its Anglo-Saxon allies? Is this possible? What does the Bible teach? Here is a related YouTube video: Military Technology and the Beast of Revelation.
Must the Ten Kings of Revelation 17:12 Rule over Ten Currently Existing Nations? Some claim that these passages refer to a gathering of 10 currently existing nations together, while one group teaches that this is referring to 11 nations getting together. Is that what Revelation 17:12-13 refers to? The ramifications of misunderstanding this are enormous. A related sermon is titled Ten Kings of Revelation and the Great Tribulation.
Might German Baron Karl-Theodor zu Guttenberg become the King of the North? Is the former German Defense Minister (who is also the former German Minister for Economics and Technology) one to watch? What do Catholic, Byzantine, and biblical prophecies suggest?
Germany's Assyrian Roots Throughout History Are the Germanic peoples descended from Asshur of the Bible? Have there been real Christians in Germanic history? What about the "Holy Roman Empire"? There is also a You-Tube video sermon on this titled Germany's Biblical Origins.
Germany in Biblical Prophecy Does Assyria in the Bible equate to an end time power inhabiting the area of the old Roman Empire? What does prophecy say Germany will do and what does it say will happen to most of the German people? Here are links to two sermon videos Germany in Bible Prophecy and The Rise of the Germanic Beast Power of Prophecy.
Anglo – America in Prophecy & the Lost Tribes of Israel Are the Americans, Canadians, English, Scottish, Welsh, Australians, Anglo-Saxon (non-Dutch) Southern Africans, and New Zealanders descendants of Joseph? Where are the lost ten-tribes of Israel? Who are the lost tribes of Israel? What will happen to Jerusalem and the Jews in Israel? Will God punish the U.S.A., Canada, United Kingdom, and other Anglo-Saxon nations? Why might God allow them to be punished first? Here is a link to the Spanish version of this article: Anglo-América & las Tribus Perdidas de Israel. Information is also in the YouTube sermons titled Where are the Ten Lost Tribes? Why does it matter? and British are the Covenant People. A short YouTube of prophetic interest may be Barack Obama and the State of the Apocalypse.
Is the Future King of the South Rising Up? Some no longer believe there needs to be a future King of the South. Might Egypt, Islam, Iran, Arabs, or Ethiopia be involved? Might this King be called the Mahdi or Caliph? What does the Bible say? A YouTube video of related interest may be: The Future King of the South is Rising.
The Arab and Islamic World In the Bible, History, and Prophecy The Bible discusses the origins of the Arab world and discusses the Middle East in prophecy. What is ahead for the Middle East and those who follow Islam? What about the Imam Mahdi? What lies ahead for Turkey, Iran, and the other non-Arabic Muslims? An item of possibly related interest in the Spanish language would be: Líderes iraníes condenan la hipocresía de Occidente y declaran que ahora es tiempo para prepararse para el Armagedón, la guerra, y el Imán Mahdi.
The Prophesied 'Islamic' Confederation Where is an Islamic caliphate prophesied? Will one happen? Should you be concerned about it? A related video is Will an Arabic Calphiphate Destroy the West?
Obama Administration Pushing for an Islamic Empire? Because of the rise of groups such as the Islamic State, the Obama Administration and others are pushing for a coalition of Arab nations along with Turkey. Does this resemble the final King of the South of Bible prophecy? Is there an Islamic antichrist? Does the Bible teach that terrorism and the sword will affect the USA and some of its allies? What does the Bible teach in Ezekiel about a confederation involving Egypt? Will an Arabic confederation end in destruction for those who strongly support it? Are the 10 nations in the Arab coalition the ten kings of Revelation 17:12-13? Are the 10 nations including the USA and Turkey the ten nations of Revelation 17:12-13? Who is? Was the pushing of the Obama Administration to do this predicted by in 2009 in a writing by Dr. Thiel? What does the Bible show?
Iraq, the King of the South, Armageddon, and Prophecy What will happen to Iraq? Is it the prophesied Mystery Babylon? What is Armageddon and how does that have to do with Iraq? Here is a related video Iraq, Armageddon, & Prophecy.
How Will Middle East Peace be Brought About? Can humans bring peace to the Middle East? Here is a link to a related video: Middle East Peace? When?
When Will the Great Tribulation Begin? 2015, 2016, or 2017? Can the Great Tribulation begin today? What happens before the Great Tribulation in the "beginning of sorrows"? What happens in the Great Tribulation and the Day of the Lord? Is this the time of the Gentiles? When is the earliest that the Great Tribulation can begin? What is the Day of the Lord? Who are the 144,000? Here is a version of the article in the Spanish language: ¿Puede comenzar la Gran Tribulación en 2014 o 2015? ¿Es el Tiempo de los Gentiles? You can also see the English language sermon video: The Great Tribulation from the Mount of Olives.