Continuing Church of God and the Feast of Tabernacles, 2017
The Continuing Church of God observes God's Holy Days (click here for you can click here for the calendar of Holy Days), sometimes called festival or feast days, throughout the world.
In 2017, services began the evening of October 4th and continued until the Last Great Day which is October 12th.
The Continuing Church of God had 15 festival sites located in countries all over the world in 2017.
A video slideshow of people and places for 2017 was produced. Here is a link: Continuing Church of God Feast of Tabernacles 2017 Slide Show.
For information related to 2018, check out, Feast of Tabernacles' Sites for 2018.
USA
San Diego
In the USA the site was in San Diego, California.
We held services in the Bay Room at the Best Western Plus Island Palms Hotel & Marina 2051 Shelter Island Drive, San Diego, California 92106 Phone 619-222-0561 Fax 619-222-9760.

The hotel is located on Shelter Island, but it is connected to the rest of San Diego by roads: people simply drove to get to it. It was also fairly close to the San Diego airport, though for many people it was less expensive to fly into one of the other Southern California airports (LAX, John Wayne, Burbank, or Long Beach) and to drive south.
We had a group actiivity after services at Balboa Park.
For more information about this Feast site, contact Dr. Bob Thiel, email cogwriter@aol.com
Wichita, Kansas
We also had a semi-video site in the Wichita, Kanasas area. Deacon Richard Close ran a limited site in Wichita, Kansas. Services on most days were at the Wichita Public Library, Evergreen Branch, 2601 N Arkansas, Wichita, KS 67204.
Deacon Richard Close reported that we had 21 people attend the site in Wichita, Kansas. Linda Holeman sent me 24 photographs of the Feast site in Wichita. Here are two of the photographs she sent:
For more information about this site, contact Richard Close, email closer@comcast.net
Canada
Herb Haddon coordinated the site in Kingston, Ontario, which is a short distance from New York Interstate 81.
In Canada, I was sent several photos of a boating activity that about 1/2 of the festival attendees went to. So here is one of those: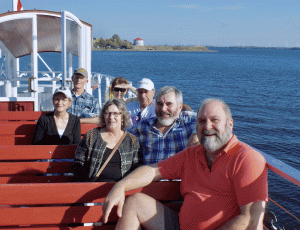 Kingston, Ontario site activity
For more information, contact Herb Haddon, email hwhaddon@gmail.com
Ethiopia
We had a site in Gambella, Ethiopia.
Here is an email report we received from Ethiopia:
Dear pastors:

The Feast of Last Great Day is going well here in Ethiopia. And also we are happy to heard that you are going well too. Let the world to see Our God's plan after the reign of Jesus Christ, He will  save others peoples after the end of days (Millennium). ..

Koang.
Deacon Koang Deng also sent the following photograph from the festival site in Ethiopia:
People from Ethiopia attended. Three from South Sudan also attended.
Ghana
We have hundreds with us in Ghana. They came to us from a Church of God, Seventh-day background and are relatively new to keeping the Feast of Tabernacles.
From Ghana, Samuel Ofosu Gyeabour sent in the following report:
Greetings from Ghana to Dr. Bob and brethren in Christ of the faith once delivered. We give thanks and praises to the Almighty God for His immense guidance over the church during the Feast of Tabernacles held this year. This year's feast was a successful one irrespective of the frustration and hardship we encountered. Your support through the grace of God made the feast a reality, may the good Lord translate your endeavours into reality.

With regards to your vision to bring Africa to the light, it promoted us to have a theme"OVERCOMING THE POWER OF DECEPTION" the reason for this theme was, deception is leading some 'Christian' people to the wrong path. And its our duty as children of God to enlighten them to know the truth.

During the feast, we had a health talk,that gave us an insight with regards to the recent attitude of people,and it improved in our healthy living eduction.it was our utmost wish for our theme for the feast to have a positive impact in our Christian lives. Finally i will like to apologise for the late report of the feast, I say sorry for the inconveniences if any.
I once again say we appreciate and respect your offers in the vineyard. May the God who keeps us from falling continue to be with us all. Amen.

Best regards
Pastor Samuel


Samuel Ofosu Gyeabour
For more information, here are the email address of two contacts we have there, the leading Pastor Samuel Ofosu Gyeabour fosusamuel81@gmail.com and an elder named Osei Bonsu oseibonsu1234@yahoo.com.
Kenya
We had five Feast sites in Kenya.
1-NDHIWA
2-CHILANI TRANSMARA
3-BOMET
4-MAO
5-NAKURU NJORO
The smallest site was probably Bomet. Here is a report on that:
Here is our one week Feast of Tabernacles at Bomet it began on
Wednesday 4th of October when we open out meeting with cerebration.
We have preparing best meal for our visitors. We had over 30 members
who attended on the first day. We have two lesson on the first day and
was largely on part of Feast of Tabernacles. We also had an evening
lesson to which more people attended and the house was full on Friday
more people attended and we had morning after lunch and evening
lessons. We continued doing the same until Wednesday and God bless us
and new souls were saved and we prayed for,the years feast was actually
more different from the others since we have spend allot due to big
turn up. Thank you

Tomas Koskey
We received the following from Pastor Sawek in Rift Valley in Kenya:
I Greet you all in the Name of Jesus.

We, the Rift Valley (Transmara, Njoro, Bomet, Mau) Members held a meeting for eight days and it turned out successful. We were blessed with Spiritual Training and Teachings.

The people were filled not only Spiritually but also with the bodily satisfaction of food. They were also happy with the services and support we gave them.

I thank you all, but mostly Pastor Ochieng for the planning that took place.

The challenge moreover is the way the people were starved. They experience starvation and hardships in terms of conquering drought and availability of water. But we thank God that the last 2 days when the meeting was supposed to come to an end we were blessed with Rain. But there was no Water Tank for storage but with your prayers we believe we will get one soon.

Our Camera Man, Joseah Kipngetich, did a great job in Photo Session however he needs a better quality camera that can take great photo and video graphics whenever we have meetings in Rift Valley next year. Also, he can really come in handy in the Photos in our Church Magazine( Continue Church of God)

In the photos, you will see Pst. Sawek ,  the children lining up for food, the women too and the choir which sang beautiful songs of praise.

Attached are the photos of how the event turned out in Transmara, Chilani Church. (Chilani Church is the headquarter of all the meeting place in Rift Valley.)

God Bless you all, I'm Pastor Sawek.
Pastor David Cheruiyot ent the following photographs from the Feast of Tabernacles:
Joseph Kipngetich sent the following picture related to the Feast of Tabernacles:
Transmara is part of Kenya.
Here is a photo related to the Feast of Tabernacles in Ndhiwa:
Evangelist Evans Ochieng sent the following report from Kenya:
Pastor Dr Bob,

 Greetings from Kenya.

Wonderful feast of Tabernacles 2017 in Africa. As far as concerns the reports that I have received from all corners of Africa, the Feast of Tabernacles 2017 in Africa was well done.

Ndhiwa had a nice dinner on the opening day, sermon by Evangelist Evans and opening prayer by pastor Ezekiel Oanda. The feast was every nice, full of joy and teachings. I sent pictures and videos to Steve. The attendance was 158. Both elderly and children.

Five people were baptized. These are Faith Ouma from Ndhiwa congregation,Evans Mauti, Linet Mauti, from Kisii, Francis Odhiambo and Filgona Atieno from Nyakach.

I received the feast reports from Right valley in four sites through pastor Sawek and pastor kosgey that the feast was very exllent in the four sites. These are Njoro Nakuru, Mau, Bomet and Chilani.

I also received a wonderful reports from Granton's and Molozwa that the feast was every nice in Malawi. I received many greetings from the two chiefs in Malawi and one chief from Mozambique who all attended the feast in Malawi. They joined the church during my last trip in both Malawi and Mozambique. I was very happy to hear that they were in the feast site for 8 days. The Continuing Church of God is highly fulfilling Mathew 28:19-20. I was very happy to hear that many brethren came from Mozambique and Zambia and Malawi.

When I attended the feast in Tanzania, I received a wonderful feast of Tabernacles with 19 brethren and was well done. Today I talked with Koang Deng on phone. He told me that the feast was good. We had a network problem so we didn't talk much.

I wanted to thank you pastor for the support that made all the feast sites to move successfully. I have not hear from Samuel from Ghana. But I hope he will send his report.

Evans.
After receiving that, I noticed less people than expected and asked Evangelist Evans Ochieng about that:
Pastor Dr Bob,

Greetings from Kenya.

It is true that people were less than last year at the feast. Pastor there is a big problem in Kenya and some brethren feared to travel. Kenya is in a big problem especially Luos and Kikuyu and Kalenjins. And part of Kisii. People are dying badly. So many people were afraid to travel. Transportation was also a big problem. The owners of the vehicle were afraid to move.

Pray for the brethren in Kenya. Kenya is not safe.

Evans
Please pray for the brethren in Kenya and other parts of Africa. The political situation in Kenya is still tense–plus there is always the threat from al-Shabab.
For more information on the sites in Kenya, contact Evans Ochieng, email evochieng74@gmail.com
Malawi and Mozambique
We had a site in MIGOWI, Malawi. Migowi is next to Migowi Trading Centre and is located in Phalombe District, Southern Region, Malawi. Those from Mozambique also attended.
Here is some information about the Feast of Tabernacle in Malawi from Radson Mulozowa:
Greetings Pastor Bob. We Thank Almighty God For Having Granted Us A
Chance To Keep The Feast Of Tabernacle In Malawi.We Had A Wonderful
Feast I Believe Grantone Will Report.  Brother Grantone Was Our Guest
And Has Given Us The Real Truth About The Kingdom. We Were Able To
Learn More Concerning The Truth Of The Bible. Among Other Topics He
Was Able To Deliver Was: Baptism, Passover, Real Repentance,
Resurrection, New Heaven And Earth To Mention Few.We Had 102 Brethren
From Malawi, Zambia, Mozambique Who Attended The Feast. We Thank You
For Both Physical And Spiritual Support That You Offered To Us For The
Success Of Our Being In The Feast From The First Day To The Last
Day.We Had Chiefs Who Attended. I Failed To Send Report Early Because
Of Poor Internet Network On My Phone. I Will Send Pictures When I Go To
Blantyre. May God Bless You
This is the first time we have had any from Zambia attend.
We were sent 24 photographs from Malawi. Here are two that Grantone Otieno sent:
We were supposed to have some last year in Mozambique, and this may be the first year any from Mozambique actually attended as CCOG Feast of Tabernacles' site. Since many of those in Malawi, Mozambique, and Zambia are relatively new to the Church of God, we had Grantone Mangiana Otieno, who is a CCOG host for Migori, Kenya, go to this site in Malawi to teach and assist. Grantone Otieno has been with the CCOG since 2014 (as I met him back then in Kenya) and sent in the following report:
Dear. Pst. Bob.

   It is my privilege and joyous moment to share with about my trip to Malawi to lead, teach and preach our brethren over there how to conduct the FEAST OF TABERNACLE under CCOG.

  Brothers from both Malawi and Mozambique wee able at the feast site as early as possible. We also had a representative from Zambia. So we had a total of 100 including children.

  Since it was their first time to keep the Feast of Tabernacles as they claimed, it forced me to participate in giving all sermonettes and sermons to give them appropriate  time to learn more. I was able to tackle as many topics as I could in accordance  to the true teaching of the bible as proclaimed by CCOG under leadership of Dr. Bob Thiel as a minister and Overseer.

  After teaching and preaching, many from both Malawi and Mozambique were in need of baptism, since I  had also covered the topics stressing of true repentance and true baptism, but explained to them to wait  while continuing learning to prepare … to be able to be baptized ….later so that they may not left out to partake Lordsupper/Passover as it is the first step in God's plan of salvation to all mankind.

   We had our representative Mr.Justine Gonakumoto from Zambia who was also seek to be visited because it was not possible for the members over there to travel to Malawi since they didn't have the relevant documents. The following are some photos I could be able to take.

 Yours in God's

  Mr. Grantone Otieno.
So, this was a good development for those nations.
From Mozambique, Wedson Matiya sent the following email:
Thanks Pastor Bob For The Funds You Send Which Assisted Us To Go Go
To Malawi And Attend The Feast.We Have Learned Alot From Grantone.We
Thank God For The Wisdom That God Is Giving Our Leader Radson In
Cordinating The Work In Malawi, Mozambique And Zambia In The Way That
He Is Able To Visit Us Frequently When We Need Him.The Feast Was Well
Organised In Everything.We Have Requested Mulozowa To Visit Us So That
He Can Teach Those Who Faiied Due To Travelling Document,  Your Son.
Matiya
We may have sites in additional countries next year.
For more information, please contact Radson Mulozowa email radsonmulozowa@gmail.com or Evans Ochieng, email evochieng74@gmail.com
New Zealand
In New Zealand we had services in the town of Takanini, which is just south of Auckland, is to be the location.
This is the third time my wife and I attended the Feast of Tabernacles in New Zealand--the first time was in 1987 and the second time was in 2013.
For more information, contact John Hickey, email john.h@vodafone.net.nz; his mobile phone number is 021 519 441.
Philippines
Anthony Flavell sent in some information about the Feast in the Philippines:
The Philippine Feast of Tabernacles was very successful in Bacolod and we received much spiritual Food.

There were 11 Brethren in attendance  including one new Brother ... who was with Church of God cogwa but after studying our Website www.ccog.org he decided to join us.

Myself, Oscar Mediavilla and Jose Lumpay shared duties in Song Leading, Opening and Closing Prayers and me Anthony Flavell delivered 4 Sermonettes which were well received by the Brethren.

We had several Field Trips during the Week and enjoyed a number of Lunches and Dinners together.

On the Last but one day of the FOT we received a call from Dick Perlass who informed us that he and his Wife wished to join the Church and they are already saving to attend 2018 FOT probably in Bacolod again. ...

Kind Regards

Anthony Flavell
His wife also sent the following photograph:
For further details, contact Oscar Mediavilla via email hansmeidavilla@rocketmail.com or Anthony Flavell via email anthonyflavell@yahoo.com.ph
Serbia
Alexsandar 'Sasha' Veljic coordinated the CCOG site in Serbia. Joanna Kersten sent the following photograph from there:
She mentioned that the weather has been absolutely wonderful there.
Alexsandar Veljic sent in the following report:
This, by far, was my best Feast ever. It was the first Feast for Luka and Filip. We were blessed to have meals together every day of the Feast and we had very moderate activities (we set aside one day for excursion to the surrounding areas). Most of the time we spent in fellowship as we had plenty of things to exchange and talk about. The spirit of family union permeated the atmosphere throughout the Feast. There was no complains of any sort and everyone expressed their joy that the Feast was kept in that atmosphere.
For more information, contact Alexsandar 'Sasha' Veljic, email aveljic@protonmail.com
Tanzania
We had a site in Utegi, Tanzania. Evangelist Evans Ochieng attended there part-time as well as Ndhiwa, Kenya part-time.
The Feast went well there based on his comments.
For more information, contact Martin Wanga, email matinwanga@gmail.com.
Internet and Other Areas
We did have some type of services available via the internet for those who could not get to the USA, Canada, New Zealand, Kenya, Tanzania, Ethiopia, Malawi, Ghana, Serbia, or the Philippines sites. Sermons, offertories, and some other items were made available.
We encourage all to please obey God and keep the Feast of Tabernacles as He would want you to (see also How to Keep God's Festivals).
Some Sermons and Sermonettes for the Feast of Tabernacles in 2017
Here is an opening night message: 2017 Feast of Tabernacles Opening Night Message.
Here is a sermon message that will be played at some sites in 2017: Holy Day Plan of Salvation.
Here is a sermon length message that will be played at some sites in 2017: Behind the Work 2017: Into Europe and Africa.
Offertories:
COGwriter 2017 1213