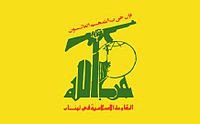 Hezbollah Flag


The day after the top leader from Hezbollah declared that his side would win in Syria, his side got hit by rockets:
May 26, 2013

A pair of rockets slammed into a car dealership and a residential building in strongholds of Lebanon's Hezbollah militia in southern Beirut on Sunday, wounding four people and raising fears that Syria's civil war is increasingly moving to Lebanon.

Lebanon's sectarian divide mirrors that of Syria, and Lebanese armed factions have taken sides in their neighbour's civil war.

There was no claim of responsibility for Sunday's attack. However, a Syrian rebel commander threatened earlier this week to strike against Hezbollah strongholds in retaliation for the militia's military support for Syrian President Bashar Assad. Hezbollah is a Shiite Muslim group, while most of the rebels are Sunnis.  http://www.thehindu.com/news/international/world/two-rockets-hit-lebanese-hezbollah-stronghold/article4753146.ece

May 26, 2013…

Two rockets hit a Shiite Muslim district of southern Beirut on Sunday and wounded several people, residents said, a day after the leader of Lebanese Shiite militant movement Hezbollah said his group would continue fighting in Syria until victory.

It was the first attack to apparently target Hezbollah's stronghold in the south of the Lebanese capital since the outbreak of the two-year conflict in neighbouring Syria, which has sharply heightened Lebanon's own sectarian tensions…

In Lebanon's Bekaa Valley, residents said three rockets landed on Sunday close to the mainly Shiite border town of Hermel, without causing injuries. Rebels have targeted Hermel from inside Syria several times in recent weeks.  http://www.theglobeandmail.com/news/world/rockets-hit-beirut-after-hezbollah-vows-support-for-syrian-government/article12157943/

May 27, 2013…

The early morning attack came as Syria's fractured opposition began an unscheduled fourth day of meetings on the peace conference proposal and after Hezbollah pledged "victory" in Syria over the rebels.

Its chief, Hassan Nasrallah, said it was in the militant anti-Israeli group's own interest to defend President Bashar al-Assad's regime. "I have always promised you a victory and now I pledge to you a new one" in Syria, he said in a speech marking 13 years since his arch-foe Israel withdrew from Lebanon.

Hours after he spoke, two Grad rockets slammed into the al-Shayyah area of south Beirut, a security source said, wounding four Syrian workers at a car dealership.

It was the first time the Lebanese capital's mainly Shi'ite southern suburbs have been targeted during the more than two-year-old conflict in Syria. An AFP photographer said the second rocket damaged an apartment block…

In Istanbul, the opposition Syrian National Coalition met for a fourth day to try to overcome deep divisions over the Geneva peace conference.

The opposition's long-standing position is that, after more than two years of devastating conflict which has killed more than 94,000 people, it will not negotiate until Assad agrees to leave.

Delegates said efforts to reach an agreed position on the conference were being delayed by pressure from some of the opposition's Gulf Arab backers for an overhaul of its membership.

"You have Saudi Arabia and the United Arab Emirates pushing to include up to 30 new members in the National Coalition," a coalition member said on condition of anonymity. "Their goal is to downsize the Muslim Brotherhood's influence over the group."

The coalition also urged hundreds of Hezbollah fighters in Syria to defect.  http://www.theaustralian.com.au/news/world/syria-rebels-hit-hezbollah-heart/story-e6frg6so-1226650911752
The opposition in Syria is basically a Sunni coalition, many of whose leaders have ties to the Muslim Brotherhood.  Although the Gulf Arab states do not really want the Muslim Brotherhood to take over Syria, it or a group with similar goals ultimately will.  FWIW, the Obama Administration has provided a fair amount of support to groups associated with the Muslim Brotherhood over the past couple of year.
(For more about what was said yesterday and to learn more about Hezbollah, please see yesterday's post Hezbollah says it will be victorious in Syria, but what does the Bible say?)
While the Shiite Muslim Hezbollah has its hopes and warring plans, the Bible indicates that Lebanon and Syria will change and be allied with other Arab nations.
Such as plan is being actively worked on by supporters of the Sunni Muslim group the Muslim Brotherhood.
Here is some of what the official English-language website of the Muslim Brotherhood teaches about its history and goals (note: the current president of Egypt ran the website below when I first viewed these quotes):
Al-Banna was chiefly responsible for formulating the policies of this association…the idea of universal muslim state was constantly implied due to the association's focus on Islam. While strongly disapproving of local brands of Nationalism, particularly if they were Western-inspired and secularly-minded, Banna developed his vision of Pan-Islamic Nationalism, insisting that Islam and Nationalism were complementary, especially when the latter operated within the parameter of the Islamic truth, since, for the Muslim Brethren, Islam was of course both religion and state. Here we need to analyze what was the basic concept from which Hassan al-Banna initiated to establish such Islamic organization. Then we would also explore his thought of the causes of descend of Islamic society particularly in Egypt. However, his effort and works deserved great consideration of Islamic society in the revolution to the revival of Islamic state (Caliphate)…The Muslim Brethren…believe that the caliphate is a symbol of Islamic Union and an indication of the bonds between the nations of Islam. They see the caliphate and its re-establishment as a top priority, subsequently; an association of Muslims people should be set up, which would elect the imam". (zhyntativ. HASAN AL-BANNA AND HIS POLITICAL THOUGHT OF ISLAMIC BROTHERHOOD. IkhwanWeb, May 13, 2008. http://www.ikhwanweb.com/article.php?id=17065 viewed 09/22/11)

What is the Muslim Brotherhood?
The world's largest and most influential Islamist movement. Founded in Egypt in 1928, the group was originally focused on ridding the country of corrupting secular influences brought by British colonial rule. Over the years, it established branches and affiliates in many countries to promote traditional Sunni Islamic morals, social justice, and the eradication of poverty and corruption. "The Islamic nation," its charter states, "must be fully prepared to fight the tyrants and the enemies of Allah as a prelude to establishing an Islamic state"—ideally a re-established caliphate, stretching from Spain across the Middle East and Central Asia to Indonesia, to be governed according to Islamic sharia law. (Understanding the Muslim Brotherhood. February 14, 2011. © The Muslim Brotherhood. http://www.ikhwanweb.com/article.php?id=28019 viewed 11/21/2011)
The Muslim Brotherhood apparently wants as its top priority a pan-national Islamic caliphate ruled by an Imam. Many Muslims long for the rising up of a leader called the 12th Imam, often referred to as the Imam Mahdi. It will not end up with Spain if I understand certain aspects of Bible prophecy correctly, but the confederation of the final King of the South may go from around Western Sahara and/or Mauritania to Oman (with possible involvement and/or coordination with Afghanistan, Iran, Pakistan and/or Indonesia).  An Islamic empire is destined to form.
Notice a translation of what some, who are part of it, write that the Muslim Brotherhood wants:
…the Islamic Ummah [nation] can regain its power and be liberated and assume its rightful position which was intended by Allah, as the most exalted nation among men, as the leaders of humanity…

He [Hassan al-Banna] felt the grave danger overshadowing the Muslims and the urgent need and obligation which Islam places on every Muslim, man and woman, to act in order to restore the Islamic Caliphate and to reestablish the Islamic State on strong foundations and to liberate the Muslims and defend them from any attack, and to spread the Da'wa (Islamic missionary activity) of Islam in the world and to establish this great religion, which Allah wanted for his servants…

Some think that Shahada (Martyrdom) causes loss and damages the [Muslim Brotherhood] Society, since it has lost influential people in action and Jihad. This is wrong, since the fall of the Shahid (Martyr) for the sake of Da'wa (Islamic missionary activity) is [seen as] provisions and fuel for the [next] generations, and as a symbol of self sacrifice in the way of the Da'wa until realization of the goals which the [Muslim Brotherhood] Society was established for, that is, establishing the State of Islam, headed by the Islamic Caliphate, in order to establish Allah religion on Allah's land…(Source: The Muslim Brotherhood – in its own words Translation of "Jihad is the way" by Mustafa Mashhur Leader of the Muslim Brotherhood in Egypt, 1996-2002 by Itamar Marcus and Nan Jacques Zilberdik.  http://www.palwatch.org/STORAGE/special%20reports/Jihad_is_the_way_by_Mustafa_Mashhur.pdf viewed 04/30/11)
To bring enough Arab nations together, I have felt that some type of "strongman" needed to rise up.  One who Arabs would tend to respect–who might use or not use the title Imam Mahdi.  The time may be now for him to rise up and the Muslim Brotherhood may play an important role.  The Muslim Brotherhood is is the world's oldest and largest Islamic political group and has been called the "world's most influential Islamist movement" (http://english.aljazeera.net/indepth/2010/11/2010111681527837704.html)–though some new group could also form.
A coming confederation of Islamic lands is something that the Sunni Muslim Brotherhood also is hoping to bring to pass.  This is a goal that will, temporarily, be achieved according to Bible prophecy.
Some links of related interest may include:
Is There A Future King of the South? Some no longer believe there needs to be. Might Egypt, Islam, Iran, Arabs, or Ethiopia be involved? Might this King be called the Mahdi? What does the Bible say?
The Muslim Brotherhood and the Rise of the King of the South The Bible tells of the formation of a power of nations that are in the Middle East and North Africa that are part of the final "King of the South" (Daniel 11:40-43) The Muslim Brotherhood wishes to have an Islamic empire with basically the same nations. This YouTube video explains what to expect from such a confederation.
The Arab and Islamic World In the Bible, History, and Prophecy The Bible discusses the origins of the Arab world and discusses the Middle East in prophecy. What is ahead for the Middle East and those who follow Islam? What about the Imam Mahdi? What lies ahead for Turkey, Iran, and the other non-Arabic Muslims?
Damascus and Syria in Prophecy Will Bashar Assad hold power as he has it? Does the Bible show that Damascus, the capital of Syria, will be destroyed? What will happen to Syria? Will the Syrians support the final King of the South that the Bible tells will rise up? Which scriptures discuss the rise and fall of an Arabic confederation? Does Islamic prophecy predict the destruction of Syria. This is a YouTube video.
Is There an Islamic Antichrist? Is Joel Richardson correct that the final Antichrist will be Islamic and not European? Find out.
Jerusalem: Past, Present, and Future What does the Bible say about Jerusalem and its future? Is Jerusalem going to be divided and eliminated? Is Jesus returning to the area of Jerusalem? There is also a related YouTube video you can watch titled Jerusalem To be divided and eliminated.
Barack Obama in Islamic Prophecy? There is actually a 17th century Shiite prophecy that some believe that Barack Obama will fulfill that will lead to a rising up of Islam.
Barack Obama, Prophecy, and the Destruction of the United States-Second Edition for Second Obama Term This is a 160 page book for people truly interested in prophecies related to Barack Obama and the United States, including learning about many that have already been fulfilled (which the book documents in detail) and those that will be fulfilled in the future. It also has a chapter about a Republican choice. This book is available to order at www.barackobamaprophecy.com. The physical book can also be purchased at Amazon from the following link: Barack Obama, Prophecy, and the Destruction of the United States: Is Barack Obama Fulfilling Biblical, Islamic Catholic, Kenyan, and other America-Related Prophecies? What About Republican Leaders? Second Edition for Second Obama Term.
Barack Obama, Prophecy, and the Destruction of the United States-Second Term-Amazon Kindle edition. This electronic version is available for only US$2.99. And you do not need an actual Kindle device to read it. Why? Amazon will allow you to download it to almost any device: Please click HERE to download one of Amazon s Free Reader Apps. After you go to for your free Kindle reader and then go to Barack Obama, Prophecy, and the Destruction of the United States-Second Term-Amazon Kindle edition.