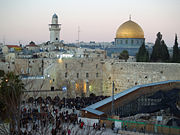 Jerusalem
Anti-Israeli forces have expressed interest in supporting Iran should Israel attack Iran, if Israel also hits Gaza:
By Adel Zaanoun (AFP) – 16 March 2012

GAZA CITY, Palestinian Territories — Gaza militant group Islamic Jihad seeks to create a "balance of terror" with Israel, a senior member of its military wing has told AFP in an exclusive interview…

The leader, who goes by the nom-de-guerre of Abu Ibrahim also warned…"What we seek with our rockets is not to kill Israelis, but to maintain a balance of terror"…

He said the group was not receiving weapons from Iran, as Israel has charged, but praised Tehran's "great support," citing funds it gives to the families of "martyrs" and the wounded in Gaza.

But he suggested that Islamic Jihad would not get involved if Iran were to come under attack, unless Gaza was also targeted.

"We're nothing but a drop of water in the sea, and Iran doesn't need us. It's a strong country militarily," he said.

"Our fundamental fight is in Palestine," he said. "But if the Zionist enemy hits Iran and Gaza at the same time, we will respond with force."
The reality is that Israel hits Gaza somewhat frequently because of the rockets that groups like Islamic Jihad tend to launch from there.  Thus, Israel would be wise to expect that groups like Islamic Jihad will attack it if Israel gets involved in a protracted war with Iran.  Syria and others would likely also be involved unless the situation in Syria changes by then.
Furthermore, notice also the following:
Iran Behind 'Global March to Jerusalem', Say Experts

Intelligence and Terrorism Information Center presents proof that Iran is behind the Global March to Jerusalem on March 30.

Israel National News – March 16, 2012

Following the announcement that Arabs are planning a Global March to Jerusalem, the Meir Amit Intelligence and Terrorism Information Center (ITIC) has presented information that Iran is behind the initiative and openly supports it.

The Global March to Jerusalem is an initiative that aims at getting over one million Arabs and their supporters to attempt to infiltrate Israel's borders on March 30th. A spokesman for the march said this week the initiative "demand[s] freedom for Palestine and its capital Jerusalem."
This march on Jerusalem does not look like it is something that Israel will want.
Of course, the Bible warned that Jerusalem would a difficult issue in the end times:
3 And it shall happen in that day that I will make Jerusalem a very heavy stone for all peoples; all who would heave it away will surely be cut in pieces, though all nations of the earth are gathered against it. (Zechariah 12:3)
This may be part of why Jerusalem will be divided:
2 For I will gather all the nations to battle against Jerusalem;
The city shall be taken,
The houses rifled,
And the women ravished.
Half of the city shall go into captivity,
But the remnant of the people shall not be cut off from the city. (Zechariah 14:2)
News items have come out indicating the EU, as well as the current UN Secretary-General (Ban Ki-moon) want to divide Jerusalem now–the captivity will come later to fulfill Zechariah 14:2 (see Will the Anglo-Nations be Divided?).
Jesus said to watch (Mark 13) and Israel's statements are items that seem to of the nature to be watched.
Some articles of possibly related :
Anglo – America in Prophecy & the Lost Tribes of Israel Are the Americans, Canadians, British, Scottish, Welsh, Australians, Anglo-Southern Africans, and New Zealanders descendants of Joseph? Where are the lost ten-tribes of Israel? Who are the lost tribes of Israel? What will happen to Jerusalem and the Jews in Israel? Will God punish the U.S.A., Canada, United Kingdom, and other Anglo nations? Why might God allow them to be punished first?
Will the Anglo-Nations be Divided? Will the lands of the United States, United Kingdom, Canada, Australia, and New Zealand be divided? What about Jerusalem? What does Bible prophecy teach? Are there non-biblical prophecies that support this idea? Who will divide those lands? Who will end up with the lands and the people?
Barack Obama in Islamic Prophecy? There is actually a 17th century Shiite prophecy that some believe that Barack Obama will fulfill that will lead to a rising up of Islam.
Is There A Future King of the South? Some no longer believe there needs to be. Might Egypt, Islam, Iran, Arabs, or Ethiopia be involved? Might this King be called the Mahdi? What does the Bible say?
The Arab and Islamic World In the Bible, History, and Prophecy The Bible discusses the origins of the Arab world and discusses the Middle East in prophecy. What is ahead for the Middle East and those who follow Islam? What about the Imam Mahdi? What lies ahead for Turkey, Iran, and the other non-Arabic Muslims?