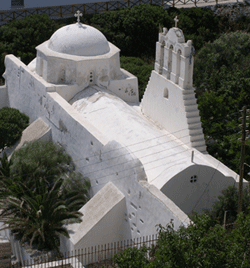 Sunday Church, Naxos Greece
(photo by Joyce Thiel)

One with Seventh-day Adventist affiliation asked me about a coming Sunday law.
Before me giving some comments, notice something that the late Seventh-day Adventist scholar Dr. Samuele Bacchiocchi had the following in one of his newsletters years ago:
SUNDAY LAWS PROPOSED BY THE EUROPEAN EPISCOPAL COMMISSION
Many years Adventists have been wondering what could triggers the promulgation of international Sunday laws. In my past readings I found references to social, ecological, economic, and energy considerations as possible reasons for introducing Sunday Laws.
I came as surprise for me to learn this past week that the impetus for Sunday laws may come from the current financial crisis that affects many nations today. The European Episcopal Commission, known as COMECE, consisting of 24 bishops, each representing a western country, met in Brussels, the headquarter of the European Parliament from November 12-14, 2008.
The Bishops agreed that "the financial crisis has exposed a deeper spiritual crisis and a misguided set of values. The sense and value of human work has been pushed to the background in the general struggle for profit.""In their exchange of views with the State Secretary for European Affairs, the Church representatives expressed their wish to see the Sunday rest day being better protected in national legislations as well as in the future EU Working Time Directive which is currently being revised." http://www.comece.org/comece.taf?_function=news_new&_sub=&id=2&language=en
"The Bishops called for respect for Sunday rest as one of the foundations of the European social model and as a way of balancing work and family life. In recent years, Sunday as a weekly rest day has been threatened by legislation in many Member States thanks to liberal and consumerist-driven political concepts. In the context of the present economic crisis, Bishops call on the Members of the European Parliament to assume their responsibilities and include the protection of Sunday in the Working Time Directive that will be submitted to the European Parliament's vote by the middle of December." (http://www.catholic-ew.org.uk/ccb/catholic_church/media_centre2/press_releases/press_releases_2008/the_financial_crisis_is_a_test_for_the_values_of_european_society).
What this means is that at their next meeting scheduled by December 15, the European Parliament will discuss the European Bishops' request to pass a legislation "for the protection of Sunday." This is a startling new development in Western Europe where Sunday has become a secular day.
There are signs that such legislation could draw support in the USA. In an article entitled " Barack Obama and Joe Biden: The Change We Need," Michael Pearce's Blog writes: "There have been a lot of changes in the past 100 years. Not only have we seen gang activity increase along with crimes, but so has energy consumption. The other change I realized was the rescinding of the 'Sunday Laws' across the United States."
The article continues listing a host of benefits provided by Sunday Laws. The conclusion of the article is: "So perhaps we should consider enacting a Sunday Law. Not to restrict people from working, but to give liberty to those who can't choose. And imagine the tax dollars that would be saved?" (http://my.barackobama.com/page/community/post/Tritium/gG5ngR).
It will be interesting to see if the European Parliament will pass a legislation "for the protection of Sunday," and the possible repercussions of such legislation in other countries, including the USA.
While the SDAs have a lot of prophetic misunderstandings (SDA/CCOG Differences: Two Horned Beast of Revelation and 666), they are correct that Europe will adopt Sunday (I do not believe that the USA will seriously adopt Sunday until militarily forced to). A few years ago, Hungary implemented Sunday shopping restrictions (see Hungary to implement Sunday law). Italy is now in the process of implementing Sunday shopping restrictions (see 'Italy to introduce ban on Sunday shopping') and Poland did something similar last March (see Poland implementing Sunday shopping ban).
Sunday was essentially adopted by Greco-Roman supporters who had contact with Mithraism (see Sunday and Christianity and Do You Practice Mithraism?) who seemed to decide that they would be subject to less Imperial persecution if they adopted the more acceptable (to the Romans, not God) Sunday as opposed to Saturday.
Even Roman Catholic sources admit that it did not come from the Bible (see The Christian Sabbath).
The ideas of Sunday laws are not new. The first Sunday law was enacted by Emperor Constantine in the early 4th century.
Constantine decreed circa March 7, 321:
Let all judges, the people of cities, and those employed in all trades, remain quiet on the Holy Day of Sunday. (Code of Justinian, Book III, Title XII, III. THE JUSTINIAN CODE FROM THE CORPUS JURIS CIVILIS. Translated from the original Latin by Samuel P. Scott. Central Trust Company, Cincinnati, 1932).
Shortly after the above decree, Eusebius recorded this about Constantine:
Accordingly he enjoined on all the subjects of the Roman empire to observe the Lord's day, as a day of rest (Eusebius. Life of Constantine, Book IV, Chapter 18).
Notice that "the Lord's day" became enjoined by a decree of a Roman Empire. Also notice the following:
There is a large body of civil legislation on the Sunday rest side by side with the ecclesiastical. It begins with an Edict of Constantine, the first Christian emperor, who forbade judges to sit and townspeople to work on Sunday (Slater T. Transcribed by Scott Anthony Hibbs. Sunday. The Catholic Encyclopedia, Volume XIV Copyright © 1912 by Robert Appleton Company Online Edition Copyright © 2003 by K. Knight).
Perhaps it should be mentioned that Pope Francis has indicated a desire for more Sunday laws in the 21st century (see Pope Francis pushes for no work on Sunday–a prelude to a new Sunday law? What about Saturday?).
Notice the following related to Constantine and Sunday written by one who observes Sunday:
So prominent had Christians and their day become that when the Emperor Constantine proclaimed Sun Day as the weekly holy day for all Romans, some Christians believed that it was for their sake. More likely Constantine, like many Roman aristocrats of the time, was simply trying to find common ground for his mixed pagan and Christian subjects, especially his soldiers. Unity was for the good of the state and the emperors' power (Harline C. Sunday: A History of the First Day from Babylonia to the Super Bowl. Doubleday, NY, 2007, p. 17).
However, after a time, Constantine did clearly begin to provide more favor for the Roman version of Christianity which (like the pagans, but unlike the Church of God) endorsed Sunday. He, the sun-worshiping emperor, then called for the famous Council of Nicea, which took place in 325 A.D. This council decided that Sunday was to be the day of worship and that Passover was to be observed on Sunday (and that eventually became what is known as Easter). After that council, those in the Church of God who kept the Sabbath were considered to be heretics and outcasts and had to flee in the wilderness.
The Emperor authorized persecution. Around 332, Constantine issued what is known as the Edict Against the Heretics,
Victor Constantinus, Maximus Augustus, to the heretics. "Understand now, by this present statute, ye Novatians, Valentinians, Marcionites, Paulians, ye who are called Cataphrygians, and all ye who devise and support heresies by means of your private assemblies, with what a tissue of falsehood and vanity, with what destructive and venomous errors, your doctrines are inseparably interwoven; so that through you the healthy soul is stricken with disease, and the living becomes the prey of everlasting death. Ye haters and enemies of truth and life, in league with destruction! All your counsels are opposed to the truth, but familiar with deeds of baseness; full of absurdities and fictions: and by these ye frame falsehoods, oppress the innocent, and withhold the light from them that believe. Ever trespassing under the mask of godliness, ye fill all things with defilement: ye pierce the pure and guileless conscience with deadly wounds, while ye withdraw, one may almost say, the very light of day from the eyes of men. But why should I particularize, when to speak of your criminality as it deserves demands more time and leisure than I can give? For so long and unmeasured is the catalogue of your offenses, so hateful and altogether atrocious are they, that a single day would not suffice to recount them all. And, indeed, it is well to turn one's ears and eyes from such a subject, lest by a description of each particular evil, the pure sincerity and freshness of one's own faith be impaired. Why then do I still bear with such abounding evil; especially since this protracted clemency is the cause that some who were sound are become tainted with this pestilent disease? Why not at once strike, as it were, at the root of so great a mischief by a public manifestation of displeasure?" (Chapter LXIV.—Constantine's Edict against the Heretics. This document is from the Christian Classics Ethereal Library at Calvin College).
Originally,
As with the Jewish Sabbath, the observance of the Christian Sunday began with sundown on Saturday and lasted till the same time on Sunday (Slater T. Transcribed by Scott Anthony Hibbs Sunday. The Catholic Encyclopedia, Volume XIV Copyright © 1912 by Robert Appleton Company Online Edition Copyright © 2003 by K. Knight).
But this changed for most who observed Sunday, to a midnight to midnight observance.
Many Protestant groups seem to wish to support the agenda of Rome when it comes to Sunday.
Perhaps they should consider what this will really lead to.
Some items of possibly related interest may include:
Sunday and Christianity Was Sunday observed by the apostolic and true post-apostolic Christians? Who clearly endorsed Sunday? What relevance is the first or the "eighth" day? A related sermon is also available: Sunday: First and Eighth Day?
CG7.ORG This is a website for those interested in the Sabbath and churches that observe the seventh day Sabbath.
The Sabbath in the Early Church and Abroad Was the seventh-day (Saturday) Sabbath observed by the apostolic and post-apostolic Church? Here is a related sermon video The Christian Sabbath and How and Why to Keep It.
How to Observe the Sabbath? How should you keep the Sabbath? This is an old article by Raymond Cole, with updated information for the 21st century.
Can You Keep Your Job, Get Your Degree, and Keep the Sabbath? This article has some information on that. Here is a link to a related video titled: Can you keep the Sabbath and your job? What about college?
The Christian Sabbath. This is a series of articles from the Catholic Mirror essentially proving that the biblical Sabbath was Saturday, that the Lord's day in Revelation 1 is not a reference to Sunday, that the Church of Rome implemented Sunday, and that nearly all Protestants followed Rome. Here is a link to a related sermon: Catholic teachings on the Sabbath, Sunday, and Protestantism.
The Mark of Antichrist What is the mark of Antichrist? What have various ones claimed? Here is a link to a related sermon What is the 'Mark of Antichrist'?
Continuing History of the Church of God This pdf booklet is a historical overview of the true Church of God and some of its main opponents from Acts 2 to the 21st century. Related sermon links include Continuing History of the Church of God: c. 31 to c. 300 A.D. and Continuing History of the Church of God: 4th-16th Centuries and Continuing History of the Church of God: 17th-20th Centuries. The booklet is available in Spanish: Continuación de la Historia de la Iglesia de Dios, German: Kontinuierliche Geschichte der Kirche Gottes, French: L'Histoire Continue de l'Église de Dieu and Ekegusii Omogano Bw'ekanisa Ya Nyasae Egendererete.
Universal OFFER of Salvation, Apokatastasis: Can God save the lost in an age to come? Hundreds of scriptures reveal God's plan of salvation Will all get a fair chance at salvation? This free book is packed with scriptures showing that God does intend to offer salvation to all who ever lived–the elect in this age, and the rest in the age to come. Here is a link to a related sermon series: Universal Offer of Salvation 1: Apocatastasis, Universal Offer of Salvation 2: Jesus Desires All to be Saved, Mysteries of the Great White Throne Judgment (Universal Offer of Salvation part 3), Is God Fair, Will God Pardon the Ignorant?, Can God Save Your Relatives?, Babies, Limbo, Purgatory and God's Plan, and 'By the Mouth of All His Holy Prophets'.
SDA/CCOG Differences: Two Horned Beast of Revelation and 666 The genuine Church of God is NOT part of the Seventh-day Adventists. This article explains two prophetic differences, the trinity, differences in approaching doctrine, including Ellen White. Did Ellen White make prophetic errors? Did Ellen White make false prophecies? Here is a version in the Spanish language: SDA/COG Diferencias: La bestia de dos cuernos de Apocalipsis y 666. Here are two sermons in the English language: Seventh Day Baptists/Adventists/Messianics: Protestant or COG? and CCOG and SDA differences and similarities. Here is a link to an article in the Spanish language: Diferencias: SDA/CCOG: La bestia de dos cuernos de Apocalipsis y 666.
Hope of Salvation: How the Continuing Church of God Differs from Protestantism The CCOG is NOT Protestant. This free online book explains how the real Church of God differs from mainstream/traditional Protestants. Several sermons related to the free book are also available: Protestant, Baptist, and CCOG History; The First Protestant, God's Command, Grace, & Character; The New Testament, Martin Luther, and the Canon; Eucharist, Passover, and Easter; Views of Jews, Lost Tribes, Warfare, & Baptism; Scripture vs. Tradition, Sabbath vs. Sunday; Church Services, Sunday, Heaven, and God's Plan; Seventh Day Baptists/Adventists/Messianics: Protestant or COG?; Millennial Kingdom of God and God's Plan of Salvation; Crosses, Trees, Tithes, and Unclean Meats; The Godhead and the Trinity; Fleeing or Rapture?; and Ecumenism, Rome, and CCOG Differences.
Beliefs of the Original Catholic Church. Did the original "catholic church" have doctrines held by the Continuing Church of God? Did Church of God leaders uses the term "catholic church" to ever describe the church they were part of? Here are links to related sermons: Original Catholic Church of God?, Original Catholic Doctrine: Creed, Liturgy, Baptism, Passover, What Type of Catholic was Polycarp of Smyrna?, Tradition, Holy Days, Salvation, Dress, & Celibacy, Early Heresies and Heretics, Doctrines: 3 Days, Abortion, Ecumenism, Meats, Tithes, Crosses, Destiny, and more, Saturday or Sunday?, The Godhead, Apostolic Laying on of Hands Succession, Church in the Wilderness Apostolic Succession List, Holy Mother Church and Heresies, and Lying Wonders and Original Beliefs.
The History of Early Christianity Are you aware that what most people believe is not what truly happened to the true Christian church? Do you know where the early church was based? Do you know what were the doctrines of the early church? Is your faith really based upon the truth or compromise?