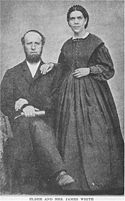 James and Ellen White Established the Seventh-day Adventist Church
Following the examples of the Catholics (EWTN, etc.) the Protestants (TBN, etc.), and the Latter Day Saints, the Seventh-day Adventists now have their own television network:
Adventist Church's Hope Channel debuts on DirectTV

The Seventh-day Adventist Church's official television network debuted on the DirecTV satellite network today, a move that church leaders say is a chance to minister to millions of additional viewers in North America.

The network, Hope Channel, which features Christian lifestyle programming, is available on channel DirecTV channel 368.

"To have a full time channel, 24/7, sharing God's message of hope into millions of homes is an awesome development," said Hope Channel director Brad Thorp.

http://news.adventist.org/2009/04/adventist-churchs-ho.html
While some confuse the SDAs and the COGs, they have many differences, and a few similarities.
Some articles of possibly related interest may include:
SDA/LCG Differences: Two Horned Beast of Revelation and 666 The Living Church of God is NOT part of the Seventh-day Adventists. This article explains two prophetic differences, the trinity, differences in approaching doctrine, including Ellen White.
The Sardis Church Era was predominant circa 1600 A.D. to circa 1933 A.D. Discusses early history of the Seventh Day Baptists, Seventh-day Adventists, and COG-7th Day.
There are Many COGs: Why Support the Living Church of God? This is an article for those who wish to more easily sort out the different COGs. It really should be a MUST READ for current and former WCG members or any interested in supporting the faithful church. It also explains a lot of what the COGs are all about.