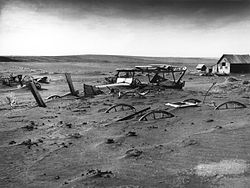 It is latest newsletter, after discussing troubles, COG-UK asks why?:
Troubled Times
Few would argue that this is not 'a time of trouble' for our world. Globally, nationally, locally and even personally we face seemingly unsurmountable challenges.
Economically, the world is on the brink of financial melt-down. Socially, unrest with populations on the move as they seek to improve their lives or to escape persecution— thus straining relationships and public services in reluctant host nations, and prompting a clash of values and culture, and racial tensions. Then there's the threat of climate change (however it is caused), civil strife and destructive hot wars, disease pandemics, water shortages.
It is recognized that man has been 'civilized' for nigh on six thousand years. Surely time enough for us to get to grips with what ails us –those outward expressions of our defiled human nature. But no, for generation after generation we time and again repeat past mistakes, never learning. Why? There have, of course, been amazing advances as human ingenuity builds on existing discovery, and as we exploit more of earth's resources. Ignorance, however, still stalks the planet.
Again—why?
The answer to why does have to do with choices humans have made since the Garden of Eden.  And they do tie into God's seven-thousand year plan, which includes 6,000 years of humans devising their own civilizations and developing their ideas and traditions about religion.
As far as troubles go, Jesus predicted troubles and sorrows prior to the start of the Great Tribulation:
7 But when you hear of wars and rumors of wars, do not be troubled; for such things must happen, but the end is not yet.  8 For nation will rise against nation, and kingdom against kingdom. And there will be earthquakes in various places, and there will be famines and troubles. These are the beginnings of sorrows.  (Mark 13:7-8)

14 "So when you see the 'abomination of desolation,' spoken of by Daniel the prophet, standing where it ought not" (let the reader understand), "then let those who are in Judea flee to the mountains.  15 Let him who is on the housetop not go down into the house, nor enter to take anything out of his house.  16 And let him who is in the field not go back to get his clothes.  17 But woe to those who are pregnant and to those who are nursing babies in those days!  18 And pray that your flight may not be in winter.  19 For in those days there will be tribulation, such as has not been since the beginning of the creation which God created until this time, nor ever shall be.  20 And unless the Lord had shortened those days, no flesh would be saved; but for the elect's sake, whom He chose, He shortened the days. (Mark 13:14-20)
We do appear to be in the time of troubles and sorrows (Matthew 24:4-8) that precede the Great Tribulation (Matthew 24:21)
The Great Tribulation will begin about 2 1/2 – 3 1/2 years before the end of the 6,000 years.
As far as civilization goes, there are answers about it in the article Mystery of Civilization.  It answers questions such as: Why is civilization like it is? How will it end? What will replace it?" These are also dealt with in  related sermon titled: Mystery of Civilization and How it Will End.
As far as the 6000 years goes, there is information in that in the article Does God Have a 6,000 Year Plan? What Year Does the 6,000 Years End?.  It answers questions such as:  Was a 6000 year time allowed for humans to rule followed by a literal thousand year reign of Christ on Earth taught by the early Christians? Does God have 7,000 year plan? What year may the six thousand years of human rule end? When will Jesus return? 2021 or 20xx? These are also dealt with in  related sermon titled: The 6000 Year Plan: Is the end of humanity's reign almost up?
Some items of possibly related interest may include:
When Will the Great Tribulation Begin? 2015, 2016, or 2017? Can the Great Tribulation begin today? What happens before the Great Tribulation in the "beginning of sorrows"? What happens in the Great Tribulation and the Day of the Lord? Is this the time of the Gentiles? When is the earliest that the Great Tribulation can begin? What is the Day of the Lord? Who are the 144,000? Here is a version of the article in the Spanish language: ¿Puede comenzar la Gran Tribulación en 2014 o 2015? ¿Es el Tiempo de los Gentiles? You can also see the English language sermon video: The Great Tribulation from the Mount of Olives.  Here is a link to the video: Can the Great Tribulation Begin in 2015?
Weather Blessings and Sorrows Are weather problems a warning? What should be done? What does the Bible teach about weather? What about floods, droughts, heat, earthquakes, tornadoes, and solar storms? Here is a related YouTube video Does God Use Weather? A related item in the Spanish language would be Bendiciones y maldiciones del clima.
Project Prophecy: Economic Collapse Starting in 2015? Jim Rickards once worked for the CIA and also was once part of a a USA government program called called 'Project Prophecy.' He has a video were he claims that starting in 2015, the USA may have economic collapse resulting in a 25-Year Great Depression. He mainly cites debt figures and claims advises alternatives to the USA dollar which he says will collapse? What did Rand Paul state? Can the USA dollar collapse?  See also 'Project Prophecy' 25 Year Depression.
Anglo – America in Prophecy & the Lost Tribes of Israel Are the Americans, Canadians, English, Scottish, Welsh, Australians, Anglo-Saxon (non-Dutch) Southern Africans, and New Zealanders descendants of Joseph? Where are the lost ten-tribes of Israel? Who are the lost tribes of Israel? What will happen to Jerusalem and the Jews in Israel? Will God punish the U.S.A., Canada, United Kingdom, and other Anglo-Saxon nations? Why might God allow them to be punished first? Here is a link to the Spanish version of this article: Anglo-América & las Tribus Perdidas de Israel. Information is also in the YouTube sermons titled Where are the Ten Lost Tribes? Why does it matter? and British are the Covenant People. A short YouTube of prophetic interest may be Barack Obama and the State of the Apocalypse.
Will the Anglo-Saxon Nations be Divided and Have People Taken as Slaves? Will the lands of the United States, United Kingdom, Canada, Australia, and New Zealand be divided? What about Jerusalem? What does Bible prophecy teach? Are there non-biblical prophecies that support this idea? Who will divide those lands? Who will end up with the lands and the people? Here is a link to a video titled Will the USA and other Anglo-nations be Divided and Their People Made Slaves? Here is a related item in the Spanish language ¿Serán divididas las naciones anglosajonas?
British are the Covenant People What do 'British' and 'Britain' mean in Hebrew? Are the descendants of the Anglo-Saxons people of the covenant? Does the British royal family connect to the throne of David? What does the Bible teach? What does history show us? Is there any DNA evidence related to British-Israelism? When did Christianity make it to the British Isles? Could Jeremiah have made it to the British Isles? What type of Christians made it to the British Isles? Did the last King of England believe in British Israelism?
Barack Obama, Prophecy, and the Destruction of the United States-Second Edition for Second Obama Term This is a 160 page book for people truly interested in prophecies related to Barack Obama and the United States, including learning about many that have already been fulfilled (which the book documents in detail) and those that will be fulfilled in the future. It also has a chapter about a Republican choice. This book is available to order at www.barackobamaprophecy.com. The physical book can also be purchased at Amazon from the following link: Barack Obama, Prophecy, and the Destruction of the United States: Is Barack Obama Fulfilling Biblical, Islamic Catholic, Kenyan, and other America-Related Prophecies? What About Republican Leaders? Second Edition for Second Obama Term.
Barack Obama, Prophecy, and the Destruction of the United States-Second Term-Amazon Kindle edition. This electronic version is available for only US$2.99. And you do not need an actual Kindle device to read it. Why? Amazon will allow you to download it to almost any device: Please click HERE to download one of Amazon s Free Reader Apps. After you go to for your free Kindle reader and then go to Barack Obama, Prophecy, and the Destruction of the United States-Second Term-Amazon Kindle edition. Bible News Prophecy channel. Dr. Thiel has produced many YouTube videos for the BibleNewsProphecy channel. And you can find them at that channel.