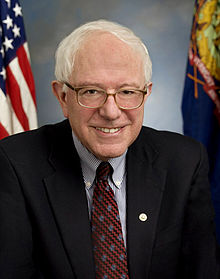 Bernie Sanders

In a move that the establishment would not have considered likely, Democratic presidential hopeful Bernie Sanders is making great strides in polls with Hillary Clinton:
August 12, 2015

A new survey released by Franklin Pierce University and The Boston Herald found that 44 percent of Democrats in the state are backing Mr. Sanders compared with 37 percent for Mrs. Clinton, a difference that is within the poll's margin of error.

The last Democratic poll from the group in March showed Mr. Sanders with support of 8 percent of likely voters, demonstrating a significant erosion in the former secretary of state's lead.

The Franklin Pierce survey follows a WMUR poll last week that also showed Mr. Sanders and Mrs. Clinton in a tight race in New Hampshire. Mrs. Clinton continues to poll well nationally, but questions about her use of a private email account and growing criticism from Republicans have taken a toll on her popularity. http://www.nytimes.com/politics/first-draft/2015/08/12/bernie-sanders-in-statistical-tie-with-hillary-clinton-in-new-hampshire-poll/
Bernie Sanders is a social liberal, supporting the homosexual agenda for decades as well as the pro-abortion agenda.
Hillary Clinton is having more and more issues related to what I have called 'emailgate.'  If she was a regular government employee, she would at minimum be facing possible criminal charges for her email actions.  We will see what happens to her.  Joseph Biden could possibly enter the race on the Democratic side, and if she falters much more that might embolden him.
Of course, none of the announced candidates for the US presidency will fix the moral problems of that nation. And many, such as Bernie Sanders and Hillary Clinton, have already embraced moral positions in direct opposition to the Bible.
A charismatic Protestant named Jeremiah Johnson claims God told him that Donald Trump is to be God's trumpet:
In His great wisdom throughout the course of human history, God has chosen not only to fulfill His plans and purposes through men and women who have yielded to the sound of His voice, but He has also chosen to accomplish His will through men and women who have ignored and rebelled against Him. …

I was in a time of prayer several weeks ago when God began to speak to me concerning the destiny of Donald Trump in America. The Holy Spirit spoke to me and said, "Trump shall become My trumpet to the American people, for he possesses qualities that are even hard to find in My people these days. Trump does not fear man nor will he allow deception and lies to go unnoticed. I am going to use him to expose darkness and perversion in America like never before, but you must understand that he is like a bull in a china closet. Many will want to throw him away because he will disturb their sense of peace and tranquility, but you must listen through the bantering to discover the truth that I will speak through him. I will use the wealth that I have given him to expose and launch investigations searching for the truth. Just as I raised up Cyrus to fulfill My purposes and plans, so have I raised up Trump to fulfill my purposes and plans prior to the 2016 election. You must listen to the trumpet very closely for he will sound the alarm and many will be blessed because of his compassion and mercy. Though many see the outward pride and arrogance, I have given him the tender heart of a father that wants to lend a helping hand to the poor and the needy, to the foreigner and the stranger."
While I do not believe that God's Holy Spirit gave the Protestant that message or that Donald Trump is God's trumpet, I do believe that Donald Trump has raised certain issues more forcefully than most others.  But, he is also not the answer for the USA.
The USA needs national repentance, otherwise it is doomed. It is almost impossible to believe that the next USA president would call for meaningful repentance before the USA is hit with more massive problems. The USA needs the return of Jesus Christ and the Kingdom of God.
Several items of possibly related interest may include:
Anglo – America in Prophecy & the Lost Tribes of Israel Are the Americans, Canadians, English, Scottish, Welsh, Australians, Anglo-Saxon (non-Dutch) Southern Africans, and New Zealanders descendants of Joseph? Where are the lost ten-tribes of Israel? Who are the lost tribes of Israel? What will happen to Jerusalem and the Jews in Israel? Will God punish the U.S.A., Canada, United Kingdom, and other Anglo-Saxon nations? Why might God allow them to be punished first? Here is a link to the Spanish version of this article: Anglo-América & las Tribus Perdidas de Israel. Information is also in the YouTube sermons titled Where are the Ten Lost Tribes? Why does it matter? and British are the Covenant People. A short YouTube of prophetic interest may be Barack Obama and the State of the Apocalypse.
Can you see the 'Handwriting on the Wall'? Thousands of years ago, King Belshazzar saw a hand appear at a big party he was hosting. The hand wrote Mene, Mene, Tekel, Upharsin. Shortly after the Prophet Daniel explained it, his empire was taken over and King Belshazzar died. Is this applicable today? Are there signs right before our eyes that show that the end is coming to the United States and its Anglo-descended allies. Do abortions, sexual immorality, celebrity pornography, and increased debt mean anything? What does the Bible show?
Hillary Clinton in Prophecy Prophecy, Hillary Clinton? Are there prophecies that Hillary Clinton may fulfill? Are there any prophecies that she has already helped fulfill? Could Hillary Clinton be apocalyptic? Could Hillary Clinton be the final Antichrist? A video of related interest is titled Hillary Clinton and Bible Prophecy.
Should a Christian Vote? This article gives some of the Biblical rationale on this subject. Would Jesus vote for president/prime minister? Is voting in the Bible? This is a subject Christians need to understand.
When Will the Great Tribulation Begin? 2015, 2016, or 2017? Can the Great Tribulation begin today? What happens before the Great Tribulation in the "beginning of sorrows"? What happens in the Great Tribulation and the Day of the Lord? Is this the time of the Gentiles? When is the earliest that the Great Tribulation can begin? What is the Day of the Lord? Who are the 144,000? Here is a version of the article in the Spanish language: ¿Puede comenzar la Gran Tribulación en 2014 o 2015? ¿Es el Tiempo de los Gentiles? You can also see the English language sermon video: The Great Tribulation from the Mount of Olives.
Abortion, the Bible, and a Woman's Right to Choose Do you know what the Bible teaches on this? Has the Roman Catholic Church allowed abortions? What about the real Church of God? Some may also, or instead, wish to view the YouTube video Abortion, the Bible, and US Debt.
Pornography: A scourge on society Is pornography harmless fun? Does the Bible teach anything about it? What are the views of some involved with it? Here is a link to a YouTube video Pornography: Harmless Fun or a Scourge on Society?
British and American Moral Decay Public nudity is becoming more prevalent in the Anglo-Saxon lands. What are some of the consequences?
Cross-dressing and other assaults against your children. What should you do? Is there an agenda to turn your children and/or grandchildren away from biblical morality and towards practices promoted by homosexuals? What does the Bible teach about cross-dressing? What should parents do? If there is an agenda, what has been going on? There is also a YouTube video on this, titled Cross dressing and Other Assaults Against Your Children.
The Bible Condemns Homosexuality "Same-sex marriage" for "gays" and lesbians is becoming more acceptable to many. What does the Bible teach about homosexuality? Can homosexuals change?
Just What Do You Mean — Repentance? Do you know what repentance is? Have you truly repented? Repented of what? Herbert W. Armstrong wrote this as a booklet on this important subject.
The Gospel of the Kingdom of God was the Emphasis of Jesus and the Early Church Did you know that? Do you even know what the gospel of the kingdom is all about? You can also see a YouTube video sermon The Gospel of the Kingdom.
Just What Do You Mean the Kingdom of God? A booklet that was written by Herbert Armstrong answers questions about the Kingdom.
Hillary Clinton, Prophecy, and the Destruction of the United States This is a 188 page book for people truly interested in prophecies related to Hillary Clinton and the United States, including learning about many that have already been fulfilled and those that will be fulfilled in the future. It also discusses Republicans. The physical book can be purchased at Amazon from the following link: Hillary Clinton, Prophecy, and the Destruction of the United States: Is Hillary Clinton Fulfilling Biblical, Islamic Catholic, Hopi, and other America-Related Prophecies? $11.99.
Hillary Clinton, Prophecy, and the Destruction of the United States-Amazon Kindle edition. This electronic version of the 188 page print edition is available for only US$3.99. And you do not need an actual Kindle device to read it. Why? Amazon will allow you to download it to almost any device: Please click HERE to download one of Amazon s Free Reader Apps. After you go to for your free Kindle reader and then go to Hillary Clinton, Prophecy, and the Destruction of the United States-Amazon Kindle edition.