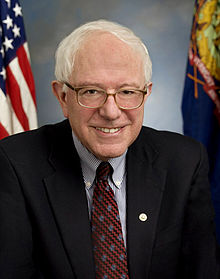 Hillary Clinton and Bernie Sanders

The two Democratic presidential candidates, Bernie Sanders and Hillary Clinton, debated last night:
Clinton and Sanders clash over presidential qualifications

April 15, 2016

Democratic presidential candidates Vermont Senator Bernie Sanders and former Secretary of State Hillary Clinton held a contentious debate Thursday night in familiar territory — Brooklyn, New York ahead of next Tuesday's very important New York primary.

The two had a sharp exchange in which they questioned each other's judgment. Sanders, who in recent weeks said he does not believe Clinton is qualified to be president, Thursday said that he accepts that Clinton has the qualifications, but questioned her judgment. He pointed to her support for the war in Iraq and her acceptance of campaign funding from banks and firms on Wall Street.

Clinton accused the Sanders camp of churning out lies about her. Clinton said the people of New York voted her for the Senate twice and President Barack Obama named her secretary of state. She has the judgement, she says, but stressed what she says is Sanders' weakness on foreign policy issues.

She called Sanders' concentration on her accepting large contributions from Wall Street a "phony attack." http://www.voanews.com/content/sanders-clinton-battle-in-new-york-democratic-debate/3286870.html

April 14, 2016

Bernie Sanders slammed his rival's 1996 use of the term "super predators" Thursday evening, calling it "racist" on stage at the Democratic debate in Brooklyn.

Asked why Sanders had criticized Bill Clinton's defense of his wife use of the phrase "super predators," Sanders responded: "Because it was a racist term and everybody knew it was a racist term." http://www.cbsnews.com/news/bernie-sanders-slams-clintons-racist-1996-super-predators-comment/
This remains the strangest, and probably most vicious, presidential primary cycle I have ever seen.
After the debate, Bernie Sanders flew off to go to the Vatican:
April 15, 2016

ROME (AP) — Democratic presidential candidate Bernie Sanders arrived in Rome on Friday to attend a Vatican conference steeped in his lifelong passions of economic and social justice, briefly departing New York just days before its critical primary to show solidarity with the teachings of Pope Francis.

Sanders made the trip hours after Thursday night's Brooklyn debate with rival Hillary Clinton and said the opportunity to address the Vatican conference was too meaningful to pass up. The roughly 24-hour visit will precede a crucial New York primary against the former secretary of state on Tuesday.

Sanders said in an interview with The Associated Press that he was "appreciative and proud" to be invited to the conference organized by the Pontifical Academy of Social Sciences.

He will join several speakers commemorating the 25th anniversary of "Centesimus Annus," a high-level teaching document by Pope John Paul II on the economy and social justice at the end of the Cold War. …

Sanders, the first Jewish candidate to win a presidential primary, called the trip "an opportunity that comes once in a lifetime."

Sanders and his campaign had held out hope that he might meet with the pope during his visit. Francis will be in Rome on Friday, but the Vatican said he had no plans to either address the conference or meet with Sanders.

The Vatican has been loath to get involved in electoral campaigns and usually tries to avoid any perception of partisanship involving the pope. Popes rarely travel to countries during the thick of political campaigns, knowing a papal photo opportunity with a sitting head of state could be exploited for political ends.

As a result, the invitation to Sanders to address the Vatican conference raised eyebrows and allegations that the senator lobbied for the invitation.

The chancellor for the pontifical academy, Bishop Marcelo Sanchez Sorondo, has said he invited Sanders because he was the only U.S. presidential candidate who showed deep interest in the teachings of Francis. http://hosted.ap.org/dynamic/stories/D/DEM_2016_SANDERS?SITE=AP&SECTION=HOME&TEMPLATE=DEFAULT&CTIME=2016-04-15-09-12-34
Now notice something related to Bernie Sanders and Pope Francis from Newsweek some months ago:
September 10, 2015

Francis … has made entreaties to divorced Catholics and even suggested that it was not his place to judge gay ones; he has lamented global warming and income inequality, at times sounding like Bernie Sanders's running mate.  http://www.newsweek.com/2015/09/18/whos-better-catholic-pope-francis-archdiocese-cordileon-370451.html
Bernie Sanders is Jewish and the Pope claims to be Catholic (the cover story in Newsweek was actually titled Is the Pope Catholic?).
Both Bernie Sanders and Pope Francis have a political agenda that trumps whatever their respective religions teach on various matters of theology (I would say the same about Hillary Clinton, but her professed religion, United Methodism, has evolved to be more political that it is less clear what it stands for).
Although the election of Bernie Sanders as the next President of the United States is a long-shot, the ecumenical and interfaith agenda that he seems to be supporting is more or less a sure thing.  I say 'more or less' as it will not end as Bernie Sanders would like, but the result will be there.
The Bible tells of a type of world religion as it teaches that all the world will worship a particular power in Europe:
3 And I saw one of his heads as if it had been mortally wounded, and his deadly wound was healed. And all the world marveled and followed the beast. 4 So they worshiped the dragon who gave authority to the beast; and they worshiped the beast, saying, "Who is like the beast? Who is able to make war with him?"

5 And he was given a mouth speaking great things and blasphemies, and he was given authority to continue for forty-two months. 6 Then he opened his mouth in blasphemy against God, to blaspheme His name, His tabernacle, and those who dwell in heaven. 7 It was granted to him to make war with the saints and to overcome them. And authority was given him over every tribe, tongue, and nation. 8 All who dwell on the earth will worship him, whose names have not been written in the Book of Life of the Lamb slain from the foundation of the world. (Revelation 13:3-8)
As it turns out, most of the above happens after the USA is destroyed (cf. Daniel 11:39; Revelation 13:4). The Bible shows that the power in Revelation 13 is supported, for a time, by the city of seven hills (Revelation 17:1-9, 18)–Rome, though eventually the Church of Rome will be betrayed (Revelation 17:16-17). Certain Roman Catholic writers have understood aspects of that.
The Bible also shows that the power that will rise up will have major economic controls (Revelation 13:6-18).
As far as Bernie Sanders goes, in my view he does not realize what he is actually trying to support with his trip to the Vatican. The interfaith, economic control, agenda will take place, but will not bring the type of society that people like Bernie Sanders are pushing for.
True justice will not be restored until after Jesus returns and the millennial Kingdom of God is established. Human efforts, such as what the Vatican and Bernie Sanders are working on, will lead to disaster, not peace (cf. 1 Thessalonians 5:3).
Some items of possibly related interest may include:
Should a Christian Vote? This article gives some of the Biblical rationale on this subject. Would Jesus vote for president/prime minister? Is voting in the Bible? This is a subject Christians need to understand. A video of related interest is available titled: Should Christians Vote?
Donald Trump in Prophecy Prophecy, Donald Trump? Are there prophecies that Donald Trump may fulfill? Are there any prophecies that he has already helped fulfill? Could a Donald Trump presidency be apocalyptic? A related video is titled Could Donald Trump be Apocalyptic?
Why Should American Catholics Fear Unity with the Orthodox? (And the Protestants) Are the current ecumenical meetings a good thing or will they result in disaster? Is doctrinal compromise good? Here is a link to a related video Should you be concerned about the ecumenical movement?
Will the Interfaith Movement Lead to Peace or Sudden Destruction? Is the interfaith movement going to lead to lasting peace or is it warned against? A video sermon of related interest is: Will the Interfaith Movement lead to World War III? and a video sermon is also available: Do You Know That Babylon is Forming?
Cross-dressing and other assaults against your children. What should you do? Is there an agenda to turn your children and/or grandchildren away from biblical morality and towards practices promoted by homosexuals? What does the Bible teach about cross-dressing? What should parents do? If there is an agenda, what has been going on? There are also two YouTube videos related to this, titled Transgender 'Woe to those who call evil good' and Cross dressing and Other Assaults Against Your Children.
The Bible Condemns Homosexuality "Same-sex marriage" for "gays" and lesbians is becoming more acceptable to many. What does the Bible teach about homosexuality? Can homosexuals change? A related video sermon is titled: What Does the Bible Really Teach about Homosexuality?
Did The Early Church Teach Millenarianism? Was the millennium (sometimes called chiliasm) taught by early Christians? Who condemned it? Will Jesus literally reign for 1000 years on the earth? Is this time near? Two related sermons are available Millennial Utopia and The Millennium.
Does God Have a 6,000 Year Plan? What Year Does the 6,000 Years End? Was a 6000 year time allowed for humans to rule followed by a literal thousand year reign of Christ on Earth taught by the early Christians? Does God have 7,000 year plan? What year may the six thousand years of human rule end? When will Jesus return? 2023 or 20xx? There is also a video titled The 6000 Year Plan: Is the end of humanity's reign almost up? Here is a link to the article in Spanish: ¿Tiene Dios un plan de 6,000 años?
When Will the Great Tribulation Begin? 2016, 2017, or 2018? Can the Great Tribulation begin today? What happens before the Great Tribulation in the "beginning of sorrows"? What happens in the Great Tribulation and the Day of the Lord? Is this the time of the Gentiles? When is the earliest that the Great Tribulation can begin? What is the Day of the Lord? Who are the 144,000? Here is a version of the article in the Spanish language: ¿Puede comenzar la Gran Tribulación en 2016 o 2017? ¿Es el Tiempo de los Gentiles? You can also see the English language sermon video: The Great Tribulation from the Mount of Olives. A shorter video is: Can the Great Tribulation Start in 2016?
Just What Do You Mean — Repentance? Do you know what repentance is? Have you truly repented? Repented of what? Herbert W. Armstrong wrote this as a booklet on this important subject.
When You Sin: Do You Really Repent? This is an article by Charles F. Hunting. A related sermon is Confess to God and truly repent.
WTO/TTIP and the Babylonian Beast Will international trade agreements like WTO/TTIP/CETA lead to the fulfillment of end time prophecies concerning the Babylonian Beast power that the Book of Revelation warns against? What does the Bible teach? A related video would be WTO Trade Deal and the Rise of the European Beast Power.
Hillary Clinton in Prophecy Prophecy, Hillary Clinton? Are there prophecies that Hillary Clinton may fulfill? Are there any prophecies that she has already helped fulfill? Could Hillary Clinton be apocalyptic? Could Hillary Clinton be the final Antichrist? A video of related interest is titled Hillary Clinton and Bible Prophecy.
The Gospel of the Kingdom of God This free online pdf booklet has answers many questions people have about the Gospel of the Kingdom of God and explains why it is the solution to the issues the world is facing.
The Gospel of the Kingdom of God was the Emphasis of Jesus and the Early Church Did you know that? Do you even know what the gospel of the kingdom is all about? You can also see a YouTube video sermons Why Teach the Kingdom of God? and The Gospel of the Kingdom.
Women and the New Testament Church What roles did women play in the ministry of Jesus and the apostles? Did Jesus and the Apostle Paul violate Jewish traditions regarding their dealings with women? Do women have any biblical limitations on their role in the Church? Were there female prophets? Do women have any special responsibilities in terms of how they dress? What does the New Testament really teach about women? Here is a related sermon titled: New Testament Women.
Anglo – America in Prophecy & the Lost Tribes of Israel Are the Americans, Canadians, English, Scottish, Welsh, Australians, Anglo-Saxon (non-Dutch) Southern Africans, and New Zealanders descendants of Joseph? Where are the lost ten-tribes of Israel? Who are the lost tribes of Israel? What will happen to Jerusalem and the Jews in Israel? Will God punish the U.S.A., Canada, United Kingdom, and other Anglo-Saxon nations? Why might God allow them to be punished first? Here is a link to the Spanish version of this article: Anglo-América & las Tribus Perdidas de Israel. Information is also in the YouTube sermons titled Where are the Ten Lost Tribes? Why does it matter? and British are the Covenant People. A short YouTube of prophetic interest may be Barack Obama and the State of the Apocalypse.
Will the Anglo-Saxon Nations be Divided and Have People Taken as Slaves? Will the lands of the United States, United Kingdom, Canada, Australia, and New Zealand be divided? What about Jerusalem? What does Bible prophecy teach? Are there non-biblical prophecies that support this idea? Who will divide those lands? Who will end up with the lands and the people? Here is a link to a video titled Will the USA and other Anglo-nations be Divided and Their People Made Slaves? Here is a related item in the Spanish language ¿Serán divididas las naciones anglosajonas?
Hillary Clinton, Prophecy, and the Destruction of the United States This is a 188 page book for people truly interested in prophecies related to Hillary Clinton and the United States, including learning about many that have already been fulfilled and those that will be fulfilled in the future. It also discusses Republicans. The physical book can be purchased at Amazon from the following link: Hillary Clinton, Prophecy, and the Destruction of the United States: Is Hillary Clinton Fulfilling Biblical, Islamic Catholic, Hopi, and other America-Related Prophecies? $11.99.
Hillary Clinton, Prophecy, and the Destruction of the United States-Amazon Kindle edition. This electronic version of the 188 page print edition is available for only US$3.99. And you do not need an actual Kindle device to read it. Why? Amazon will allow you to download it to almost any device: Please click HERE to download one of Amazon s Free Reader Apps. After you go to for your free Kindle reader and then go to Hillary Clinton, Prophecy, and the Destruction of the United States-Amazon Kindle edition.